Music News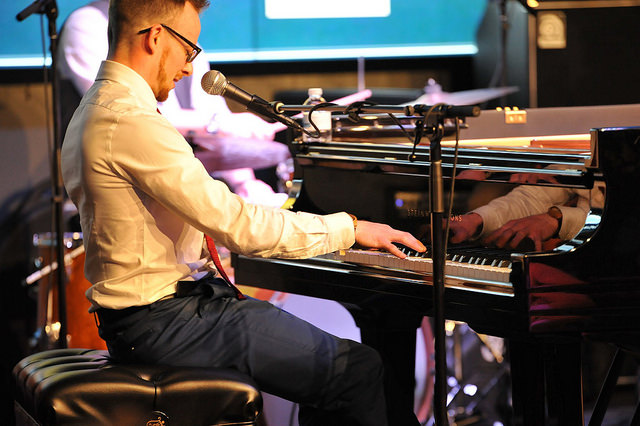 Stompin' in St. Louis: Chase Garrett's 8th Annual Piano Stomp
When Chase Garret got a small keyboard with two free lessons and a Scott Joplin CD for Christmas his mother told the nine-year-old, "Make grandma happy, listen to it." He recognized "The Entertainer" because the local ice cream truck played it. Eighteen years later St. Louis gets to enjoy the fruits of those gifts at Chase Garrett's 8th Annual Piano Stomp.
Garrett grew up in Iowa City with parents who loved the blues. James, Taylor, Stevie Ray Vaughn, Eric Clapton, Tracey Chapman and B.B. King were all part of the music collection. The free piano lessons morphed into years of them. By his teenage years Chase says, "My lessons were more my bringing in tunes and getting help in learning how to play them." Otis Spann's Chicago style and hall of famer Ricky Nye's boogie-woogie piano became favorites. 
An email to Nye from the 16-year-old Garrett turned into an opportunity to see him play at a house party in Iowa. Ricky invited him up to play with him and even asked him to do another short song. Chase laughs at the memory because "I had no idea of stage presence or time and I played an 8-minute song." A friendship blossomed and Nye invited him to his own 8th annual Blues and Boogie Summit in Cincinnati where other players also took him under their wings. 
When Chase was 19 his mother died. A small inheritance inspired him to do something positive in tribute to her. Thus, in 2010 the first annual Piano Stomp in Iowa City. He rented a hall and passed out thousands of flyers and 625 people came. A tradition was born and even as he pursued his blues and boogie passion around the world, Chase would always return home to produce the Piano Stomp. 
Over the next six years Garrett would live and play in France, New York City, Boston, Austria, and Madison, WI. The piano bar scene in La La Land is the La Caveau de la Huchette in Paris where he plays every year. While in Boston he became a certified piano technician. In NYC he met his good friend Ethan Leinwand. Ethan's St. Louis experience encouraged Chase to move here in 2015. 
Early on he met Emily Richards, a vocalist looking to put a band together. It was the beginning of something beautiful. Today Sweetie and the Toothaches style of KC Swing and Jump Blues attracts a real dance crowd. Chase, the band's musical director says, "The music is influenced by our love for Count Basie, Errol Garner, Oscar Peterson and always, Otis Spann."
Chase found a piano town in St. Louis with its blues and barrelhouse tradition of great players like Lonnie Johnson, Johnnie Johnson who themselves built on generations of earlier players. "Bringing the Stomp here just made sense," Garrett says, "This is a town with an audience that will really appreciate it." After a night in Iowa City, the Stomp is bringing a full band including vocalist Emily Richards, four horns and four piano players including an extraordinary Parisian, the fourteen-year-old Nirek Mokar. "That," Chase says, "is part of playing it forward like Ricky Nye did for me." 
Dion Brown the Executive Director of the National Blues Museum shares Garrett's enthusiasm: "We are happy to partner with Chase because music and history are a match for our mission and the Legends Room with its intimate space and state of the art acoustics is a perfect venue for the 8th Annual Piano Stomp." Along with the NBM, the St. Louis Blues Society and Blues City Deli are also helping to sponsor the journey to St. Louis for two concerts on Saturday, November 11, an afternoon showcase at Blues City Deli at 1 p.m. and the evening show at 7 p.m. at the NBM.
So get ready to Stomp. The stages are set. The Steinway B Grand Piano will be open at the Blues Museum where the dance floor is waiting, and all those fingers are already itchin' to hit those ivories. Let the good times roll. 
Click the image below to see all of Bob Baugh's photos of the evening at the NBM.
Editor's note: This article is cross-published with the Nov/Dec issue of the St. Louis Blues Society's BluesLetter.
Related Articles