Music Reviews
Music Reviews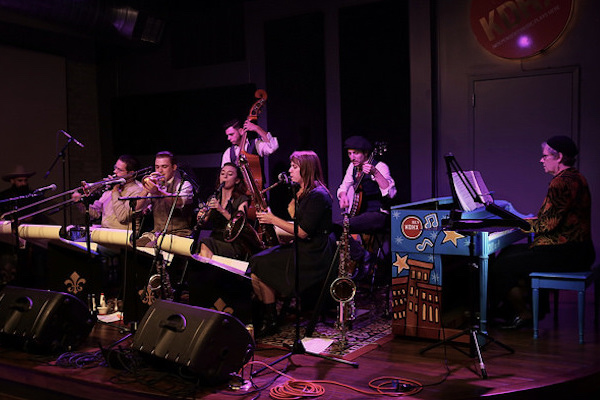 Sidney Street Shakers celebrate St. Louis jazz of the 1920s
By
If you wanted to go out and have some fun in 1920s-era St. Louis, then the decade-old St. Louis Zoo was a good option. A decadent lunch could be found at Crown Candy Kitchen. Alas, booze was not an option.
Save for speakeasies, liquor was not available during the dry 13 years of Prohibition. That didn't prevent St. Louisans from dancing the night away. The soundtrack largely consisted of music of the Jazz Age. The toe-tapping, head-bopping, swinging style helped Americans forget their problems.
Nowadays, the Zoo and Crown Candy Kitchen are still around. Swing music has survived too. One group of accomplished musicians is helping bring the sound to a new audience: the Sidney Street Shakers, an 11-piece band dedicated to preserving the unique Jazz Age sound.
On November 3, the Shakers played to a packed house at The Stage at KDHX for a special occasion: the release of their long-awaited Laugh My Weary Blues Away. The 15-track CD features songs that put St. Louis on the jazz map nearly a century ago, like the "Market Street Stomp," "East St. Louis Stomp," and "Ozark Mountain Blues." But the Shakers' CD has other St. Louis roots as well, having been recorded at Native Sound on Cherokee Street and released on Big Muddy Records.
The Shakers performed many of the songs from the album at The Stage, including the complex "Soap Suds," written by Jelly Roll Morton. The St. Louis Levee Band back in the mid-1920s often played the song.
Shakers' sax player Kellie Everett produced Laugh My Weary Blues Away, which also features some standout area musicians, including TJ Müller on trumpet and the incomparable Chloe Feoranzo on clarinet. Before the November 3 performance, Feoranzo spoke with me about the project.
"It's been a long time coming," Feoranzo said. "Kellie has been working so hard on the project, and we're really excited to do it."
Mary Anne Schulte, the Shakers' pianist, also gave the CD her stamp of approval. "It's really good -- I haven't listened to it much, because I don't like to hear myself play, but today I was practicing to it, and I love it!" Shulte said.
Before the Shakers began, master of ceremonies and local jazz historian Kevin Belford offered comments about the significance of St. Louis in the history of jazz.
"St. Louis was known as a creative innovator," Belford said. "Our city had already established itself as the home of American pop. American music started in the hipper cities around the world and St. Louis was one of them."
The famous jazz riff doo-wacka-doo, doo-wacka-doo-wacka-doo also originated in St. Louis, Belford said. It was this heritage and history of music that first drew Kellie Everett to develop the Shaker's CD. As Belford explained, "Kellie Everett contacted me. She'd been cataloging the music of St. Louis forensically; she was reverse-engineering it with old 78s. We met and we all discussed it and great songs of St. Louis that sold well nationally. They were unique to St. Louis."
Much of that sound has been overlooked by music history, Belford said. The Sidney Street Shakers have set out to change that.
To see all of Bill Motchan's photos from the release party, click below.
Related Articles