Theatre Reviews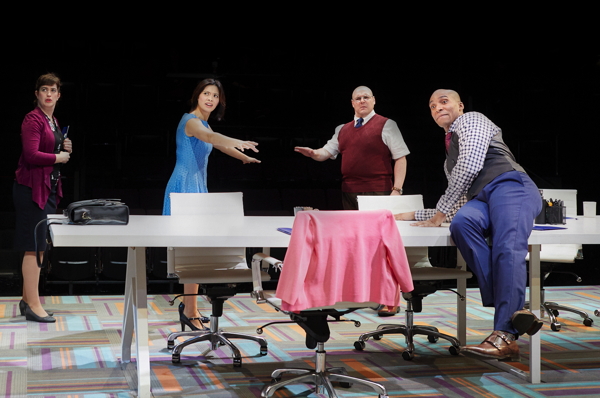 Humana Festival 2018: Many #Metoo moments in 'Do You Feel Anger?'
Written by

Chuck Lavazzi
In Mara Nelson-Greenberg's wildly energetic (if ultimately exhausting) comedy "Do You Feel Anger?," the world premiere of which is on stage at the Actors Theatre of Louisville's 2018 Humana Festival through April 8th, empathy coach Sofia (Tiffany Villarin) has been hired to conduct compassionate listening classes at a debt collection agency plagued by lawsuits. Unfortunately, it soon becomes clear that Hercules had an easier job in the Augean Stables.
The company's two male employees--the constantly enraged Howie (Amir Wachterman) and the terminally egocentric Jordan (Bjorn DuPaty)--aren't just lacking in empathy, they literally don't know the meaning of the word (Jordan thinks it might be a kind of bird). But then, they also don't know the meanings of a lot of other words for emotions that don't involve eating, sex, or anger. They snigger, make crude jokes, and generally carry on as if they were still in first grade.
The company's only female employee Eva (Megan Hill) is so traumatized by being mugged in the break room on a regular basis that she's afraid to display any emotion at all, a situation that boss Jon (Dennis William Grimes) resolutely ignores. Worse yet, Sofia finds that her own self-image is eroding as she tries to break through the wall of smug entitlement thrown up by Jordan, Howie, and Jon. It gets to the point where she can't even return calls from her mom (Lisa Tejero) until it's almost too late to do so.
"Do You Feel Anger?" is populated, in short, by the kind of broadly drawn caricatures often encountered in improv comedy, a form in which the playwright has considerable experience. That works well for short comic sketches in which a joke has to be set up quickly, but becomes tiring in a ninety-minute one-act like this one. Repeating the same gag over and over again doesn't generally improve it. As it stands, "Do You Feel Anger?" either needs to be a lot shorter or a lot more nuanced.
That said, the script's satiric jabs at toxic masculinity and the emotional impoverishment that goes with it are well placed. As a friend pointed out afterwards, it delivers a very visceral demonstration of the mix of male arrogance and condescension that provoked the #Metoo movement. It also demonstrates the limits of empathy. It's hard to listen to someone when that person is mainly interested in shouting you down.
The play is certainly well performed, in any case. Mr. DuPaty and Mr. Wachterman make Jordan and Howie just as comically repellent as they need to be. Mr. Grimes makes Jon pristinely vacuous and Ms. Hill gives Eva just enough depth to make her character development credible. Ms. Villarin does the same for Sofia, making her unraveling towards the end of the play that much more shocking.
Ms. Tejero does nice work as both Sofia's mom and the mysteriously missing Janie, and Jon Huffman has a fine cameo appearance as the Old Man, although the character himself seems rather irrelevant.
Director Margot Bordelon keeps the pace and the decibel level high, which while appropriate for the script, eventually becomes tiring. The bottom line (to lapse into corporate speak for a moment) is that "Do You Feel Anger?" is a thought-provoking and relevant piece, but in its current form it feels like a sketch that goes on far too long.
The 2018 Humana Festival of New American Plays runs through April 8th at the Actors Theatre of Louisville.
Related Articles