Theatre Reviews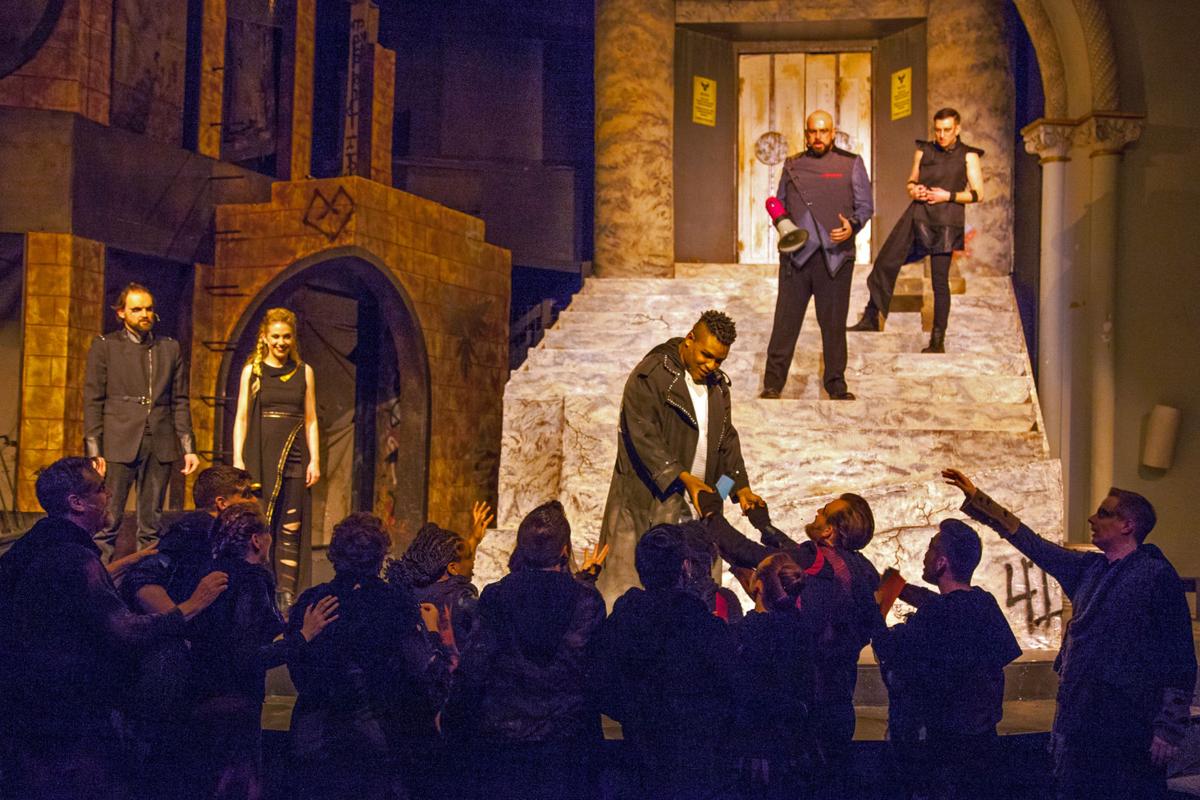 Teeming with energy and attitude, 'Jesus Christ Superstar' rocks the rafters at Tower Grove Abbey
Written by

Tina Farmer
With its futuristic punk-influenced uniforms, strikingly contrasting stage design and loudly sustained opening chord, Stray Dog Theatre's "Jesus Christ Superstar" instantly reminds us that this show was the "Hamilton" of its day. Bold and brash, the rock musical chronicling the last days of Christ's life and crucifixion focuses on the unraveling relationship between Jesus and Judas while suggesting a deepening connection between Jesus and Mary Magdalene. 
Tim Rice and Andrew Lloyd Webber's retelling of Christ's last days on earth is a fantastic rock and roll musical that grabs your attention and takes your heart along for the ride. The story may be ages old, but the characters hold up generation after generation while remaining flexible enough to allow for even relevant contemporary interpretations.
At the story's open, Jesus is triumphant and adored by increasingly larger and larger crowds who hang on his every word and action, hoping to receive a touch or his blessing. Judas introduces the conflict, suggesting Jesus has gotten too big and warning him of the dire consequences of popularity in a land tightly controlled by Jewish laws and Roman rule. As the crowd demands more and more, the authorities take notice and Jesus feels the world closing in on him until Mary Magdalene encourages him to step away from it all, even if just for a night. Both Judas and Mary want to protect him, albeit in very different ways, only Jesus knows the truth that they cannot.
In this production, Omega Jones' Jesus is the magnetic force at the center of the power struggle. His voice and presence command attention, and the mood in the room changes with his inflection. This Jesus is kind, but not subdued; and his anger is filled with emotion both righteous and prideful. Jones skillfully handles not simply the melody but the context of each song, ensuring the audience hangs on every note. He successfully gives Jesus a sense of urgency and impatience that perfectly suits director Justin Been's future-urban interpretation. All too aware the clock is ticking but there's so much more he wants to do and say, Jones fills the role with idealism that's countered by reality and compassion that's tempered by knowing what lies ahead.
As Judas, Phil Leveling sulks in the shadows, agonizing over his conflict and blasting trumpet like notes of pain from the top of the temple stairs, the held notes ricocheting through the space. Though his character lacked the same insistent drive as Jones' his manipulations and misgivings are clear. Competing with Judas for Jesus' attention, Heather Matthews is attentive and persuasive as Mary Magdalene, and her songs ring with clarity. "Everything's All Right" is particularly moving and "I Don't Know How to Love Him," is a rock ballad filled with tender confusion.
Jon Hey reverberates sternly as Caiaphas, his deep voice shaking the former church's rafters and floorboards. Lavonne Byers commands the spotlight with a smoky voice as Pontius Pilot. Gerry Love prances and preens as a sideshow Herod and Mike Hodges' Annas slips around, slyly sticking his nose in and pouncing like a fox on smaller prey. Riley Dunn is a sympathetic Simon and Kevin Corpus holds your eye and tugs at heartstrings as Peter. The two actors add vocal stylings to "Simon Zealotes" and "Peter's Denial" that give the songs a modern edge, with Corpus including a hint of smooth hip hop in his phrasing. The ensemble is bursting with talent and the harmonies in the choral numbers effectively fill the converted worship space with sounds of reverence, anger and adoration.
Unfortunately, some of the singing gets lost in technical difficulties or staging, and a few of the actors, including Leveling, have problems hitting their notes. Leveling clearly has the necessary range and his ending rendition of "Superstar" is among his best vocal work, but there are moments when his voice is lost. The ensemble would also do well to pay closer attention to the emotional arc and intensity of the lead characters to ensure they are neither overacting and stealing focus nor under-acting and weakening tension. The band is also more effective during the straight up rock numbers, as the horns and strings felt not wrong, but off in several spots.

This may be a fine line, but the missed moments stand out because the constantly changing show is otherwise thoroughly captivating. Scenic designer Josh Smith, costumer Eileen Engel, lighting designer Tyler Duenow and hair and make up designer Miles Bledsoe create sharp contrasts and striking looks that enhance the dystopian environment. The choreography, by Mike Hodges, mirrors the story's emotional ebb and flow. Updated with the athleticism and in-formation moves of contemporary dance teams, the precise lines and synchronization make dance an unexpected highlight of the show. Director Been and music director Jennifer Buchheit establish the levels with certainty and, most of the time, the elements weave together to create the sonic and visual spectacle the rock musical demands. Overall, the production is astoundingly vibrant and resonant. The rock elements compliment Jones, Leveling, Matthews and the cast with a pulsing energy and hints of anger and hopeful desperation about to explode into something much bigger. 
Stray Dog Theatre's "Jesus Christ Superstar," running through April 28, shines with strong casting and resonant performances. Omega Jones anchors the show in yet another unforgettable and engrossing role. Delivering powerful songs and a few staging surprises such as the gasp-inducing death of Judas, the production provides the rebellious and infectious enthusiasm the show's memorable score deserves. 
Related Articles