Theatre Reviews
Theatre Reviews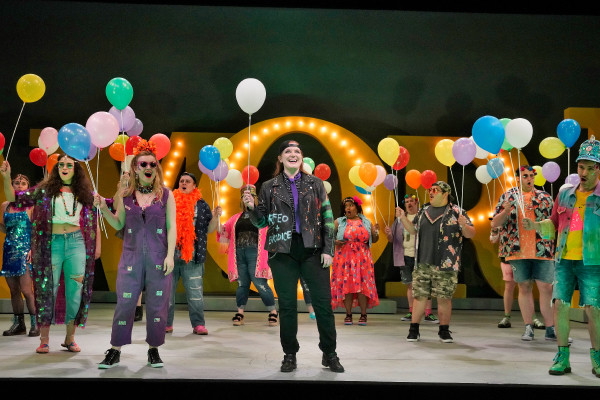 It's Radical, Dude: 'Orfeo and Euridice' at Opera Theatre
By Chuck Lavazzi
When Christoph Willibald Gluck's "Orfeo and Euridice" ("Orfeo ed Euridice" in the original Italian) was first performed back in 1762, it was considered somewhat radical. Opera Theatre's lively and whimsical production is radical as well, although in a very different way.
Gluck's original was innovative in the way it simplified an art form that had become noted for its convoluted plots and reliance on extended ballet sequences and elaborate staging. Gluck and his librettist, Ranieri de' Calzabigi, produced a streamlined work that concentrated entirely on the story of Orpheus and his journey to the underworld to bring his wife Euridice back to the land of the living. There are no extraneous subplots and all the music and dance sequences are designed to serve the story. It was the first of what came to be known as Gluck's "reform" operas, and its influence would be felt for years to come.
The Opera Theatre production honors that idea with a minimalist, modern dress approach. The action plays out on a bare stage, with the various settings suggested by video projections on the upstage wall. Hades, for example, is lit entirely in red with an abstract pattern reminiscent of a computer screen saver while the Elysian Fields have the same pattern in a soothing blue.
Costuming is simple as well. In the first scene, which takes place on a dimly lit stage decorated only by a large photo of Euridice upstage center, Orfeo and his companions are all in black leather. The demons in Hades wear white masks and long red raincoats, while the blessed spirits in Elysium are all in white and completely covered in translucent veils. Amore, the god of love, sports "distressed" jeans, a backpack, and deliberately cheesy wings with lights. And for the final celebration of Euridice's return to life at the Temple of Love, everyone is decked out in colorful casual wear with lots of glitter.
So, no, you won't find any togas or other classical trappings here, but once you accept the idiosyncratic vision of director Ron Daniels, set designer Riccardo Hernández, and costume designer Emily Rebholz, it all makes a kind of sense. Amore is Cupid, after all, so why shouldn't he look like a teenager? And since the happy finale was written with the opera's premiere at a court celebration in mind (the name day celebrations of Emperor Francis I), why not make it look like a party, complete with balloons?
What really makes this "Orfeo" work, though, are the performances by the stellar cast, headed by mezzo Jennifer Johnson Cano as Orfeo (originally written for a male castrato, the part is usually sung by a mezzo today). The emotional range of the role is considerable, encompassing grief, defiance, and joy, and Ms. Cano portrays all of the character's many moods convincingly. She has a wide-ranging voice with an impressive lower register and sufficient flexibility to easily navigate the showy Act I aria in which Orfeo declares his determination to journey to Hades to bring back Euridice. The number is a throwback to the earlier florid Italian style, so it only seems appropriate that Ms. Cano's virtuoso performance provoked shouts of "brava" from the audience.
Soprano Andriana Chuchman, who was so compelling in OTSL's "Shalimar the Clown" in 2016, once again impresses as Euridice. She has a rich soprano that flows like liquid gold through Euridice's confused lamentations over Orfeo's refusal to look at her on the journey back from Hades.
Soprano Maria Valdes makes her OTSL debut as Amore. She radiates cocky juvenile confidence in the role, but is also warmly sympathetic as she comforts Orfeo. Her voice has a lightness that is an excellent match for the character.
The ballet sequences are choreographed by Katarzyna Skarpetowaska, using an eclectic mix of classical ballet and jazz steps. It's a combination which, given this production's juxtaposition of the old and new, works very well. The choreography is performed by St. Louis' own Big Muddy Dance Company. Whether they're portraying threatening demons, graceful Elysian spirits, or giddy revelers, they fill the stage with life and color.
There are multiple versions of the music for Gluck's opera available, and conductor Pierre Vallet has created his own for this production. It's based largely on the one Hector Berlioz created for the Théâtre Lyrique in 1859, but with some changes suggested by Mr. Daniels. Mr. Vallet conducts the orchestra of (mostly) St. Louis Symphony musicians in a vital and energetic reading of the score, with some notable solo work by SLSO Associate Principal Oboe Phil Ross and SLSO flautists Andrea Kaplan and Jennifer Nichtman. I'm not sure I understand the logic behind putting Mr. Ross on stage for his Act I duet with Ms. Cano, though.
Mr. Daniels' vision of "Orfeo and Euridice" is, as I say, an unusual one. I don't find it entirely convincing but, unlike some recent attempts at OTSL to put a contemporary spin on a classic, it didn't seem to be actively working against the music and text. And he does create some very compelling images. At one point in the Elysian Fields scene, for example, he places the veiled chorus in the audience, in two rows on either side of the thrust stage. It's a weird, otherworldly sight.
Opera Theatre's eccentric and entertaining "Orfeo and Euridice" runs in rotating repertory with three other operas through June 21st at the Loretto-Hilton Center on the Webster University campus.
Related Articles