Theatre Reviews
Theatre Reviews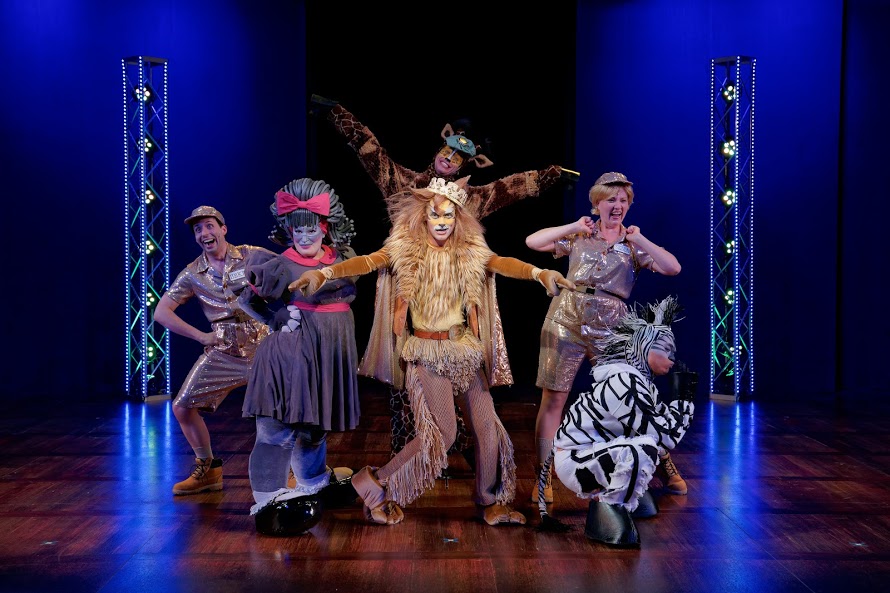 'Madagascar, A Musical Adventure' keeps young theatergoers captivated and older ones amused
By
Everyone's favorite world traveling zoo residents, Alex the Lion, Marty the Zebra, Gloria the Hippopotamus and Melman the Giraffe, as well as those zany penguins, jump off the screen and onto the stage in the upbeat "Madagascar, a Musical Adventure." If you have kids in your life or are a fan of animation, you are likely familiar with these names; they are the lead characters from the animated movie franchise of the same title. The musical stage version is suitable for all ages and the short, quick show is ideal for introducing the youngest members of the audience to live theater.
After the Central Park Zoo show one day, Marty the Zebra catches the penguins making an escape. Learning that they are running away to Antarctica, their homeland, Marty begins to dream about being free in his homeland. He tries to convince best friend, and king of the zoo, Alex the Lion to join him in running away, but Alex is pretty content. Marty decides to head out on his own, figuring he'll be back by morning and no one will notice he's missing. Alex notices, he recruits Gloria and Melman to help him find Marty, and a wacky adventure gets underway. There's plenty of singing and physical comedy before our friends find their way home. They'll also get shipwrecked, cross paths with a Lemur king that likes to "move it, move it," and learn a few life lessons, particularly about friendship.
Jordan De Leon is captivating as Marty, there's a real sense of a curious, but not always confident kid in the character and his dancing is athletic and fun to watch. De Leon ensures that the audience cares about the zany zebra's well being and safety, but his character also recognizes a need to do something for himself. With his hopeful, curious attitude and friendly nature, he's the perfect centerpiece for the show and a capable counter to Erik Keiser's overconfident Alex the Lion.
Keiser is comically hammy and over-exaggerated as Alex and that's just right for the big-voiced, big-hearted cat. He can be self-centered at times, but his heart is in the right place. This is never so much in evidence as, when after dreaming about steak (in a truly funny number with a sing-along chorus) and mistaking his best friend for dinner, he banishes himself. Marty refuses to give up on his friend, however, and De Leon and Kaiser bring that chemistry to life.
Gloria, played with a big, warm smile and cheerful demeanor by Claire Manship, is kind and caring, but with a playful, fearless attitude. Melman, the slightly grumpy and sensitive hypochondriac giraffe is given an endearing, huggable sensibility by Daniel Moser. The four resonate with genuine affection and the kids in the audience quickly respond. The ensemble of Ryan Cooper, Laura Ernst, Kyle Pollack, Mariah Studebaker, April Strelinger, and Angela Sapolis more than capably play all the remaining roles with energy and distinction.
The show is vibrant, fast, and furiously friendly with simple but catchy songs, an upbeat adventure and an active cast that keeps young audience members engaged and everyone entertained. Lessons on friendship, accepting others for who they are and being true to your self are delivered without speeches or soap box moments. The result is as delightful as it is optimistic.
Michael Hamilton directs and provides the musical staging for the production, with clever choreography by Ellen Isom, a cartoonish scenic design by James Wolk complemented by Sean M. Savoie's lighting, and even more whimsically cartoonish costumes by Brad Musgrove. Lisa Campbell Albert's music direction provides the finishing touch. With characters many children already know and a positive, uplifting message, the one act musical entertains from start to finish.
"Madagascar, A Musical Adventure," continues through July 1st at STAGES St. Louis, and is presented as part of the Emerson Family Theatre Series. There are a few loud noises, flashing lights and fast moves in the show, and the sensory stimulation may be overwhelming for the most sensitive members of the community. There's no rough language and minimal conflict, however, as the lighthearted story focuses on the positives of every situation the friends encounter. For family friendly theater that's welcoming to even the youngest fans, this show is a comical musical treat.
Related Articles