Theatre Reviews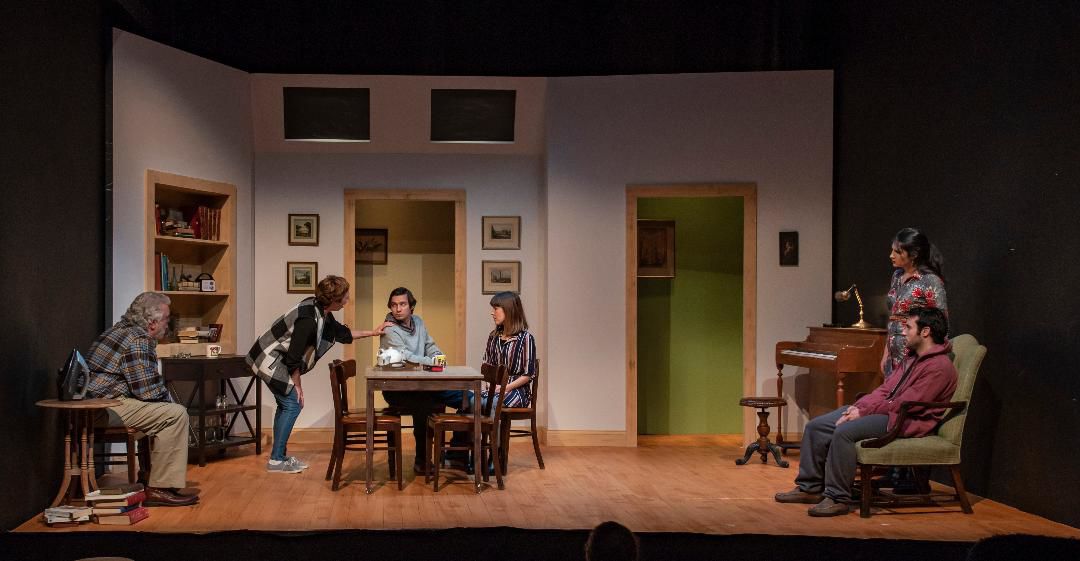 Complex and nuanced, 'Tribes' takes on the many facets of belonging
Written by

Tina Farmer
St. Louis Actors Studio's exceptionally well-produced "Tribes" is a thoughtfully compelling and thoroughly engrossing show. Directed by Annamaria Pileggi, the family drama explores what it means to belong; to be listened to, heard and accepted for the unique individual you are. Stir in family dynamics, a family member who is differently abled, add a romantic interest with strong opinions and experience of her own, and you've got the makings of a riveting and surprisingly cathartic drama.
Deaf from birth, Billy has not learned sign language and instead reads lips, wears hearing aids and speaks with those around him. His parents, particularly his strong willed father, didn't want Billy to feel singled out just because he is different and Billy has always accepted this. His mother, an aspiring writer, is much more open-minded, she just wants her children to be happy and successful in their own way. Though she clearly still loves her husband, it is apparent that they often clash – intellectually and emotionally. Daniel and Ruth, Billy's siblings, compound the mounting tension as each has recently moved back home after a failed romance.
When Billy falls in love with Sylvia, a young, signing woman who is slowly going deaf, issues of language and understanding boil over. Billy's new world gives him a different perspective on his upbringing and the way he communicates. As he begins to question his place in the world it threatens to tear his family, as well as Billy and Sylvia, apart. Over-confidence at his new job leads to additional complications in this realistic, multi-layered story.
Miles Barbee is captivating as Billy, telling the story in expression and body language as thoroughly as through sign and spoken dialogue. He's thoughtful, more perceptive and much deeper than his parents have given him credit for, though they've never consciously considered this. Barbee thoroughly integrates his character motivations and, as you watch him observe those around him, you can't help but feel a sense of his perspective coming through each character.
Father Christopher, in a tightly wound, pugnaciously aggressive performance by Greg Johnston, adamantly asserts his belief that Billy needs to be tough and to be treated exactly the same as if he were hearing. Johnston is hard to watch at times, and his tone-deaf lack of compassion is particularly marked. Emotionally exhausted but overflowing with nurture and curiosity, Elizabeth Ann Townsend, as mother Beth, is an ineffective but perfectly balanced foil to Johnston. She battles ferociously on matters academic but turns fearful, unable to challenge her husband's rule on the family. She clearly loves and struggles with each of her children's challenges, but is at time smothering and over-obsequious and Townsend perfectly captures the dissonance here.
Ryan Lawson-Maeske and Hailey Medrano, as Daniel and Ruth, are compelling characters as well. Though not quite as fully developed as the others, each is dealing with issues of their own that in part reflect their upbringing with Billy. The actors find varying levels and elicit genuine sympathy. Lawson-Maeske is fragile and prone to stuttering, Medrano lacks self-confidence but often responds with the same aggressive persistence as her father. Medrano provides perceptive commentary throughout the proceedings, though she's often ignored and deeply wounded by in-attention. Lawson-Maeske's character poignantly crumbles, desperately clinging to Billy even as Billy gains the confidence to stand on his own. The relationship between the two brothers is as intensely emotional and dependent as Billy's growing relationship with Sylvia.
Sylvia is a game-changing presence in the story, and Bridgette Bassa fills the character with independent conflicts and a sense of self worth that shines. When everyone else is bleak, she comes in like a ray of sunshine but carries the force and determination of a hurricane. Her performance equals Barbee's and the two complement each other in beautifully nuanced, at times revealingly painful ways. The ease and fluidity of their signing with each other is understatedly elegant while also stopping the rest of the cast in their tracks. This creates a moment of stunned silence that resonates, lingering in the air until Daniel hesitantly steps forward to break the tension. The final scene is a tearjerker moment of forgiveness, longing and uncertainty that mixes sorrow with happiness and fills you with release.
"Tribes," continuing through December 16 at St. Louis Actors' Studio, is a play about belonging – being truly heard and not simply accepted but celebrated for who you are. The slow burning show builds to a rather abrupt ending that nonetheless vibrates with emotional resonance and unexpected intensity. Theatergoers who appreciate complex stories and gracefully executed characters will appreciate the attention to detail and storytelling that Pileggi and the cast deliver on every level.
Related Articles