Theatre Reviews
Theatre Reviews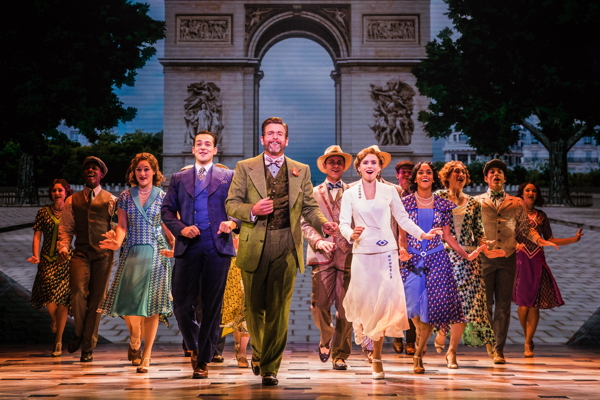 'Anastasia' at the Fox is a fine romance
By Chuck Lavazzi
"Anastasia," the 2016 stage adaptation of the 1997 animated musical film that's playing the Fox through January 6th, has imposing credentials. With music by the talented team of Stephen Flaherty and Lynn Ahrens and a book by celebrated playwright Terrence McNally what could possibly go wrong?
The answer, happily, is "nothing."
Indeed, this colorful and charming romantic fantasy does pretty much everything right, beginning with an engaging score that supports the story well. "Anastasia" doesn't have the through-composed weight of Flaherty and Ahrens's "Ragtime" or the ingenious wit of their "Seussical," but it does the job and even manages to generate some memorable tunes. "Journey to the Past," the big first-act closer, has already caught on with many younger singers, for example.
Lila Coogan
Photo by Matthew Murhpy
Mr. McNally's book tells a complicated story efficiently with characters that, while lacking in depth, are nevertheless clear and consistent in their motivations. The play opens in Tsarist St. Petersburg in 1906, as the young Grand Duchess Anastasia Nikolaevna bids a tearful farewell to her beloved grandmother, the Dowager Empress Maria Feodorovna, who is off to live in Paris. The action quickly moves to 1917, as the teenaged Anastasia is apparently killed with the rest of the Romanov family in the revolution.
Or maybe not. Cut to 1927, as Vlad Popov, a former member of the Imperial court, hatches a plan with his young protégé Dmitry to find a young girl who can be passed off as Anastasia, whose death was never confirmed. Rumors of her survival persist, and in Paris the Dowager Empress is offering a tidy sum for proof that she lives.
L-R: Edward Staudenmayer, Lila Coogan,
Stephen Brower
Photo by Evan Zimmerman
They stumble upon Anya, an amnesiac street sweeper who seems to know things that only Anastasia could, and they're convinced wealth is at hand. All they need to do is coach Anya and make their way to Paris while avoiding the machinations of Bolshevik general Gleb Vaganov, who is determined to kill rumors of Anastasia's survival--along with the real Anastasia, if necessary.
With Gleb in hot pursuit, they make it to Paris, where Vlad hopes to re-ignite his affair with Countess Lily Malevsky-Malevitch (now the Dowager Empress's lady-in-waiting) and where Dmitry falls desperately in love with Anastasia, even though he knows that, should their scheme succeed, he'll lose her forever.
But because "Anastasia" is a musical rather than an opera, all ends happily.
Jason Michael Evans
Photo by Matthew Murphy
This first USA tour, which began in Schenectady, New York, back in October, boasts a truly excellent cast. Lila Coogan is a radiant Anastasia, vocally strong and very credible as a troubled young woman trying to sort out fact from fancy in her life. Her performance of "Journey to the Past" was the showstopper it was obviously intended to be. Stephen Brower is a lovable and charismatic Dmitry with his own big moment in "My Petersburg" towards the end of Act I.
Edward Staudenmayer, who was such a brilliant Lord Evelyn in "Anything Goes" at the Fox in 2013, hits the theatrical bull's-eye again as Vlad, especially when he's working opposite Tari Kelly's hilarious Countess Lilly in their gloriously silly love duet, "The Countess and the Common Man." Ms. Kelly reminded me of the young Carol Burnett, with her impeccable comic timing and vocal power.
L-R: Victoria Bingham, Joy Franz
Photo by Evan Zimmerman
Jason Michael Evans has a big, powerful baritone voice that gives his Gleb real authority, especially in his final confrontation with Anya, but I felt he telegraphed the character's unhinged obsession a bit too early in the show. The intensity of his performance worked better in Act II, when the conflict between Gleb's growing affection for Anya and his sense of duty are clearly driving him to distraction.
Joy Franz is a moving Dowager Empress and Victoria Bingham is a real delight as Little Anastasia. The members of the ensemble display remarkable versatility in a variety of roles and provide some impressive dancing in production numbers like "Paris Holds the Key (To Your Heart)" and "Land of Yesterday."
The technical aspects of this production are stunning. Aaron Rhyne's digital videos and projections bring the show's many settings to vivid and often strikingly realistic life, from the muted oppression of Soviet-era St. Petersburg to the brightly colorful Paris of the late 1920s. Complex scene changes take place within seconds, helping the show to move at a brisk clip and making it all seem much shorter than its run time of nearly two hours and forty-five minutes, including intermission.
Lila Coogan and the ensemble
Photo by Matthew Murphy
Linda Cho's striking costumes and Alexander Dodge's sets add to the strong visual appeal of "Anastasia," and director Darko Tresnjak, who also directed the Broadway original, pulls it all together in one big, bright package. Down in the pit, Music Director/Conductor Lawrence Goldberg leads a flawless account of the score.
Peter Hylenski is credited with sound design, so I'm going to assume we have him to thank for the crystal-clear amplified sound. All the lyrics were easily understandable, even in the larger ensemble numbers. That's not always the case at the Fox, so thanks for that.
"Anastasia" is a very appealing post-Christmas present for local audiences. It's a bit superficial and goes a bit too easy on the White Russian émigrés of the early 20th century, but as a charming, family friendly musical romance it's hard to beat. Performances continue through January 6th at the Fabulous Fox in Grand Center.
Related Articles