Theatre Reviews
Theatre Reviews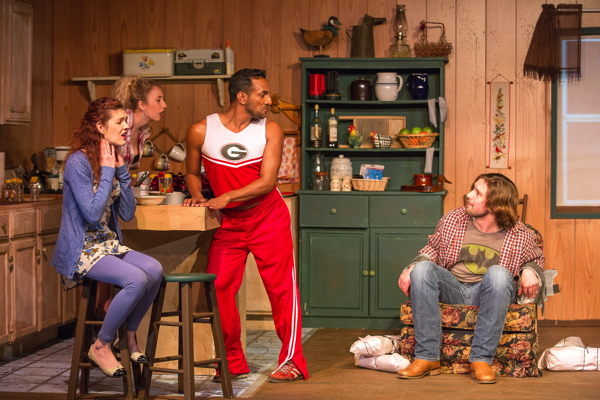 'Exit, Pursued by a Bear' is a tale of love and vengeance delivered with a comic twist
By Chuck Lavazzi
West End Players Guild delivers a quirky comedy about relationships and betrayal that's surprisingly uplifting, with a touch of delightfully overplanned, overthought and overdramatic vengeance inspired by the Bard. "Exit, Pursued by a Bear" is laugh out loud funny and oddly relatable as it delivers a few heartfelt lessons on friendship, loyalty and finding yourself.
As the show opens, Kyle Carter is seen securely taped to his favorite recliner, with another piece of tape preventing him from speaking. His wife Nan, however, has plenty to say, and she goes on at length about his abuse, her dissatisfaction with life and her need to make a clean break and start fresh. With support from her new friend Sweetheart, a stripper with Hollywood aspirations and a love of Shakespeare, and her always-reliable BFF and cheerleader Simon, Nan finally has the confidence to make the break she's been longing for.
We learn the Nan has been holding her anger and disappointment inside for years, so much so that Kyle is both completely surprised and a little impressed by the force and creativity of Nan's plan, though he desperately wants her to reconsider. Sweetheart and Simon are determined to see that she doesn't. Hundreds of empty honey containers only add to the comedic intrigue.
As Nan, Lexa Wroniak shows us a woman so accustomed to neglect and abuse that she almost embraces it. She's appealing and sympathetic, though more internal motivation and vocal variety will take her performance to the next level. Alex Fyles is obliviously hilarious as Kyle, a man accustomed to bullying his way through life, and he and Wroniak have good chemistry despite his bad behavior. The scenes when Kyle gets his chance to speak and he chooses to try and woo Nan back are surprisingly romantic.
Ethan Isaac has a lot of fun as Nan's flamboyant bestie Simon. He brings plenty of enthusiasm and tenderness to the part, more attention to diction and projection are encouraged. Tara Ernst rounds out the cast as the aspirational Sweetheart, and she nearly steals the show. A fierce, sassy personality and a longing to better her situation in life is combined with a deep twang and the hilarious propensity to make slightly profound statements the character doesn't fully comprehend but feels with certainty. Ernst ensures the character is relatable and grounded, with excellent comic timing.
Teresa Dogget guides the show with an ear to the playwright's clever phrasing and her foot firmly on the gas pedal, upping the tension considerably as new revelations casually spill from the characters mouths. It's a balancing act that works more often than it doesn't, and familiarity and attention to technique will only improve the humor. Robert M. Kappeller's scenic design and Kareem Deanes moody sound create the perfect tone for the show and, though there were a few technical hiccups the night I attended, Amy Ruprecht's lighting design pulls all the elements together while directing focus.
Lauren Gunderson has a knack for writing witty, referential scripts with interesting, complex characters and plots that zip along at a quick pace. There's undeniable charm and an affection for language in this entertaining production, even though the show occasionally feels a little prescripted rather than scripted and the acting a little disconnected at times.
"Exit, Pursued by a Bear," continuing at West End Players Guild through February 17, is an absolute hoot of a good time and the perfect valentine for those who enjoy their romance with a comic twist.
Related Articles