Theatre Reviews
Theatre Reviews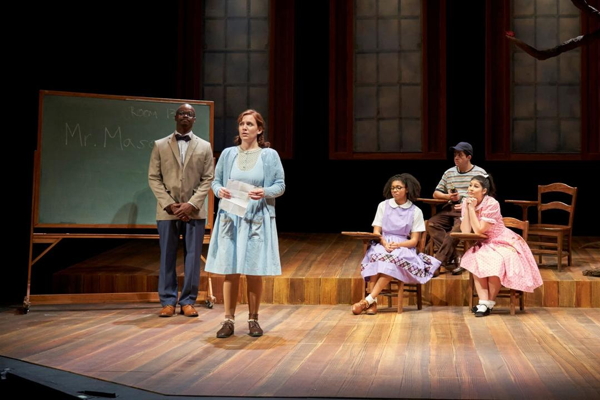 The Hundred Dresses delivers an important lesson on kindness with an appealing all-ages story
By Chuck Lavazzi
"The Hundred Dresses," written by William Kent Williams and based on the book by Eleanor Estes, continues Metro Theater Company's season of strong girls with a relatable story that both girls and boys can appreciate. The engaging play introduces audiences to Maddie, a young teacher who uses a memory from her days as a student to pass along important lessons on acceptance, tolerance and kindness.
The framing, with Maddie as narrator, ensures important messages can be repeated and emphasized while keeping the other characters immersed in the story. The smart device also gives students and young audiences a moment to settle in and turn their attention fully to the unfolding drama.
Maddie tells of the fall semester when Wanda, a poor immigrant from Poland, joined her class. Peggy, the class queen bee who is also a bit of a bully, takes an immediate dislike to Wanda simply because she is different and begins teasing and deriding the girl for everything from her last name to her lunch, the neighborhood where she lives and the fact she wears the same dress to school every day.
When Wanda defensively remarks that she has a hundred dresses in her closet at home, Peggy scoffs at the notion and kicks up her campaign to ostracize the girl. Maddie and fellow classmate Tommy find Wanda likeable, but they are too cowed by Peggy to stick up for the new girl until it's too late. In contrast Wanda shows remarkable patience and wisdom, though we never see her cry it is clear she's hurt by Peggy's spite and the other children's silence.
Alicia Reve Like effortlessly transitions from teacher and narrator to young student, creating an important thread from past to present that adds immediacy and helps the message stick. Appealing and relatable as Maddie, it's clear from her expressions and the hesitation in her voice that she knows Peggy is being mean, but she doesn't know how to stand up to her. The portrayal is naturally believable, and murmurs during the show suggest many of the young audience members recognize their self in her performance.
Hailey Medrano, as mean girl Peggy, struts around the stage like a spoiled child accustomed to getting her way, but she's far from a one-note character. In a memorable connecting scene near the end of the play, Medrano skillfully shows us Peggy's character change without seeming forced or contrived. Jacob Cange is likeable as the sometimes awkward and not too quick Tommy. Though one suspects he's a little relieved that Wanda helps him avoid Peggy's sharp tongue, he is also fundamentally kind hearted. Phillip C. Dixson leads the class as the genial Mr. Mason, a teacher who clearly wants to inspire his students to be good citizens.
Sophie Murk is patient and kind, with softly spoken wisdom many adults fail to grasp, as the beleaguered Wanda. Murk walks a fine line here and the result is a girl who believably tells the other students that while it may be easier to make up stories instead of taking the time to get to know someone who's different, it isn't right. She also succeeds in communicating her character's pain and disappointment in non-verbal ways that even the youngest members of the audience can understand.
"The Hundred Dresses," continuing through February 25, is a charming and relatable story the whole family can enjoy that resonates with truth 75 years after the original book's publication. The cast, under the direction of Metro Theater's Julia Flood, finds the right level of emphasis and heightened reality to make the characters both believable and persuasive, delivering clear messages about friendship, bullying and accepting others. Hopefully, these important lessons will stick with a new generation.
Related Articles