Theatre Reviews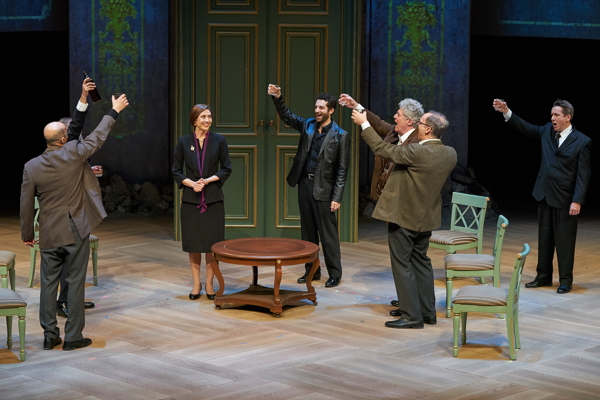 'Oslo' is an intense ride through personalities, history and international politics, with surprising results
Written by

Tina Farmer
The Oslo Accord of 1994 was an attempt at brokering a formal peace between Israel and the Palestinian Liberation Organization (PLO). With a groundbreaking effort in diplomacy and negotiations, the efforts seemed, at least for a moment, to offer real hope for lasting peace in the Middle East. The Rep's fascinating production of J.T. Rogers "Oslo" puts audiences "in the room where it happened" in a high energy show that bristles with carefully guarded, albeit sometimes giddy, excitement.
The fact-based story introduces us to the brilliant academic Terje Rod-Larsen and his wife, Mona Juul, a member of the Norweigen government and diplomatic staff. The couple has a life changing experience when they witness an altercation between an Israeli soldier and a PLO protestor while visiting Jerusalem. Inspired, or perhaps prodded, by the disturbing scene, Terje develops a plan to broker a peace arrangement through small conversations and common goals. Much to everyone's surprise, and with considerable help from Mona, he is able to bring representatives from both sides together. In a matter of 9 months they shock the world when they present their agreed upon proposal for peace.
Jim Poulos is filled with a tireless, passionate energy as Rod-Larsen, and he is the driving force behind this dense, but immensely watchable play. Rod-Larsen is the fulcrum around which the entire peace process is balanced, but he's not the most stable of elements. Poulos' tightly wound, passionately committed approach to the character feels reckless, but somehow under control, both in the story and character dynamics. In retrospect, the world is only lucky the his mercurial moods and near-manic energy didn't ruin the opportunity.
Rod-Larsen's wife Mona, played with an intelligent charm and resolute, reasoned temperament by Kathleen Wise, believes in her husband; but even she is somewhat surprised by the success they're able to achieve. The two seem so connected and in synce with each other that a lie of convenience from Rod-Larsen feels akin to a small bomb dropping, figuratively speaking. While the two recover, the momentary chasm reverberates in its moment.
The two are joined by Jonathan Gillard Daly, John Rensenhouse, memorable as both the intellectual Yair Hirschfeld and powerful Shimon Peres, Amro Salama, Chaunery Kingsford Tanguay, Jim Shankman, Jack Theiling and Tom Wethington. Local favorites Michelle Hand, Jerry Vogel, Michael James Reed and Jeffrey Cummings, round out the cast of effective and believable characters.
The most interesting characters in this fact-base play by far, however, are the chief negotiators for both sides: Ahmed Qurie for the PLO, played with a deft, if sometimes purposefully dramatic, touch by Rajesh Bose, and Uri Savir for Israel, played by an intense but thoroughly likeable Ben Graney. Bose uses flattery and humor in ways that are effectively pragmatic, while Graney is a bit more volatile - though not nearly so much as Salama's communist-leaning soldier Asfour - but he's always listening and proves much more ferverently committed to peace than first appears. If Rod-Larsen is the spark for change, the two men are fireworks he ignites.
Director Steven Woolf guides the show with a sure hand, creating an easy fluency for weighty matters like world peace while keeping the tension high with pace and smart use of physical space in moments of conflict and congeniality. Careful attention to small details, gestures and accents, as well as an appropriately unobtrusive set, costumes and technical design, ensure the characters are distinct while clearly moving the story forward.
The large and talented ensemble provides texture, global perspective and complexity, but it is the back and forth between the central figures that, ultimately reveals the heart and soul of this riveting historical drama. When Bose, Graney and Poulos interact, the show is electric, genially chaotic and ripe with possibility, adding layers of interest to an inherently compelling story.
Based in fact, with a fascinating and authentic look into the process of peace, "Oslo" continuing through March 3 at The Rep, is a compelling drama. Even if the accord was not the lasting peace the characters strove for, the audacity of hope and courage is clearly defined and powerfully portrayed.
Related Articles