Theatre Reviews
Theatre Reviews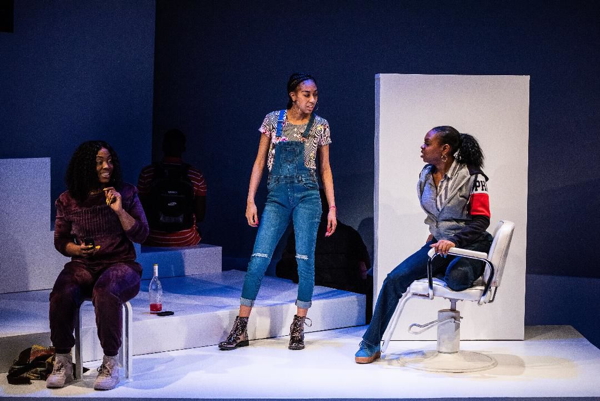 Complicated lives ensure 'Milk Like Sugar,' takes us on an emotionally raw and authentic journey
By Tina Farmer
The Black Rep follows up its stunning production of "Canfield Drive" with another thoughtful and compelling story of life for persons of color in contemporary America. Nothing is completely as it appears, and is happening all too quickly, for the compelling and well-developed teenaged characters at the center of Kirsten Greenidge's "Milk Like Sugar."
The play focuses on the sophomore high school year of Annie, her closest friends Margie and Talisha, her overworked mother, and potential friends, or baby daddies, Keera, Malik and Antwoine.
The students' parents are barely making ends meet, so it's not surprising when the girls laugh at the college brochures a teacher staples to their papers, though Annie doesn't throw her's away as quickly as the others. Instead, they focus their aspirations on achievements they see reflected in their neighborhood, which includes having children and accumulating symbols of status like designer handbags or the latest phone.
The three girls have made a pact to have babies at the same time and, since Margie is already pregnant, the other two need to catch up, which may be difficult for the virginal Annie. She isn't 100 percent certain that's what she wants and her conversations with Malik and observations about her mom only reinforce that confusion. Peer pressure is strong, however, and even as she wrestles with her feelings, Annie tries to hook up with Malik, then Antwoine to keep her word.
Brandi Threatts brings Annie to life in a captivating performance that captures all the complexities and inconsistencies of a teenage girl. She clearly aspires to be more, but doesn't know what that more is. Under the influence of her friends, played with pitch perfect attitude by Camille Sharp and Tyler White, and bitter, world-weary mom, a nice turn by Michelle Dillard, she's just not sure how to change her destiny. Dwayne McCowan as Malik, a friend determined to go to college, and Jillian Franks as Keera, a friend who uses religion to find solace and an escape from her reality, try to offer her a different direction, but which path will she choose?
At the end of the quick paced show, directed with a nuanced understanding of teenage insecurity and indecision by Nicole Brewer, we are not sure what the future holds for Annie, but there's hope.
The African American teenagers in this play live in a world lacking privilege, but there's no lack of curiosity or ambition in the show. Those ambitions may not be focused in ways that are familiar to others, particularly persons who grew up with middle class, suburban values and especially if they lived in a predominantly white neighborhood and watched network television. But these characters and their world resound with authenticity. Audience members from every background will benefit from hearing the eloquently portrayed, sharply drawn teenagers and seeing the conflict of their changes, challenges and true potential.
"Milk Like Sugar," continuing through March 3, is filled with the raw emotion, uncertainty and struggles of life for those without privilege. A sparse set with relevant songs playing during the transitions keeps the focus clearly on the characters - their lives and their struggle to find acceptance and success in the world - while the guiding hand of Brewer elicits well-motivated and thoroughly provocative performances from the show's young stars.
Related Articles