Theatre Reviews
Theatre Reviews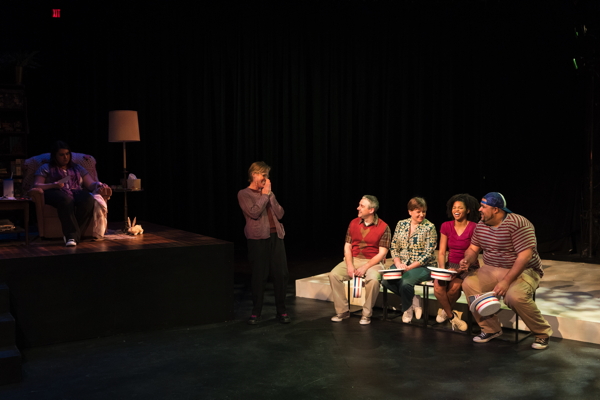 Laughter is strong medicine in Mustard Seed Theatre's production of 'Well'
By Chuck Lavazzi
Lisa Kron's 2004 play, "Well," playing at Mustard Seed Theatre through March 17, is a rare find: A quick-paced, laugh-out-loud comedy that tackles serious themes, such as family, race, and health in America. Though Kron is most well-known now for writing the book to the musical "Fun Home," her play "Well" ran Off-Broadway in 2004 and then on Broadway in 2006 before playing around the country. Mustard Seed Theatre's production offers a valuable chance to see this important, contemporary playwright's work in a compelling production.
The script itself takes the form of the playwright, Lisa Kron (played with great charisma by Katy Keating), explaining how she is writing a play about "illness" and "wellness," and definitely not writing a play about her and her mother. Her mother, Ann Kron (played effectively by Lori Adams) just happens to be onstage. The wheels continue to come off this play-within-a-play as Lisa tries to tell the story of her childhood, her mother's role in revitalizing their mixed-race neighborhood, and the differences between her ill mom and her own wellness. Her mother's interruptions become increasingly unruly, and an ensemble of actors (brilliantly played by Alicia Revé Like, Carl Overly, Jr., Bob Thibaut, and Leslie Wobbe) gradually rebels against the confines of Lisa's script.
What could feel like a sophomoric meta-theatre exercise resists easy description because of the play's genuine humor, self-mockery, and insight. The script defies a potentially trite ending in favor of a much more interesting and ambiguous final note, which I'll allow you to experience for yourself rather than describing here.
These strengths of the writing shine under a clear and quick-paced production. Director Deanna Jent has created a vibrant theatrical world with understandable conventions that are all the more impressive because they retain their clarity even when they are intentionally broken. The brilliant set by Bess Moynihan is a bifurcated stage, on one side realism, the other minimalism. The realistic portion is a raised platform on which sits a tidy but jam-packed Midwestern living room that is all wood, cloth, and warm colors. This is the world of Ann Kron, sitting in her stuffed reclining chair, and it is brilliantly populated by hundreds of carefully chosen objects, from a fern to a knit blanket, thanks to prop master Laura Skroska.
The other side of the stage is a low platform, painted a clinical white, with a half-dozen stage blocks painted to match. This is the theatrical world where Lisa and her ensemble create locations from Lisa's past. The crisp lights by Michael Sullivan add to the clean direction of the play, keeping the worlds separate, showing when they bleed together, and even slightly illuminating the audience during Lisa's monologues to show that we are part of this ritual.
The costumes by Jane Sullivan complete the visuals onstage with sharp storytelling and lovely details. The small purple pieces Lisa adds and removes to indicate what period she is in match the purple of her mother's sweater, indicating their relationship. Likewise, the ensemble's multiple roles are demarcated by relatively economical costume changes. Overall, the design elements of this production keep a complex script clear and humming swiftly along.
The excellent acting also contributes to the production's precision and comedy. Katy Keating portrays a multi-faceted version of the playwright Lisa Kron struggling to keep her creation on track. Keating brings a depth and wit to the character that kept me wanting to know more about her story. Keating also, like many in the cast, provides small details--such as adding extra syllables to her words as a young child--that create a delightfully rich world to live in for 90 minutes.
Alicia Revé Like, playing several characters in the ensemble, provides a broad comedic take to her characters that compliments Keating's more interior acting beautifully, and the scenes with them together as competing small children are hilarious. The rest of the ensemble--Carl Overly, Jr., Bob Thibaut, and Leslie Wobbe--do a great job demarcating several characters each, and finding their own ways to create the play's comedy.
In this production, audiences have the opportunity to see a strikingly crafted take on a recently written play by an important living playwright. The design and acting work incredibly well together to create a clear story in a script that does not have a traditional plot, and the direction brings all of this together to make Mustard Seed Theatre's production of "Well" by Lisa Kron a riotous and meaningful evening of theatre.
Performances of "Well" run through March 17th at Fontbonne Unviersity.
Related Articles