Theatre Reviews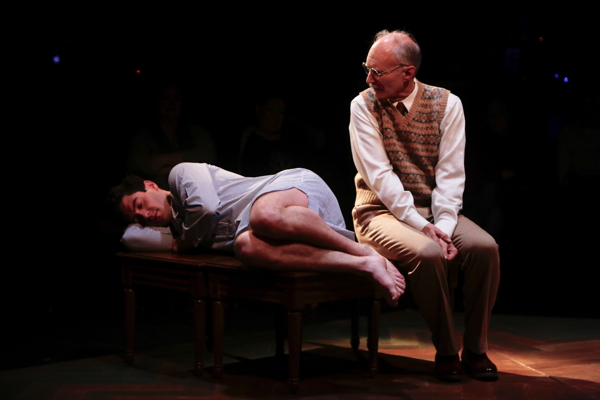 In 'Nonsense and Beauty,' it's hard to 'only connect'
Written by

Chuck Lavazzi
In his program note for the Repertory Theatre's well acted and smartly directed world premiere production of "Nonsense and Beauty," playwright Scott C. Sickles recalls that the play's genesis dates from 1994, when the author read an entry in Leigh Rutledge's "The Gay Fireside Companion" on Bob Buckingham, the English policeman who had a decades-long relationship with famed author E.M. Forster. He was intrigued by the story, and with good reason.
L-R: Robbie Simpson, Jeffrey Hayenga,
Lori Vega, John Feltch
Photo: Jerry Naunheim, Jr.
Forster and Buckingham were apparently attracted to each other from the moment they met at a party during a Cambridge-Oxford boat race in 1930, despite the large gap in their ages (Forster was 51, Buckingham only 28) and social status (Forster's: upper; Buckingham's: not so much). "EM Forster wrote several entries in his diaries about the next few years," writes Darren Marples at Smart Gay Life, "during which they began a lifetime on-off affair. Married and considering himself heterosexual, Buckingham spent many weekends at Forster's flat in Brunswick Square and time away together."
The relationship endured despite Buckingham's marriage. Forster became a close family friend, was a godfather to the couple's son Robin, and was even nursed by Buckingham's wife, May, towards the end of his life. They somehow managed to (in Forster's words) "only connect," despite the difficulty of their situation. May claimed to have been ignorant of the real nature of her husband's relationship with Forster which, given the draconian cultural and legal conditions of the time, is not as outrageous as it would seem today.
Lori Vega, Robbie Simpson
Photo: Jerry Naunheim, Jr.
All of this ought to make for compelling drama, and while there's no doubt that there are many wonderful moments and a few truly moving scenes in "Nonsense and Beauty," I ultimately found it a bit disappointing, largely because of the character of Buckingham.
In Mr. Sickles's treatment of the story, Buckingham actively courts both Forster and May. He claims to love both of them, but is honest with neither. More seriously, the script reveals so little of his inner life, that it's difficult to understand why either Forster or May find him attractive. He's rather like one of T.S. Eliot's "hollow men": "Shape without form, shade without colour, / Paralysed force, gesture without motion."
It's a tribute to the acting skills of Robbie Simpson that he makes Buckingham as interesting as he is. He makes the character believable moment to moment, even if the script leaves him something of a cipher up to the end.
Mr. Sickles has given the other actors in this superb cast more to work with, and their performances could hardly be better. Jeffrey Hayenga perfectly captures Forster's loneliness, insecurity, and self-deprecating wit. Lori Vega shows us all of May's intelligence and fundamental decency. Donna Weinsting is a perfectly acerbic treasure as Forster's mother Lilly. And John Feltch delivers the Oscar Wilde-ish epigrams of Forster's friend, the writer and broadcaster J.R. Ackerley, with real relish, while making the character's unrequited love for Forster painfully real.
Donna Weinsting, John Feltch
Photo: Jerry Naunheim, Jr.
Director Seth Gordon's pacing is excellent, both in and between scenes, and his blocking generally avoids the "obstructed view" trap of working in the round, although I did feel that I saw more of J.R. Ackerley's back than was necessary. Felia K. Davenport's costumes are well chosen for the characters and period. Rusty Wandall's sound makes effective use of brief musical clips to cover the lightning-fast changes of Brian Sidney Bembridge's minimalist set, and his choice of Leiber and Stoller's world weary "Is That All There Is?" to open and close the show felt very appropriate..
With a run time of around two hours and twenty minutes including intermission, "Nonsense and Beauty" is perhaps a bit long-winded, particularly towards the end when the playwright leaps ahead by a full three decades in order to pull in Forster's last days on earth. Some of the final scenes felt a bit redundant, especially given the lack of any discernable changes in the characters during the interim. Still, it's good to see a new script that doesn't appear to be a screenplay in waiting.
"Nonsense and Beauty," in short, is a fundamentally sound work that could use with some fine tuning, largely around the character of Buckingham, but it's a worthy addition to the Rep's studio season nevertheless. Performances continue through March 24th in the studio theatre at the Repertory Theatre of St. Louis on the Webster University campus.
Related Articles