Theatre Reviews
Theatre Reviews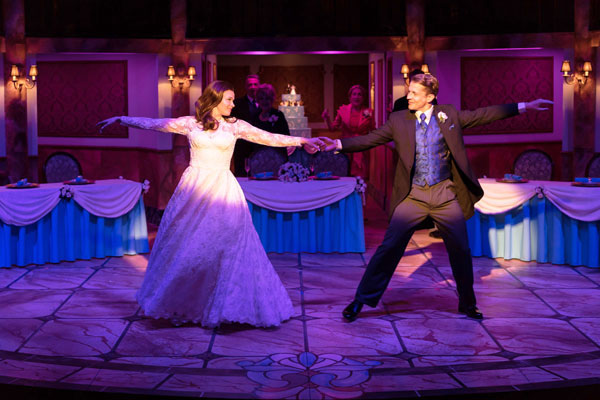 Coulda Woulda Shoulda and Dida: A new musical at Stages St. Louis
By
It Shoulda Been You, the premier production of the 30th season of Stages, is now running at the Robert G. Reim theatre in the Kirkwood Community Center on Geyer Road. This show is a feather in the cap of Stages, the first company given the rights to stage the show following its Broadway run in 2015.
It Shoulda Been You takes place in the contemporary setting of a stately hotel, soon to host a tony wedding between the families Steinberg and Howard. Jenny Steinberg (Claire Manship, very strong) has taken the reigns to coordinate the nuptials for her sister and her intended (Stacie Bono, Jeff Sears). Mother Steinberg (Zoe Vonder Haar, she of the delightfully dry delivery) meddles in the proceedings, nettled by spacey Mother Howard (Kari Ely), making an incendiary pair. Add in fathers (Michael Marotta, David Schmittou), a former boyfriend (Zal Owen), an over-the-top wedding planner (Edward Juvier), a Best Man (Erik Keiser) and Maid of Honor (Jessie Hooker), a "cougar" aunt (Morgan Amiel Faulkner), and a few others, and you get a melange of situations ripe for misunderstandings, conflicts, and fun.
Promotional materials for the show tell us that ultimately, Shoulda is all about families--traditional, and not so much--but that's the nature of current relationships in America in the 20-teens. It would be hard to give additional information about the action in the show without revealing too much of what should by rights be experienced live... So I won't!
The quality of the mixed New York/St. Louis cast, directed by Stephen Bourneuf, is excellent. Strong actors abound in the production and most have excellent singing voices. (I have no hesitation singling out Claire Manship and Zal Owen in this regard). In those times when the entire cast joins in on a song, the results are downright impressive.
Technically, the show is very much on target. The rendering of the set is (as usual) stunning; movement of set pieces to dress the various scenes that come and go on demand is (as usual) smooth. The pre-recorded music is (as usual) lush. The costumes (as usual) colorful and perfect to support character. The only bobble I could see was in the lighting, where some lights were narrowly-focused to hit a specific spot on stage, and heaven help the actor who can't precisely find that sweet spot, drifting in and out of the light.
But I know you're asking, is it a perfect show? Well, in this reviewer's humble opinion, no, not quite. I felt some musical numbers, consisting of Brian Hargrove's lyrics and Barbara Anselmi's music, were more successful than others. In those numbers, intelligent lyrics and pleasing melody set them apart from the other 18 very similar songs in the show. Much of the humor is gratuitous, and some book dialog of Hargrove's is a hair's breadth from being cruel, a jarring departure from the generally light-hearted show. Lastly, if you're looking for subtlety of character, this is not the place to find it, because everyone but the character of Jenny is a full-on stereotype. Had I only two words to describe, I'd say, "Kinda silly."
But such detailed examination of a show is usually only undergone by a theatre reviewer looking for ways to show how we're embracing our task! For most of the audience opening night was laugh-out-loud funny and wholly entertaining. And that's what counts, doesn't it? So all in all, it appears the 30th season of Stages St. Louis is off to a good start.
It Shoulda Been You is a one-act musical, running slightly less than two hours. It will be on stage at the Robert Reim Theatre through July 3.
Related Articles