Theatre Reviews
Theatre Reviews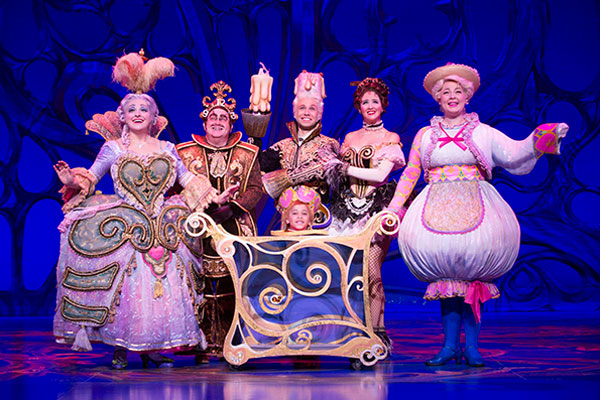 A Beauty of a Beastly production at the Fabulous Fox
By
The "Tale as Old as Time," was again at The Fabulous Fox in recent days for a return, return, return, return engagement. But, if Disney's Beauty and the Beast continues to be as sparkling and entertaining an experience, it can come back again, again, again.
Author Gabrielle-Suzanne Barbot de Villeneuve's 1740 story ("La Belle et la Bête") of love overcoming appearance was taken on by the Walt Disney Animation Studio in 1991. With the addition of new characters, the elimination of unnecessary ones, brilliant pre-digital animation, and a joyous score (Alan Menken, Music, Howard Ashman and Tim Rice, Lyrics), Beauty and the Beast was a hit, and became the first full-length animated movie to be in the running for Best Picture at the Academy Awards. In 1994, with the addition of seven additional songs, a theatrical version opened on Broadway, winning many awards and becoming the ninth-longest-running Broadway show in history.
The story of a heartless prince become Beast (Sam Hartley), his palace staff become household objects such as a candelabra (Ryan N. Phillips), a clock (Samuel Shurtleff), and a teapot (Stephanie Gray), a town bully (Christiaan Smith-Kotlarek) and his toady (Matt DaSilva), and Belle (Brooke Quintana), the beauty to tame and eventually fall in love with the Beast, was a hit with the St. Louis audience -- if the roar at curtain call was any indicator! This current theatrical tour by NETworks brought back many of the creative team that worked on the original Broadway production, adding new costumes, inventive choreography, intricate set elements, and (it seems to me) a slight retooling of direction. Meaning, unlike other productions of B&B I've seen, it appears they skewed the tone of this show more to the very young, adding a lot of slapstick and broad and juvenile humor I don't recall having seen before. But let's face it: to make the Beast too dark, beastly, and angry would no doubt have had all the little dears in princess costumes and tiaras running up the aisles in terror!
Technically, Director Bob Roth's show was a sensory overload: a confection of frothy costumes, a dreamy multi-layer set evocative of carved scrollwork, bright colors abounding, stirring music, popping streamers, inventive dancing, cartwheeling carpets, puppet wolves, and a lot of eerie smoke where needed. The only problems were in the first act with microphones that had been set far too low to hear some of the dialog and musical lyrics being sung. Fortunately, the sound staff was paying attention and the concern was cleared up during intermission.
The magic of Disney's Beauty and the Beast continued unabated at The Fabulous Fox March 11-13 in the story and on the stage.
Related Articles