Theatre Reviews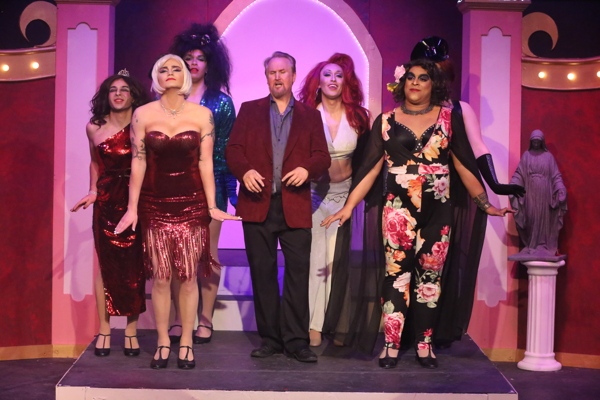 'La Cage aux Folles' shines, sings and shimmies its way from hilarious to heartfelt
Written by

Tina Farmer
Georges and Albin are long-term romantic and business partners, and their showcase "La Cage aux Folles" is consistently one of the hottest tickets in St. Tropez. Albin, as Zaza, is the star of the cabaret styled show and Georges the host and business mind behind the star. When son Jean-Michel surprises the two with the news he is getting married, to a woman who just happens to be the daughter of the conservative, anti-gay Monsieur Dindon, their lives are thrown for a serious loop.
The set-up is perfect for a laugh-out-loud evening of musical comedy that's filled with hijinks aplenty, as well as genuinely touching moments of love and affection and a few well-placed messages about acceptance and family sprinkled in for good measure. Adding song and dance to the humor, the story is complemented by big musical numbers that feature a chorus of female illusionists with Zaza strutting and posing in the center.
There are multiple layers of storytelling in the brisk show, and though the humor is emphasized, there's no shortage of messages about being your self and accepting others for who they are. Zachary Allen Farmer, as the irrepressible Albin and Zaza, is right in the center of it all, shining brilliantly in the spotlight. Farmer's characterization is authentically appealing and emotionally vibrant, tapping into the actor's feminine side with the ease of slipping on a glove, while occasionally delivering a gruff, and pointedly manly, command. Farmer is equally adept moving from high physical comedy to applying the last touches of Zaza's makeup to dancing in formation and high heals with Les Cagelles, the club's chorus. His voice is near perfection and his exaggerated emotional swings hilariously believable, helping audiences to see the heart and compassion that grounds this otherwise extravagant character.
As Georges, Robert Doyle is as calm as a cucumber, failing to be ruffled by Albin's tantrums and trying his best to ensure both his beloved and his son are happy and know that he loves them. Georges is as important to Zaza as her makeup and wigs, and Doyle does a lovely job in his songs to and with Farmer, consistently expressing a deep, genuine and lasting affection. His character is a bit too one-note in terms of the spoken dialogue and vocal variation, Doyle's busker voice felt particularly lacking, but I can forgive him as easily as Albin does when he sings "With You on My Arm" or "Song in the Sand."
At the show within the show, stage manager Francis, a very game Joel Hackbarth, and the chorus girls: Jake Blonstein, Dominic Dowdy-Windsor, Evan Fornachon, Tim Kaniecki, Clayton Humburg and Ian McCreary, give one-hundred and ten percent. Some members of the chorus are clearly more comfortable than others and the disparity adds to the humor, particularly during the repeated choruses of "We Are What We Are" as well as the signature "La Cage aux Folles."
Kevin Corpuz and Tieliere Cheatem are quite well cast as the young Jean-Michel and Jacob, respectively. Corpuz lets us see his character's maturation over the course of the show, though I do wish he would cheat out to the audience a bit more. His apology scene was particularly affecting, both that scene and his light ballet sequence with Zora Vredeveld's Anne stand out as unexpectedly memorable and lovely scenes.
Cheatem channels a supermodel's attitude and wardrobe changes into the over-the-top Jacob, then matches them with rolled eyes, behind the back glances and other moments of physical comedy that add to the laughter. Kent Coffel and Maria Bollini hit all the right notes as the Dindons, and in smaller roles as the Renauds. He's appropriately uptight and suspicious, she loves her husband, but needs to break out and be herself once in a while. As close friend Jacqueline, Lindsey Jones gets a standout number with Farmer and helps ensure a mostly happy ending for all, even the conservative Dindon.
One the one hand, "La Cage aux Folle"s is a celebration of being who you are and finding someone you love enough to want to grow old together, no matter gender or age difference or political background. On the other, it's a night at a swanky music club, complete with a big band, led by Nicolas Valdez, and belted out show tunes all dressed up in sparkle and big hair. Farmer brilliantly plays his range with a generous touch that embraces his fellow actors and audience, and the cast responds with strong, vivacious performances.
Scenic designer Rob Lippert gives the show a perfect backdrop that effortlessly captures every location in the quick-moving show without disrupting the pacing or transitions. Michelle Sauer and Sara Rae Womack provide smart choreography, and Sarah Porter ensures each costume and character looks the part, without stealing attention from Zaza. Continuing through March 23 at New Line Theatre, "La Cage aux Folles," with a book by Harvey Fierstein and music and lyrics by Jerry Herman, is a spectacle most audience members will welcome with vigorous applause. Scott Miller and Mike Dowdy-Windsor keep the focus on delivering entertaining big numbers and touching scenes driven by deep love and affection -- both for the show and its quirky, heartwarming characters.
Related Articles