Theatre Reviews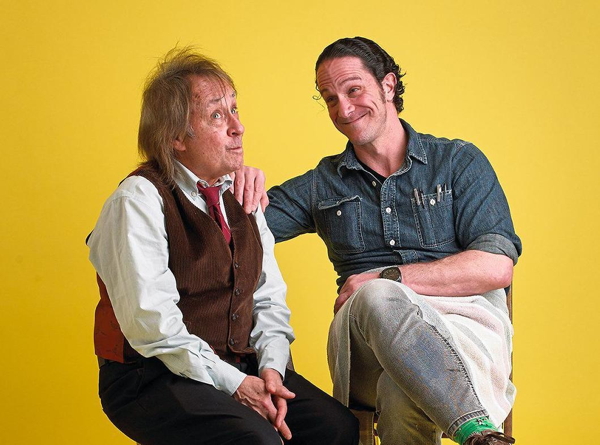 Endearing performances ensure 'Popcorn Falls' overflows with laughter and hopeful possibility
Written by

Tina Farmer
Most St. Louis theater fans are aware of The Midnight Company's reputation for producing entertaining and fully realized small cast shows. Frequently, their productions are one-man plays with Joe Hanrahan creating multiple characters in distinct detail and Sarah Whitney providing strong, focused direction with a critical eye. For the delightfully chipper "Popcorn Falls," the two add merry prankster Shane Signorino in a star turn that's touching and hilarious and many feelings in between.
Hanrahan, as Popcorn Falls new mayor Ted Trundle, and Signorino, as the town's executive custodian Joe, establish an easy back and forth that's friendly and supportive. And that's good, because they need each other if they're going to start a theater company (something neither of them seem particularly suited for) and save the town from a greedy county executive. 
Honestly, the breezy play by James Hindman treads a familiar path with few twists. A small town facing a crisis is saved by a loyal citizen and an outsider, in this case the new mayor, with a dash of romance thrown in for extra interest. The company's decision to keep the set, props and technical elements simple complements the show's plot and pacing while providing plenty of opportunities for prop-based humor. Ultimately, however, it's the performances and not the pedestrian script that make the show worth watching, and Hanrahan and Signorino are at the top of their game and fully committed.
Hanrahan fills his middle aged, about to be divorced everyman of a mayor with infectious energy and optimism as well as very real flaws and insecurities. Though he seems motivated by a need for personal redemption, he comes to embrace the town's survival as a cause bigger than himself and to consider the residents his friends and neighbors. Signorino plays the majority of the other characters with gleeful aplomb, as Hanrahan's mayor is our hero and almost always on stage. 
Director Whitney and Signorino make smart choices here, with minor characters affecting more exaggerated physical and vocal traits to help us quickly identify them. Important characters, like Joe and the mayor's love interest Becky, are more natural and realistically performed. The mix works well and to humorous effect, particularly in scenes where both actors must quickly change characters and position.
The implausible script offers a coterie of interesting townsfolk to recruit for help, a satisfying villain and a budding romance along with secret fears and unresolved personal truths. The actors work through each challenge in ways that are laugh out loud funny and totally entertaining. The result is a rather predictable story with an undertone of finding your place in the world and fighting to make it last. Luckily, the performances shine, ensuring The Midnight Company's production of "Popcorn Falls," continuing through April 14, is a laughter filled good time. 
Related Articles