Theatre Reviews
Theatre Reviews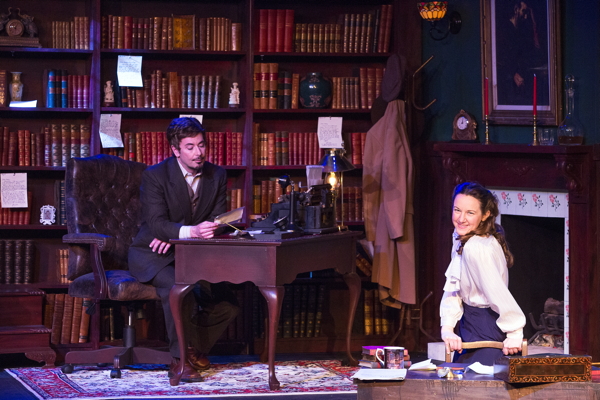 Jennifer Theby Quinn is enchanting in a delightfully spirited retelling of 'Daddy Long Legs'
By Chuck Lavazzi
Insight Theatre Company kicks off their 14th season with Paul Gordon and John Caird's "Daddy Long Legs," a charming musical that's both family friendly and expertly performed. An old fashioned romance, the story nonetheless features a smart, self-assured heroine who ultimately makes her own choices. The songs have a classical sensibility and structure without being stodgy or dull and the performances, by Jennifer Theby Quinn and Terry Barber under the direction of Maggie Ryan, are sympathetic and fun to watch.
The period musical, set in the early twentieth century before women had the right to vote, introduces audiences to Jerusha Abbott. The senior resident at the John Grier Home (an orphanage) and a girl with formidable intelligence and a strong will. Inherently curious, she's overjoyed when a mysterious benefactor decides to send her to college with a stipend for her living expenses. Abbott's benefactor chooses to remain private and only requires her to send regular letters updating him on her progress, though Jerusha longs for reciprocity. Will she ever learn his identity?
In college, Abbott's world view expands exponentially and she makes a number of friends, including her well-to-do classmate's young uncle Jervis Pendleton. A thoughtful man with an important secret who rejects the snobbery associated with his family name, he and Abbott immediately strike up a close friendship. Classism and the privileges of gender are among the topics gently stirred in the musical and Theby Quinn and Barber navigate touchy subjects with a deft, and sometimes refreshingly direct, touch. 
Theby Quinn is completely captivating and effusive as the eager young student, displaying a range of emotions that's matched in quality and expression by her vocals. Barber is also effective, with a voice that's rich and warm, matching his character's demeanor. Though I found Barber to be a little stiff at times, the two create believable chemistry that lingers even when they aren't together in a scene. That genuine sense of connection extends to finely tuned duets, complemented by a small trio of musicians with musical direction by Scott Schoonover.
In her letters to her benefactor, Abbott challenges Pendleton's presumptuous nature and argues for a woman's right to vote with witty, well-informed commentary. Theby Quinn and Barber transition as seamlessly in the shared task of reading the letters as their duets, one of the many uses of layering that adds texture and interest to the rather predictable story. "The Secret of Happiness" and  "My Manhattan" are among the most memorable songs, while "Things I Didn't Know," "The Color of Your Eyes" and "All This Time," adroitly chronicle Abbott's maturation and the musical's romantic progression.
Rob Lippert's stage design uses levels to create location and the appropriate sense of separation, particularly between Abbott and her mysterious benefactor. Julian King's costumes and Zoe Vonder Haar's simple but effective choreography add the final flourishes on the sweet natured musical. 
Though the show is filled with traditional romantic tropes, the action is g rated and the heroine empowered to speak her mind. The combination ensures "Daddy Long Legs," continuing through April 14 at Insight Theatre, is a lovely, evocative musical about self discovery and seizing opportunity that the entire family can enjoy. 
Related Articles