Theatre Reviews
Theatre Reviews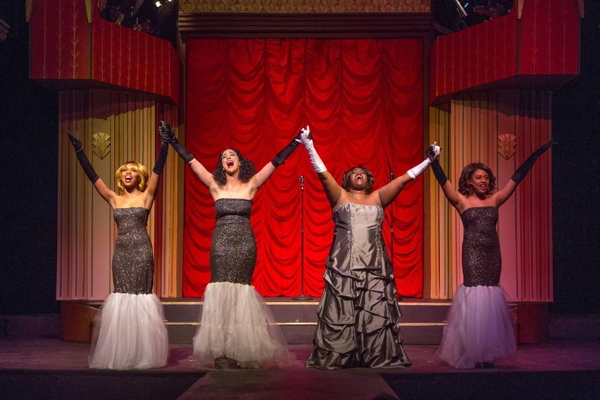 'Dreamgirls' is a spectacular production filled with glorious songs and captivating drama
By Chuck Lavazzi
Stray Dog Theatre has once again aimed high and reached the stratosphere with a magnificent production of Tom Eyen and Henry Krieger's tribute to the catchy pop tunes and tight harmonies of the girl groups that put the Motown sound at the top of the charts.
Whether intentional or not, "Dreamgirls" borrows freely from the biography of a super famous group - its turmoils, successes and fame of the eventual lead singer. Though important details are changed to provide a happier, more Hollywood ready ending, much of the story mirrors tabloid reports from the era, and frankly, that's part of the allure. Phenomenal performances and character-driven direction by Justin Been keep audiences captivated on every word, not wanting to miss an important moment or single note of the retelling.
Effie, Deena and Lorrell know they are ready for the big time, they just don't know how twisted their path to the top will be. A talent contest loss fixed by wannabe producer and promoter Curtis Taylor, Jr. leaves the girls downhearted until Taylor convinces them that they will be stars but they need to be backup singers for Jimmy Thunder first. Taylor has more ideas for the women and he finds them the stardom they crave, though it comes at a steep price.
Ebony Easter is phenomenal as the big voiced, tender hearted Effie, mesmerizing with every phrase, wearing her emotions on her sleeve and leaving audiences crying and applauding at the same time. Effie is a flawed heroine, and Easter ensures we embrace her and her flaws with soul baring songs and blistering dialogue. Easter's performance pulls at every heartstring, ensuring that the audience wants reconciliation long before they know the outcome. 
Eleanor Humphrey is elegant as Deena, though at first reluctant, she fully embraces her diva status by the time the group hits its peak. Though sympathetic, Deena is not without her flaws as well, and Humphrey shows flashes of temper, vanity and ego that bite. Tateonna Thompson charms as Lorrell, her giddy, girlish personality matures into fiery independence. 
Abraham Shaw turns in his strongest performance to date as the innovative, smooth talking Taylor. Never quite trustworthy, Shaw's character is still compelling and convincing. His ideas about making white people want black music are perceptive, even when he uses them as justification to de-emphasize the soul and complexities in rhythm and blues music. Shaw handles Taylor's self-serving ambiguities with a confident patter that goes a long way in convincing himself, and others, of his vision. 
Omega Jones flashes flat out star power as Jimmy Thunder, and his dance moves are as impressive as his transcendent voice. Marshall Jennings is sympathetic as Effie's brother C.C., a songwriter who's too often taken advantage of, and Chrissie Watkins, Don McClendon and Diamon Lester lead the uniformly talented ensemble. Testament to the amount of talent in St. Louis, the large cast sparkles vibrantly and there's not a missed note or unfocused moment from start to finish.
Jennifer Buchheit leads the band, cleverly positioned in opera boxes above the stage as part of Josh Smith's versatile set design, which also features a thrust that Easter and Jones, in particular, use to heighten the visceral and emotional impact of their performances. Songs like "Move (You're Stepping on My Heart)," "Fake Your Way to the Top" and "Cadillac Car" perfectly capture the pop rock sound of the 1960s, even in the rueful moment when we hear one of them after it is stolen and released by a blandly palatable white group. 
The second act surprises with heartfelt, story enhancing numbers including Taylor's revisionist "You Are My Dream," Thunder's bitterly prescient "The Rap" and Deena's plaintive "Hard to Say Goodbye (My Love)." But it's the big numbers "(And I Am Telling You) I'm Not Going" and "One Night Only" that we remember and this production does not disappoint. Easter's interpretations and the way she uses the texture and tone of her voice are raw, authentic and flawless.
Directional lighting by Tyler Duehnow, beautifully coordinated period costumes by Julian King and referential, energetic and, at times, house rocking choreography by Mike Hodges add all the bells and whistles needed to elevate and support the aspirational and redemptive story.
"Dreamgirls," continuing through April 20 at Stray Dog Theatre, is a beautiful, bittersweet tribute to the influence Motown and the girl groups of the 1960s and early 70s had on pop music. It's also a tale of personal reflection and growth, with well-defined characters and effective conflict. Strong direction by Been keeps the energy and emotions high while catchy songs and soaring performances make this show a must see for fans of musical theater and rock history. 
Related Articles