Theatre Reviews
Theatre Reviews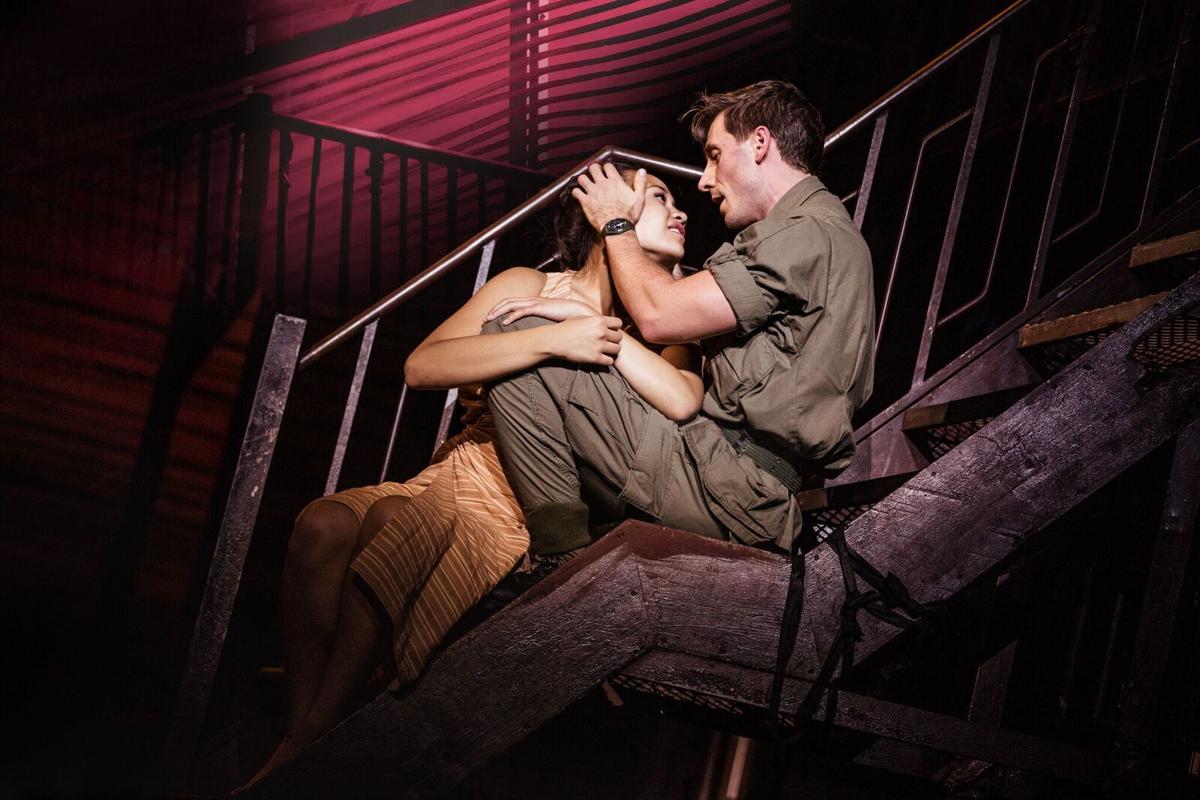 'Miss Saigon' delivers still relevant messages on love and war with a heartbreaking story
By
The Fabulous Fox Theatre welcomes the evocative and thought provoking tour of "Miss Saigon," in performance through May 5. A love story set during the Vietnam War, the musical calls to question our collective moral responsibility for the many children of American soldiers born to women in war torn countries and never claimed or acknowledged by their fathers. 
The show opens in Saigon in 1975, just before the fall of the city and America's withdrawal from the conflict. Kim, a young woman whose village was destroyed and her family killed, arrives in the city looking to start a new life. The Engineer, a man of dubious character who runs a successful club and brothel that caters to American soldiers, quickly snatches her up.
Shy and uncertain, Kim is a fresh face at the establishment, attracting the attention of many soldiers, including buddies John and Chris. Disillusioned and fatigued by the realities of war, Chris just wants to have a beer and sulk, but there's something about Kim that stirs more than feelings of lust. The two begin a brief but meaningful affair that results in the birth of their son Tam, though the fall of the city tears them apart long before Kim knows she's pregnant. They do not meet again for several years, until the now married Chris learns about Tam from his buddy John.
Emily Bautista glides through the show with a reserved demeanor and an aura of innocence despite working in a brothel. Her voice is pure and fluid, with a crisp, clear high range that contrasts and compliments Anthony Festa's Chris. Festa is strong jawed and strong willed, with a strong, smooth voice to match. Jaded by war and tired of the false intimacy of the brothel, he initially seems more interested in keeping others from Kim than he is in being with her. The two create believable chemistry from their first few hesitant, awkward steps, and their duet "Sun and Moon" plays like a beautifully voiced lyrical poem. 
Eymard Cabling is flamboyant and teasing as the Engineer, with appropriate glee and a knowing glance that's enticing, greedy and sinister (in a role principally filled by Red Concepción). With an entrepreneurial gleam of gold in his eye, he lords over the girls and genuflects to the soldiers, all while scheming to secure a visa to America. The Engineer is decidedly sleazy, but Cabling gives him a likable patter and a bumbling, obsequious nature that covers his nefarious acts with a charming veneer. 
J. Daughtry is compelling as fellow soldier John. A bad boy who's cavalier and casually cruel to the brothel's star Gigi, he finds his conscience after the war and becomes a champion for the Bui Doi (the Vietnamese term for the children of American soldiers and Vietnamese women). The anthem to these forgotten children leads off the second act and is among the most stirring numbers, reverberating with frank truths and satirical patriotism.
Christine Bunuan is tempting and clever as the glittering Gigi, her pointed interactions adding depth and humanity to a role that can easily be caricature. She's no dummy and not easily dismissed, but she's also supportive and emotionally invested in Kim's relationship with Chris. Tyler Dunn elicits much sympathy as the shy, bright-eyed Tam (a role shared with three other young actors), Jinwoo Jung is menacing as Kim's arranged fiancé and military officer Thuy, and Stacie Bono brings a sense of curiosity and poorly expressed but kind impulses to Ellen, a thinly drawn, somewhat cloying character.
The set design and staging elements are spectacular and both the costumes and music succeed in incorporating traditional Vietnamese motifs, while special effects add the drama of war to important scenes. One of the most notable and noteworthy is the chaos surrounding the American evacuation of Saigon and the lifting of soldiers by helicopter from a crowd of Vietnamese citizens increasingly desperate to escape a city under siege. The effect is chilling and awe-inspiring, filling the Fox with tension.
In Claude-Michel Schönberg and Alain Boublil's well-crafted but predictable and carefully whitewashed "Miss Saigon," a father and son are reunited; as the former soldier John points out, most were not. Still, the intention feels genuine and the storytelling is powerful and masterfully executed. Convincing performances ensure the audience cheers for a reconciliation between Kim and Chris, current circumstances be damned, and the contrived ending is nevertheless startling and heartbreaking. The consequences are personal, the message - a plea for honesty and accountability, not to mention peace - is universal.
Related Articles