Theatre Reviews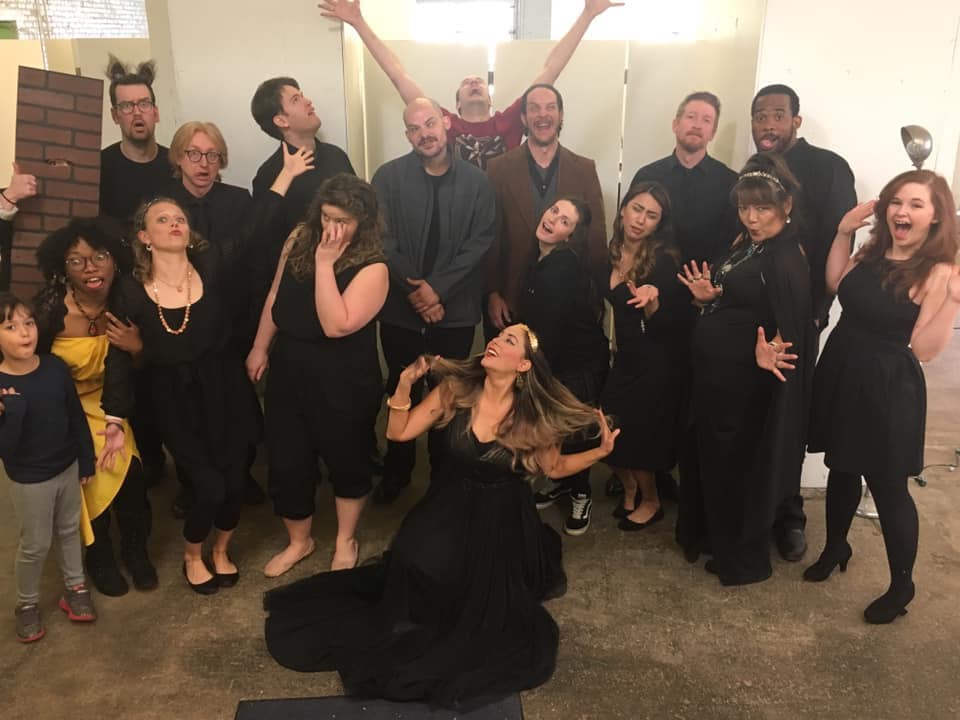 Lively and lighthearted, 'A Midsummer Night's Dream' embraces the Bard's comic sensibilities
Written by

Tina Farmer
Playwright William Shakespeare was born (on or about) April 23, 1564, and to mark the occasion, Blind Pigs presented a spirited production of "A Midsummer Night's Dream." One of the Bard's best loved and most often produced shows, John Wolbers' quick moving adaptation captures all of the whimsy and mischief of the original while tightening the pace and shortening the run time. The result is a delightful evening of theater that's entertaining for long-time fans and theater newcomers.
Multiple romantic storylines intertwine as feuding fairies cast influential spells on humans and local peasants attempt to stage a play to entertain a royal wedding party. All the while, four young lovers – Hermia and Lysander and Helena and Demetrius – strive to find their happily ever after. Infused equally with humor, wit and confusion, the story is engaging and easy to follow, particularly in Wolbers' sharply focused script and under Christina Rios' perceptive direction.
Hermia and Lysander are head over heels in love, so much so that they've decided to run away and elope so that Hermia's father won't force her to marry Lysander, as previously arranged. Helena, besotted with her former love Lysander – and frankly still perplexed as to why he suddenly dropped her to be with her best friend Hermia – tells him of the couple's plans, then follows him into the woods to search for the other two. A case of mistaken identity by Puck, a mischievous sprite in the service of Oberon, the king of the fairies, causes both men to pursue Helena. The meddling Puck also induces Titania, queen of the fairies, to fall in love with the common laborer Bottom. Chaotic comedy ensues as the story skips along to its merry conclusion.
Sofia Lidia and Aaron Dodd are charmingly, convincingly and completely wrapped up in each other as Hermia and Lysander. Together they move with the grace, privilege and certainty of the most popular kids in the class. Rhiannon Skye Creighton and Michael Lowe are not quite as self-assured, and Creighton is adorably desperate, as Hermia and Demetrius, while Dustin Allison and Stephanie Merritt walk, talk and pose like royal A-listers on the red carpet.
Mark Kelley, Zachary Allen Farmer and Casey Bolland lead the troop of local laborers with hilarious comic flair, and Danny Brown is sympathetically and pathetically funny as the insecure Snug. Finally, the fairy court is lead by the fiery Paige Russell Elias as Titania and an exasperated but always playful Shane Signorino as Oberon. Chrissie Watkins is a game Puck, Stefanie Kluba an earnest Peaceblossom and Rosario Kelley a confident and spirited Boy.
The ensemble fully commits to the story and the use of several indoor and outdoor spaces at the William Kerr Foundation adds a sense of adventure and a joyful romp through the scenes that enhances the story. Seating was limited in several of the rooms, but that didn't seem to deter the audience and, at times, added a sense of intimacy between the actors and observers.
Director Rios demonstrates a keen understanding of the material and a smart sense of timing and transition that aid the story flow even as the audience is moving from scene to scene. Diction and the delivery of the lines proved difficult in a few instances, a problem that was occasionally amplified by a roaring wind the night I attended. Numerous actors were occasionally hard to hear, depending on one's position in the audience, but none of the story was lost. Additionally, Watkins and Creighton are encouraged to slow down and enjoy the poetry in the lines. They clearly understand the meaning and emotion of each line, but occasionally seem to rush. Merritt, Allison and Lowe, on the other hand, are encouraged to embrace context, emotion and intention in addition to meter and to strive for more natural rhythm in their delivery. These were short, minor distractions in an overall well-informed and well-delivered production that moves along at an enjoyable pace, with plenty of laughter along the way.
"A Midsummer Night's Dream," which ran one weekend only, is a classic comedy, so audience members are assured of a happy ending going in. Well-defined characters and memorable interpretations of favorite scenes keep the show lighthearted and thoroughly engaging, and the joy each actor felt while performing was palpable and contagious. Rios and the ensemble mine the story for every laugh without being cartoonish or excessive, making the show a treat for audience members of all ages and experience levels.
To date, Blind Pigs primarily produces works in celebration of William Shakespeare. Find more information on their past productions and work with the Shake38 festival on the R-S Theatrics website.
Related Articles