Theatre Reviews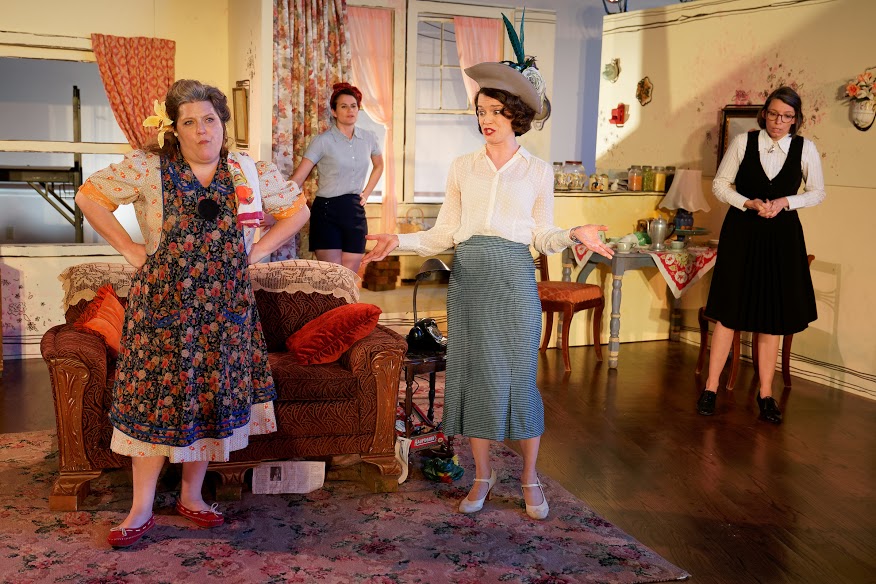 Sharply funny and perceptive, 'A Lovely Sunday for Creve Coeur' reveals Tennessee Williams' wit in a local setting
Written by

Tina Farmer
Tennessee Williams shows off his sense of humor in the deliciously catty, barely restrained "A Lovely Sunday for Creve Coeur," a play that revels in culture clashes, arched eyebrows and acerbically funny remarks. The comedy, presented as part of the fourth annual Tennessee Williams Festival St. Louis, consists primarily in the back and forth between four single women on a hot summer afternoon in St. Louis, sometime in the 1930s. Williams doesn't shy away from the tension between the four and director Kari Ely amps things up further with well-defined characters, focused direction and an approach that emphasizes differences, rather than similarities, to comic effect.
Bodey and Dottie share an efficiency apartment on Enright Avenue, close to the school where Dottie teaches. The shy Miss Gluck, who lives in the building, doesn't speak much English and recently lost her mother, is a frequent visitor in the already cramped space. This particular Sunday morning, Dottie is eagerly anticipating a call from the school principal whom she believes intends to propose. Bodey is less certain on that matter and focused on preparations for a picnic at Creve Coeur Lake with the sincere hope that Dottie will join her and her brother.
Helena, a fellow schoolteacher plotting to get Dottie to move with her to swankier digs a bit further from the school, stops by unexpectedly. The only thing Bodey and Helena have in common is their certainty that the principal spells trouble for Dottie. Pointed remarks, hot oil and emotional outbursts keep popping as the funny plot, though easily recognized by contemporary audiences, builds to its charming, genuinely heartwarming conclusion.
Kelly Weber and Maggie Wininger clash, gossip and enjoy each other's company like close sisters as roommates Bodey and Dottie. They don't always get along, but when it matters most it's clear each cares about the other. Weber's Bodey is an eternal optimist with a heavy streak of realism, and her attempts to encourage a relationship between Dottie and her brother reveal the deep loneliness of someone who long ago set her dreams aside. Nurturing and affectionate, she protectively channels her romantic hopes on finding a good man for Dottie.
Dottie is fundamentally upbeat and eager to build the romantically idealized future she imagines. Younger than Bodey, she has more ambition and energy, with a strong desire to better herself in every aspect of her life. Nascent ideas about feminism mix with wide-eyed tradition in Wininger's beguiling performance. Still, there's sincerity between the two women, and small bits, like Dottie's constant exercising, Bodey's attempts to fry chicken and make deviled eggs in the tiny kitchen and the way Dottie fusses over the flower Bodey uses to hide her hearing aid, add texture and nuance to the performances.
Julie Layton is smartly dressed, pretentiously funny and always cunning as the aspirational Helena. Her glances and turned up nose are delightfully comic. She gingerly examines objects and sits on the edge of the chair, and one expects she may pull out a white glove and begin checking for dust at any moment. In another play, she might have been the plucky heroine, instead we get a scheming, astute and caustically funny antagonist who is diametrically opposed to Bodey in every way.  Layton and Weber bristle and hiss, circling each other and looking for the right moment to strike, but always checking the score with Wininger's Dottie. Finally, Ellie Schwetye finds a way to ride Miss Gluck's emotional roller coaster without ever causing us to tire of her. Schwetye is surprisingly physical and endearingly comic as the uncertain but fiercely loyal spinster, and her expressions and body language add poignancy to the role.
The four women are distinctly different, yet they all long for love and human connection. Despite appearances, the women are not dissimilar in their background and potential for social advancement, and it's these areas of crossover that connect and drive the plot forward. Layton's well-coiffed hair, carefully chosen words and bright lipstick contrast sharply with Weber's ruffled apron, loosely pinned hair and easy laugh, emphasizing their differences. Wininger balances her friendships in outfits that reference each, though the pattern and cut of her dress suggest where her alliance lies. Gluck is visually singular in an austere black and white jumper that embodies the character's internal despair and awkward attempts to bond with the others.
The audience gets a sense of Williams' opinions and social criticisms through the sly and eloquently biting script, points that are underscored with the look and style of the production. Scenic designer Ali Strelchun, lighting designer David Larose, sound designer Kareem Deanes and costume designer Garth Dunbar provide context and period with visual clues, such as the adroit use of color as well as florals and patterns that mimic blossoms. Dottie's head scarf and shorts, which have a can-do, Rosie the Riveter vibe, make sense and convey youthful optimism even thought the play is set in the 30s. Additionally, the fit and accessories strongly imply class and socioeconomic ambitions that are important to the humor while setting up an emotionally satisfying resolution.
Ely has assembled a top-notch cast and guides the show with a knowing touch of over-the-top everyday drama to ensure the humor is clear. Each character is distinct and relatable, even the lonely and easily unsettled Miss Gluck. The technical aspects of the show, including afternoon performances that capture natural light, create a warm, familiar setting. One where it's easy to laugh at human foibles and commentary and life lessons are slipped in with an unobtrusive but firm touch. The lively and funny script plays out like a modern sitcom, and it's rumored that the play was inspiration for "The Golden Girls." While I am not certain of that, I can confidently assert that "A Lovely Sunday for Creve Coeur," continuing through May 19, is a funny, well-acted comedy that will likely leave you in good spirits.
Related Articles