Theatre Reviews
Theatre Reviews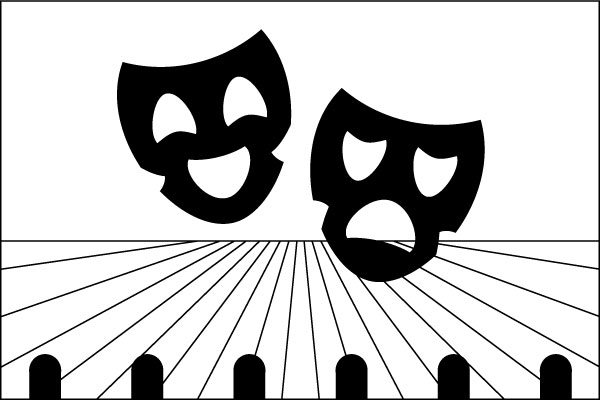 "Dates" at Tesseract Theatre equal parts painfully comic and heartbreaking
By Jacob Juntunen
"Dates," by Elizabeth Breed Penny and currently part of Tesseract Theatre's inaugural Festival of New Plays successfully walks a thin line between a comic look at modern dating and an examination of the toxic masculinity that is prevalent today.
The play follows Caroline, played with impressively detailed movements by Halley Robertson. Robertson occupies the character so spontaneously that gestures and lines feel as if they are improvisation. This makes her situation seem absolutely real as she moves into a new apartment and enters the world of online dating. There is humor in the resulting "intimate" pictures that jerks and dorks send in response to her profile, but underlying all the responses is a violence that culminates when one of the guys texts that Caroline deserves to be raped. In real life, Caroline has two friends, a therapist, and two suitors that support her through a journey that ultimately turns out to be as much about escaping the past as moving into a new present.
"Dates" explored the PTSD Caroline suffered after an abusive husband, and Tesseract Theatre's artistic director, Taylor Gruenloh included in his opening night curtain speech a shout out to the play's partner: ALIVE -- Alternatives to Living in Violent Environments. Two counselors for adults from ALIVE were at the production to talk to any audience member at intermission or after the show. To me this was a thoughtful partnership, and the type of community connection I always hope to see at the theatre.
The powerful topics in the script were well-handled by director Tinah Twardowski, particularly the emotionally complex moments when friends of Caroline were unable to understand what Caroline was experiencing. The scenes of the play all had strong button lines, almost like punchlines in their rhythms, but Twardowski awkwardly paced them with blackouts that broke the flow. Similarly, the strong final line of the second act was muddied by the direction, and, on opening night, the audience did not know to clap until the house lights came up. Additionally, the audience applauded as if it were the end of the play when there was one scene more. More clear direction would have solved these issues since the script had such strong storytelling. However, Twardowski did a great job translating the script's many text messages into dramatic direct address, keeping an aspect of the play that could have been static always a conversation between two characters with stakes and consequences, particularly for Caroline.
"Dates" is a significant production in the #metoo moment filled with impressive acting, humor, and intensity. Performances continue through May 26th at the .ZACK in Grand Center.
Related Articles