Theatre Reviews
Theatre Reviews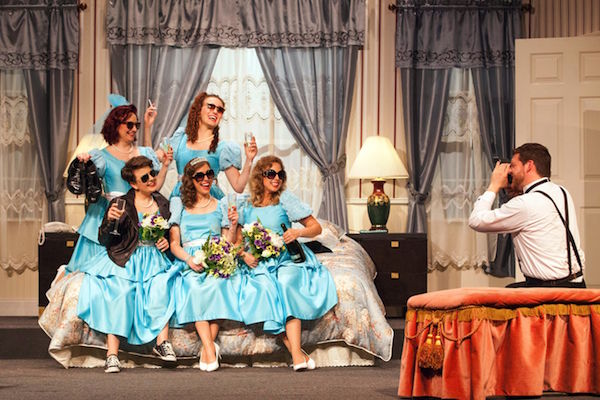 'Five Women Wearing the Same Dress' charms with humor and surprising depth
By Tina Farmer
Alan Ball's glib, bitingly funny look at weddings and well-to-do Southern culture, Five Women Wearing the Same Dress, has more substance than all the taffeta and crinoline suggests. With modern sensibility, the show pulls back the mask on recognizable stereotypes, revealing contemporary women grappling with age-old issues. Stray Dog Theatre's production succeeds spectacularly with sharp, on-the-mark performances and clear direction from Gary F. Bell.
Southern bell Tracy has just gotten married to a handsome, successful man. Rather than partying at the reception, however, her tragically clad bridesmaids seek refuge in younger sister Meredith's room. They each have their reasons for avoiding the party and more in common than first appears. The first act is filled with reminiscing, gossip, and petty jabs, but the action and conversation ripples with tense energy that hints at the revelations and twists to come.
Sarajane Alverson leads the cast as Trisha, a wisecracking feminist and Tracy's best friend from high school. Tough and perfectly polished on the outside, she has a knowing, compassionate heart, even when she doesn't want it to show. As the play progresses, she reveals her character to be perceptive and caring, as well as vulnerable. Alverson's Trisha may have met her perfect match in Kevin O'Brien's Tripp, a wealthy cousin to the groom, whom she initially avoids. Self-assured and verbally adroit, Tripp is a perfect foil for Trisha's carefully guarded walls, and he surprises by standing his ground and calling her bluff.
Tammy's other high school friend turned bridesmaid is Georgeanne, a girl with a failing marriage and painful connection to the bride, played with drunken abandon by Shannon Nara. Georgeanne makes a big entrance drinking champagne from the bottle and crying over a deep, lingering pain. Nara sympathetically handles the many mood swings and sense of desperation, ensuring the character is appealing and authentic.
Lindsay Gingrich is heartbreakingly poignant as Meredith, the rebellious little sister with a big secret of her own. Her need to hang on to the idea of love in denial of abuse is at times difficult to watch but easy to forgive, and Gingrich navigates these emotions in a touching performance. Eileen Engel is endearingly naïve and gratingly religious as cousin Frances, and while her transformation takes place in baby steps, she's genuine at her core. Frankie Ferrari is appealingly awkward and outspoken as the groom's lesbian sister, Mindy, infusing the show with comic clumsiness and frank honesty.
Though overflowing with snark, gossip, and humor, Five Women Wearing the Same Dress, is much more than a genteel comedy of manners. The show is filled with personal discovery as each character confronts difficult truths with realistic reactions, even when some of the barbs hit tender nerves. Painful issues that challenge long-held notions of tradition, gender roles, and classism surface for each of the women, and several of the details are genuinely distressing. While the show's ending strikes a happy pose, the underlying context suggests these stories are not yet finished. Still, the show feels complete and entertains thoroughly.
In addition to sure-handed direction, Bell also designed the oversized bedroom set, which captures the feel of the large, Southern mansion it represents. As importantly, since the room was originally older sister Tracy's, the sense that it's more a place of necessary refuge than a comfortable, welcoming space is clearly conveyed. Tyler Duenow's lighting design is well balanced and unobtrusive, while Eileen Engel's costumes capture the worst aspects of frilly, fancy, overdone bridesmaid dresses that flatter no one and seemed selected only to ensure that the bride shines more brightly.
A funny script, strong performances, and numerous revelations ensure the highly entertaining Five Women Wearing the Same Dress, running through June 25, 2016, is another engaging production from Stray Dog Theatre that entertains even as it prods. Playwright Bell's delightfully surprising play is delivered with deft timing, sincerity, and heart by an appealing and engaging cast, and a show that opens with the feeling of a "chic flick" turns into an insightful, satisfying tale of friendship and discovery.
Related Articles