Theatre Reviews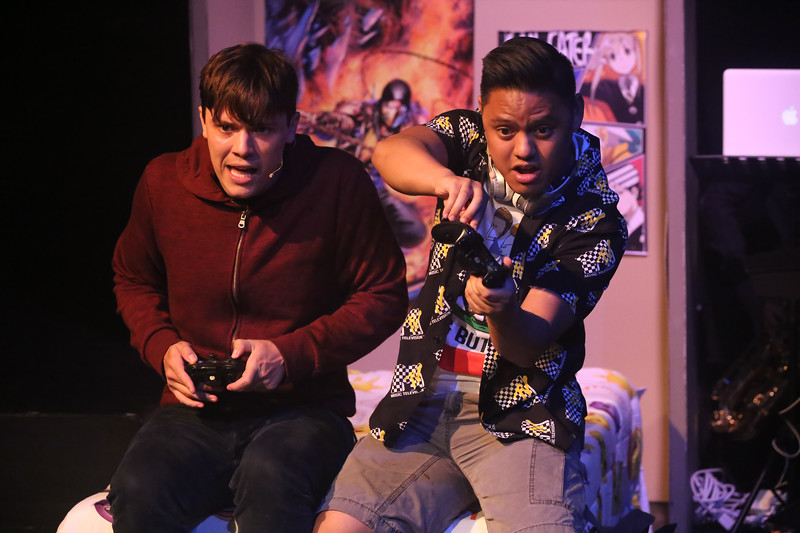 Feeling awkward and insecure? Take a 'Be More Chill' pill and relax, dude
Written by

Tina Farmer
New Line Theatre takes on teen angst and social anxiety with a spectacular production of Joe Iconis and Joe Tracz musical interpretation of the young adult novel "Be More Chill" by Ned Vizzini. Directors Scott Miller and Mike Dowdy-Windsor have assembled a phenomenal cast, headed by Jayde Mitchell, Kevin Corpuz and Grace Langford, and ensure that every detail supports the compelling story. Musical director Nicolas Valdez and conductor Marc Vincent provide driving arrangements that keep the pace quick while complementing the individual voices and shared harmonies. Though the plot trajectory is familiar, the results are relatable, funny and thoroughly captivating.
Mitchell is Jeremy, a high school student who is labeled a nerd by the more popular students and, frankly, he's tired of his status. His best friend, the equally geeky and game obsessed stoner Michael, encourages him to be patient and wait until college – where kids like them are cool. But Jeremy has a huge crush on theatre queen Christine. Out of the blue, Rich, the bully who torments Jeremy and Michael on the regular, confides that he too was once invisible to the popular kids. The secret to his transformation? Taking a little gray pill known as Squip, essentially a nano-supercomputer that enables him to say and do the right things to be cool. Jeremy can't resist and spends all his bar mitzvah money to get his own Squip, quickly downing it with a Mt. Dew, per the instructions. Jeremy's Squip manifests itself looking like Laurence Fishburne in the Matrix. Will Jeremy become popular and win the heart of Christine and, if so, at what cost?
The energetic musical rides through the highs and lows of teenage emotion like a multistory roller coaster through a dense forest – you're never 100% certain which way the story's going to twist and it might fall off the rails at any moment, but the ride is a total blast. Mitchell never loses control of his performance, however, creating a realistic, well-motivated character that grabs you in the feels from his pointed, anger tinged rendition of "More Than Survive" to the somehow hopeful "Voices in My Head."
Corpuz is stunning as the stoner with brains and a heart and his rendition of "Michael in the Bathroom" is a true showstopper. Loyal and perceptive enough to realize the potential adverse effects of Squip, Michael never stops believing in Jeremy's essential goodness and the power of their friendship. And, like the wizard in a hero's journey, he's always a step ahead of the game. Corpuz is authentic here and his solo is flawless and filled with motivated emotion. This is his best work by far, and it's clear he is constantly sharpening his tools, working on his connection and improving.
Langford brings perfect pitch and an effusive personality to the oh so true and funny "I Love Play Rehearsal" and a touch of innocence to "A Guy That I'd Kinda Be Into." Langford's voice and comic timing ensure she gets noticed, this role pads her impressive resume while showing a more flirtatious a playful personality. The character veer's into over-familiar stereotypes, but Langford manages to infuse the part with sass and personality that adds distinction to the stock theater-obsessed teen.
The ensemble includes memorable performances by Dominic Dowdy-Windsor as the controlling, though not always in control, Squip and Zachary Allen Farmer as the depressed, pants-less Dad and the part-time theatre instructor who needs his hot pockets. Evan Fornachon is tough guy Rich, Ian McCreary is Jake, the most popular boy in school and object of Christine's affection, and Isabel Cecilia Garcia, Melissa Felps and Laura Renfro are the popular clique.  The ensemble members are each individually talented enough to step into a leading role and they bring exuberance to their performances that lights up the intimate theater space.
The plot is not unfamiliar and the characters stereotypical, but the show shifts these narratives to capitalize on the emotional energy and sense of displacement the teen years' epitomize for so many. What the show lacks in originality it makes up for in inventive twists and relatable humor. It also offers satirical commentary on the instant gratification tendencies of modern advertising and society, particularly the prevalence of little pills in place of snake oil. Dominic Dowdy-Windsor captures this aesthetic perfectly in his spot on nod to Matrix-era Fishburne. He's evasive and conveniently not present when it suits him, and more than a little power hungry.  But he's cool.
Perhaps more importantly, "Be More Chill" focuses on male friendship with compelling characters and genuine chemistry. Jeremy and Michael are friends who can weather some pretty unpleasant challenges, and even when Squip exerts maximum pressure, Jeremy pushes back to try and hold onto his bestie. Jeremy's dad is despondent because his wife left him and, in a humorously touching scene, it's Michael who pulls him out of his funk as they unite to help Jeremy battle Squip.
Rich the bully shows vulnerability and questions his sexuality in ways that are honest, if not explored very deeply, and seemingly perfect Jake has his problems. His parents are always leaving him alone at home while they travel, so he looks for security in parties and popularity. New Line embraces the theme with a cast that is more diverse than reviews of the current Broadway production suggest. Whether intentional or not, it steps towards an even more realistic world for the teens in its orbit.
Mixing teen angst with sci-fi is kind of a risky proposition, but "Be More Chill," continuing through June 22, captures and synthesizes the two genres with vulnerability, overactive hormones, a little partying and just the right amount of Matrix-like science fantasy. The production is fresh and funny, but framed broadly enough that theatergoers from tweens to seniors (high school and beyond), can thoroughly enjoy and emotionally connect with the show.
Related Articles