Theatre Reviews
Theatre Reviews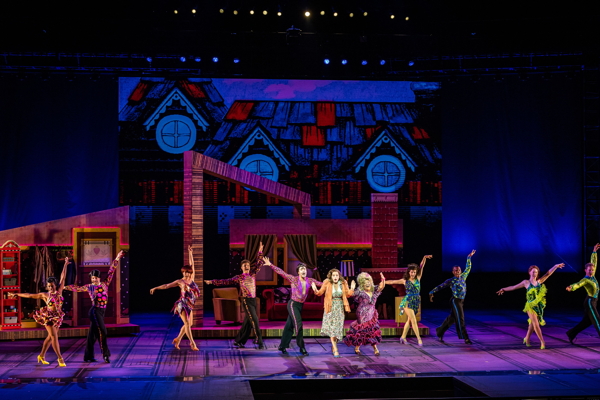 Brainy little Matilda triumphs over The Trunchbull!
By Chuck Lavazzi
What is it about crashing a bi-plane in the Lybian Desert that leads to the writing of great children's literature? That's what Saint-Exupèry did in 1935 and it was the genesis of "The Little Prince". That's what Roald Dahl did in 1940 and just look at the torrent of wonderful children's books Dahl has produced. Coming to within a hair's breadth of violent death in a vastly empty place must somehow liberate the soul to explore places in the heart where other people dare not go.
The Muny has opened "Matilda", a musical based on Dahl's immensely popular book about a brilliant and brave little girl. This show, with music and lyrics by Tim Minchin and book by Dennis Kelly, was a smash hit in London and New York. It's glittering with dozens of awards including Oliviers and Tonys-often for "Best Musical".
The folks at the MUNY had the brilliant idea to take inspiration from our own Mary Englebreit. America long ago fell in love with Ms. Englebreit's strong-minded little girls.
Five-and-a-half year old Matilda Wormwood is a genius. She's already read all of Dickens, plus Dostoevsky, Melville and "The Cat in the Hat". But her parents are crass, vulgar mindless muggles who disdain reading and heap abusive mockery on her interest in books. Her father urges her to watch more telly, and her mother is obsessed with competitive ballroom dancing.
Matilda's school, Crunchem Hall, is ruled by the terrifying Miss Trunchbull who delights in cruel punishments. Her favorite is to place a child in "the Chokey"-a device rather like an Iron Maiden.
With loving support from her teacher, Miss Honey, Matilda uses her mighty brain (and a little telekinesis) to vanquish the evil Trunchbull and right some longstanding wrongs.
Not since Annie has there been a show so delightfully dominated by kids. Matilda has, by my count, thirty-two classmates. And these MUNY Kids are pros! They fill the stage with wildly energetic yet precise song and dance.
Little Mattea Conforti gives a winning performance as Matilda. It's a triumph. Such grit and determination!
Matilda's parents will deliciously disgust you. Anna Harada makes Mrs. Wormwood wonderfully blowsy. She's a peroxide blonde with grossly BIG hair and total self-absorption. Josh Grisetti, as Mr. Wormwood, might be channeling Eric Idle's sleazy emcee-with a touch of the pompous boasting of Rooster Hannigan from Annie. He's superb, physically agile and with perfect timing. He makes you glad when the Russian Mafia come to get him for cheating them on used cars. Beth Malone takes on the demanding role of Miss Trunchbull who, like Miss Hannigan in Annie, hates little children. But whereas Miss Hannigan is feckless Miss Trunchbull is all-powerful. Beth Malone gives an enormously athletic performance. This champion of the hammer throw at one point swings a little girl around by her pig-tails and launches her off into space. But this role was patterned on the template of the Dame in English "Panto"-a role always played by a man in drag. Men played Miss Trunchbull in the London and Broadway productions of "Matilda". A woman in the role is at a disadvantage: she just doesn't seem quite so silly-or so threatening.
If the viciously punitive Headmistress has echos of the Panto Dame then much of Mr. Wormwood's style is from the old Music Hall comic. The sweet schoolteacher cheated of her inheritance and living in a hut is straight out of Dickens. These hints of Victoriana-like the dark corners of an old penny-dreadful-are the magic that makes Roald Dahl's stories such scrumptious tales for children.
Laura Michelle Kelly will win your heart as the sympathetic Miss Honey. We are so glad that Matilda ends up with her.
Fine support is given by Darlesia Cearcy as Mrs. Phelps, the librarian who eagerly awaits each installment of the story Matilda is making up. Colby Dezelick and Gabi Stapula do beautiful dance work as the mythical Escapologist and Acrobat. Sean Ewing brings a very lithe sleaze to Rudolfo, Mrs. Wormwood's faux-Italian dancing partner.
There's an exciting brassy dance number, lots of very clever lyrics, and the kids will rouse you to rebellion in their triumphant "Revolting Children" number. Opening night was a soft beautiful evening at the MUNY. The audience was filled with little girls who, I'm sure, will be inspired by the brave gumption of "Matilda". It continues through August 11.
Related Articles