Theatre Reviews
Theatre Reviews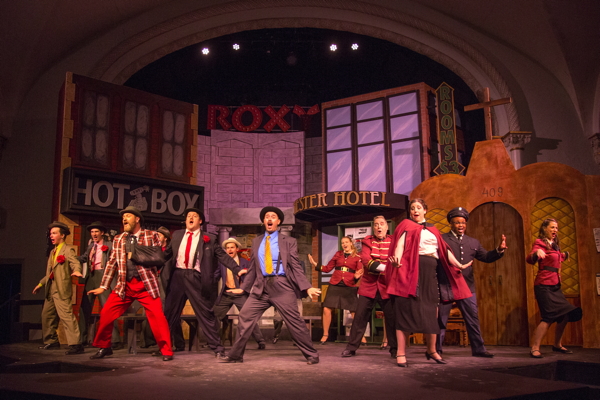 'Guys and Dolls' is a nostalgic romance that resonates with heart and a sense of fun
By Tina Farmer
Stray Dog Theatre presents a charming version of the popular and often performed "Guys and Dolls," by Frank Loesser, Jo Swerling and Abe Burrows, that rocks the small theater with romance and optimistic humor. The swinging musical about love and gambling is filled with memorable characters and songs that have become collective cultural touch points for generations of Americans. Stray Dog honors the spirit of the big show with a smaller production, adding a personal connection to the broad comedy and highlighting every voice and dancer on the stage.
Nathan Detroit is the proprietor of a regular, but moving, craps game in New York City that attracts gamblers from around the country, but the persistent Lieutenant Brannigan is making it hard for him to find a location to set up shop. His difficulties suit long-time fiancée Miss Adelaide just fine; she is ready for the two of them to settle down and start a family. Pressure from the local players and Big Jule, from Chicago, has him working overtime to find a spot and when the legendary Sky Masterson arrives in town, Detroit will go to any lengths to set up a game. Detroit even tries to win stake money to secure a location through a bet with Masterson over a woman who is ostensibly immune to the slick gambler's charms.
That bet turns on a lunch date in Havana, Cuba with the pious and stand-offish Sarah Brown. Can Masterson woo the determined Brown? Will Detroit find a location for the game before Big Jule gets angry? Will Miss Adelaide ever get the chance to wear her wedding veil and stop fibbing to her mother? Even if you already know the answers, Stray Dog's lively and entertaining interpretation is sure to hold your interest from start to finish.
Angela Bubash and Jayde Mitchell show off their considerable vocal skills as Sarah Brown and Sky Masterso. The "will they or won't they tension" starts with a strong "I'll Know" and continues in their back and forth exchanges, which are kept light and humorous with clever phrasing, innuendo and wit. Bubash sparkles on "If I Were a Bell" while Mitchell's intonation, gestures and expressions are strikingly Sinatra-esque. The two are the most stylized characters in the up tempo production, a directional choice by Gary F. Bell that works stylisticaly, though the actors should continue to strengthen their connection as characters.
Despite a significant difference in height, Kevin O'Brien and Sara Rae Womack are perfectly matched as the quirky Nathan Detroit and Miss Adelaide. Womack gets the humor and delivery just right on "Adelaide's Lament" and "A Bushel and a Peck," while O'Brien is tender and convincing, without losing any of the comedy, on "Sue Me." Womack and O'Brien tap in the realistic, if at times goofy, sincerity of the characters and there's an easy affection between the two that's underscored by Womack's side commentary and expressions.
The cast adds great harmonies while handling Mike Hedges clever choreography, which is surprisingly sharp, though the Havana dance scene could use a few more dancers, a feat that likely isn't possible on the tight stage. With such a small cast every voice and step is crucial to the show's success. "Fugue for Tinhorns" starts the evening off with perfect harmonies from Mike Wells, Cory Frank and Bryce Miller, and "Sit Down You're Rocking the Boat," featuring Wells, and "The Oldest Established" and are toe-tapping ensemble numbers, while the reverence of "Follow the Fold" is countered by the sass and cheeky tone of "Take Back Your Mink." Gentle songs and ballads, including Howard S. Bell's warmly resonant "More I Cannot Wish You," receive the attention they deserve, benefitting from close proximity and the intimacy of the theater space, and, naturally, "Luck Be a Lady," featuring Mitchell, is a show stopping highlight that builds to an exuberant ensemble finish.
There are a few problems here and there, as some of the crowded transitions get clunky. Additionally the performers, particularly Bubash, need to pay attention to their volume and vocal control in the space. There are occasional sharp notes and times when the balance of sound is thrown off, luckily they don't significantly distract from the show. The dance numbers are occasionally out of sync opening night, they will likely get tighter with repetition, and the enthusiasm and accuracy of the steps are impressive and engaging, a credit to the ensemble and Hedges.
The majority of the show is set in New York City and scenic designer Josh Smith recreates the bustling city streets with a crowded stage and lots of marquee lights - creating an impressively big feel for the intimate space. Bell and music director Jennifer Buchheit keep the pace swinging and, as usual, Bell and Hedges utilize every accessible foot of the theater, including the aisles and the rooftops of New York. Costume designer Lauren Smith gives us the period, and Tyler Duenow and Miles Bledsoe add the finishing touches with strong lighting designs and scenic painting.
Stray Dog Theatre's "Guys and Dolls," continuing through August 24, is a thoroughly entertaining show that captures all the excitement and romance of the popular musical in a smaller, more intimate but no less compelling setting. A strong, well utilized cast, featuring stand out work by principles Bubash, Mitchell, O'Brien and Womack, captivate the audience and are well supported by a uniformly entertaining ensemble, ensuring the breezy show is a ton of fun for audiences of all ages.
Related Articles