Theatre Reviews
Theatre Reviews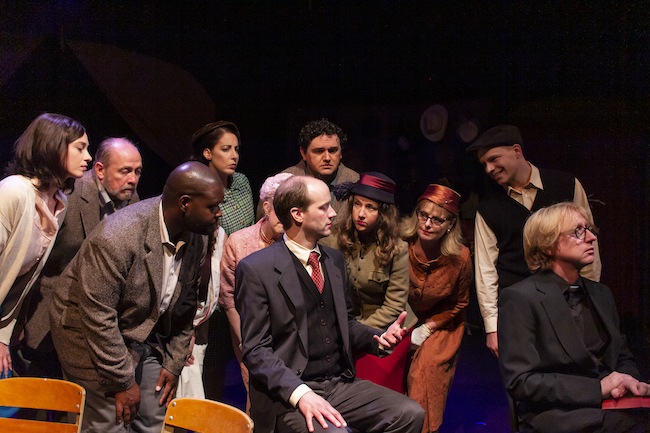 'A Man of No Importance' takes audiences on a compelling journey of self-acceptance
By
Sometimes, the most important and difficult thing in life is embracing your truth. R-S Theatrics explores this idea in an impressive version of "A Man of No Importance," with a book by Terrence McNally and music and lyrics by Stephen Flaherty and Lynn Ahrens. The musical about art and self-acceptance is gently compelling and persuasive, with a tender heart that may elicit a few tears. The story tells of Alfie, a closeted gay bus conductor in Ireland during the mid-1960s who lives a quiet life with his unmarried sister Lily.
Though he's bookish and a bit awkward at times, Alfie lights up whenever he gets the opportunity to share poetry or direct a play, which he frequently does as part of a community theater based in one of the local parishes. An ardent fan of Oscar Wilde, the bus conductor can be found reading poetry to his regular passengers and bus driver Robbie. His sister Lily is in love with the local butcher, who is frequently the star of the community theater, and she can't wait for Alfie to find a girl and settle down so she can get married. Lily's overjoyed when Adele, newly moved to town, begins riding the bus and captures Alfie's imagination. But he's only taken by the woman because he feels he's found his leading lady for a production of Wilde's scandalous "Salome."
The risky choice of material makes the butcher, a conservative catholic in line with 1960's standards, quite nervous and he takes his opinion to the church board. This move results in the show's cancellation and the company losing their theater space. In addition, Alfie is struggling with his sexual identity and unspoken love for Robbie. When he finally decides to explore his feelings (with someone other than Robbie) the results are painful on many levels, but they succeed in compelling Alfie to acknowledge his truth and come out to his sister and friends. 
There's an every man quality to "A Man of No Importance" that's perfectly balanced with self revelation and doubt in McNally's well crafted book, and Mark Kelley, as Alfie, expertly captures the essence of the character. In a thoroughly captivating performance that highlights his acting and vocal abilities, Kelley conveys Alfie's fear and hesitation with a graceful touch. He blushes with the intensity of desire and radiates joy in the moments when Alfie shares his passions. The expressions and movement are authentically motivated and grounded in a sense that Alfie is uncomfortable in his skin. Kelley also finds the right tone for every song, and his voice is clear, purposeful and occasionally faltering in delivery with effective and purposeful intent.
Stephanie Merritt as his patient, loving and accepting sister Lily compliments Kelley well, emotionally and vocally. Lily loves Alfie completely and her reaction, when he finally comes out to her after a disastrous night out, is particularly satisfying and genuine. The two establish a believable and supportive connection that feels long-term, familial and affectionate. Kellen Green is amiable, with a pleasant voice and open demeanor as Robbie, and he and Jennifer Theby-Quinn are believably mismatched and completely invested in their illicit affair. Lindy Elliott radiates as Adele, the quiet new girl with a lovely voice and a few secrets of her own. The talented ensemble includes familiar voices, such as Kent Coffel, Marshall Jennings, Kay Love and Nancy Nigh, and a few unexpected faces, most notably Michael B. Perkins, who does double duty as Lily's love interest, Mr. Carney the butcher, and an impressive Oscar Wilde.
R-S Theatrics keeps Alfie's story and the songs at the center of their production, adding simple set pieces and straightforward costuming that reflects the period and is complemented by effective sound and lighting. Director Christina Rios makes smart, effective choices at every turn, demonstrating a connection to the material that elevates the production. Well-choreographed movement, centered on the use of wooden chairs that are reconfigured to indicate different locations, creates visual and spatial interest while clearly marking each transition and keeping the pace consistent. 
The show is not well known, but it features a compelling story, made more interesting with well-focused direction by Rios. A number of songs, particularly the titular "A Man of No Importance" and the inspiring "Love Who You Love," may linger in your mind both for their content and musicality. The persistently persuasive musical is ultimately about not simply accepting yourself, but embracing who you are despite what those around you may think. Set in the sixties, it isn't easy for Alfie to do this and much of the plot leads up to a moment of revelation that, while not painless, is effectively natural and heartfelt.
Though infrequently produced, "A Man of No Importance," continuing through August 25, proves to be a captivating and important story about community, friendship and self-acceptance. While it lacks a big Broadway number, it more than makes up for that with a true and open heart. Kelley's evocative performance pulls immediate sympathy, and perhaps a few tears of compassion, and the ensemble capably compliments Alfie and his story.
Related Articles