Theatre Reviews
Theatre Reviews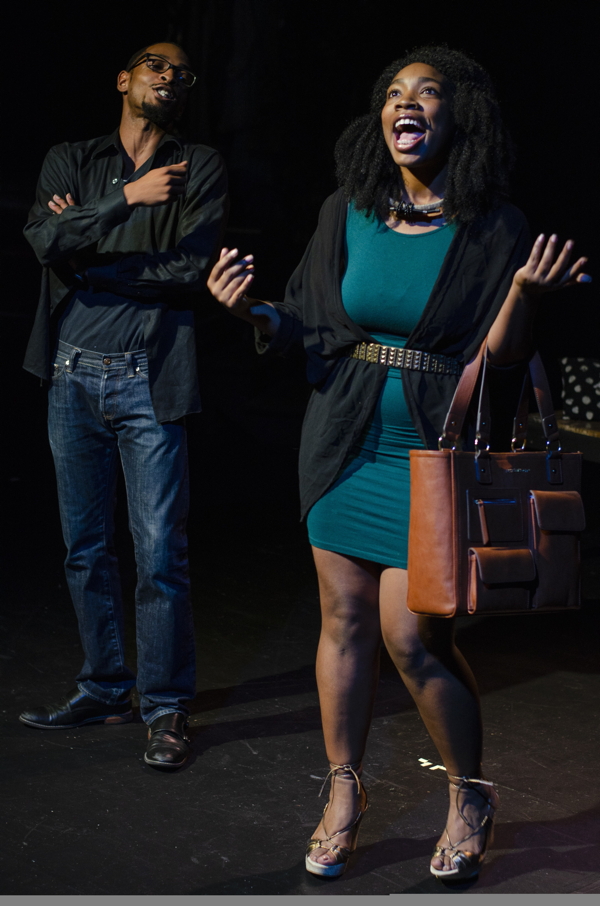 The intriguing 'Karmatic' delivers a cautionary tell on modern love and romance
By Chuck Lavazzi
TLT Productions' Tre'von Griffith and Lauren Thompson Cosby celebrate ten years as artistic partners with a production of Thompson Cosby's "Karmatic," continuing through September 8. The compelling show has a soap opera-like plot, filled with romantic twists and turns and a touch of poetic retribution, while also delving into common stereotypes and familiar themes. In this show, familiarity breeds its own peculiar ups and downs.
Financially and socially well off, Kristian seems to have life in the palm of his hands. Engaged to the beautiful and refined Sasha, he's also fooling around with the fiery and sensual Tiffany. Though Sasha's best friend Toni and her ex Anthony, both of whom carry a torch for her, try to tell her Kristian isn't to be trusted, Sasha remains true to her man. That is until Tiffany schemes for Sasha to walk in on her and Kristian in the act. Believing he has both girls wrapped tightly around his finger, Kristian is a bit too nonchalant about the encounter, but when he's forced to make a choice he learns that playing with a woman's affection can have dangerous consequences.
Thompson Cosby leads the cast with a strong performance as Tiffany, a woman scorned and out for revenge. She's joined by Tameika Thomas as the aspirational Sasha, a woman with high standards and a tendency to be too trusting. Mel McCray adds welcome energy and an authentic twist as the loyal and driven Toni. Her affection for Sasha is nicely countered by Effrem Thomas Grettenberger as the besotted Anthony, who triggered the events that unfold years ago by setting up Tiffany and Kristian in an effort to win Sasha back. Finally, Zachary Scott Clark is all confidence and bravado as Kristian, a man who wants it all but doesn't realize what he actually has until it's too late. 
Though it's clear that some of the actors lack experience, director Griffith, elicits credible, if occasionally uncertain, performances from the ensemble. The story is purposefully suspenseful and the characters' lives are deeply intertwined, and in that respect some refinement may help connect the actors more closely to their characters and relationships. Thompson Cosby has a solid structure here, but more development of the characters and plot could take the entire production up a notch. A different directorial approach, from someone with some distance from the long-time collaborators, may also add the perspective needed to take the show to the next level.
One aspect of the story that works really well, however, is Thompson Cosby's ability to both present and challenge stereotypical tropes about love and relationships from a modern,  African American viewpoint. Tiffany's vengeance is emotionally compelling while Kristian's cavalier attitude towards the commitments he's made comes back to bite him in a way that feels honest if pointedly contrived - and it's an important part of the script's intentional trajectory. The karma Tiffany alludes to early in the show eventually makes its presence felt, leaving Sasha, Toni and Anthony to ponder their part in a dangerous game of love while Kristian comes face to face with his own truth with genuine regret and remorse.
As noted, TLT Productions' "Karmatic," continuing through September 8 at The Marcelle in Grand Center, would benefit from some narrative revisions and further character development. Though the plot is a bit convoluted at times, the tightly wound characters and soap opera-like exposition provide the right amount of drama to draw you in and entertain, and there are a few surprising moments of humor that ease the tension for just a moment before plunging back into suspense. In addition, it's a pleasure to watch a full production of a locally developed script featuring an African American cast and contemporary situations. Theater fans with a taste for mystery, romance and retribution will find the production particularly satisfying.
Related Articles