Theatre Reviews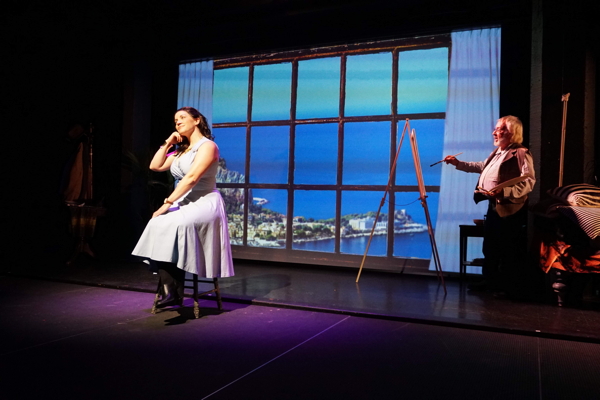 'A Model for Matisse' paints a lovely portrait of art, friendship and conversation
Written by

Tina Farmer
The Midnight Company presents the world premier of  "A Model for Matisse," a gentle, uplifting story about Henri Matisse and his model, friend and eventual collaborator Sister Jacques-Marie, whom he first met when she was a nursing student named Monique Bourgeois. The engaging story is told through a mix of conversation and narrated history that moves along like a languid stroll through the shared memories of two very close friends.
After treatment for a stomach issue, the artist's assistant posts an ad seeking a night nurse to help Matisse during his recovery. The almost penniless Bourgeois responds, even though the ad specifies Matisse is seeking an "attractive young nurse" and she feels the only qualification she meets is youth. Bourgeois also isn't aware of Matisse or his already considerable fame and, when he shows her his work, she's more impressed by his use of color than his ability to draw. Matisse finds her guileless honesty refreshing. 
One equal footing and with practical realities their common reference, the two begin a relationship that stretches through the end of the painter's life, weathering war, distance and Bourgeois becoming a nun. The friendship even extends to their working together to build the modernistic Chapel at Saint Paul de Vence, which Matisse considered the culmination and synthesis of his artistic career. Though their friendship was never sexual, it is clear from the script, written by Barbara F. Freed and Joe Hanrahan, who also portrays Matisse, that the two had deep mutual respect and an intimate connection.
Hanrahan brings a glib and curious tone to his performance as the somewhat enigmatic artist. Even when Matisse pontificates on his work or the value and purpose of art he does so with a casual, matter of fact air that's approachable and grounded in practice. Rachel Hanks is as convincing as the young Bourgeois, sprinkling in wry comments and observations with girlish enthusiasm, as she is as the devoted and reverent Sister Jacques-Marie. The audience knows less about the sister, but Hanks and director Ellie Schwetye ensure she feels as familiar and real as the more recognizable painter. The scenes where the two discuss their beliefs and aesthetics are among the most lively and contextually relevant of the show.
Matisse and his opinions are fully formed by the time the two meet. As a 20th century artist and celebrity, he was celebrated during his life and much of his habits and personality are known to contemporary audiences. Though Sister Jacques-Marie achieved some attention because of the Chapel, her life was considerably more private. Hanks and Schwetye ensure that we see the woman behind the character, enabling us to notice her maturity and change as well as the ways she is influenced by and concerned for Matisse.
Schwetye, who contributes the sound design in addition to the direction, lighting designer Tony Anselmo and costumer Liz Henning define the setting and era admirably. Video designer Michael B. Perkins adds layers of historic reference and visual interest with his projections. Perkins' background as an educator takes over his creative impulses at times, but script seems to provide that direction, making it difficult to fault Perkins, and his selected images are pleasing and saturated with color and warmth.   
Though quite entertaining, the play plods into the weighty territory of historical lecture a bit too much,  causing the storytelling to falter just a bit. Additionally, Hanrahan has a habit of telegraphing when he's about to quote one of Matisse's many well-known phrases. Even with those quibbles, "A Model for Matisse," continuing through September 21, features well-connected and believable characters  telling a genuinely fascinating and surprisingly rich story of a most unlikely friendship.
Related Articles