Theatre Reviews
Theatre Reviews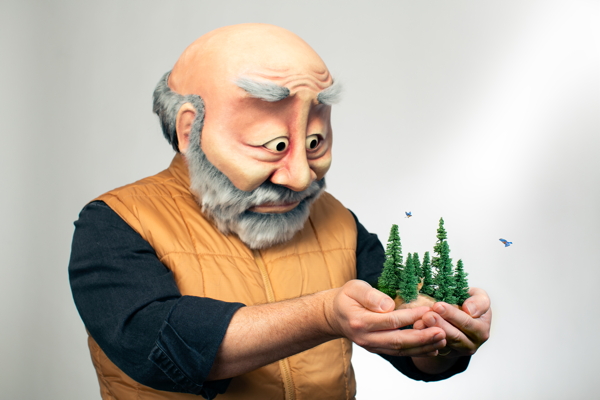 XFest is a unique university festival of international avant garde
By Chuck Lavazzi
Now in its 10th year, the 2019 "SIUE Xfest" ran from September 9-13 (2019), and included five public performances and fifteen university workshops. Each September the Xfest presents ensembles of national and international renown as well as regional emerging artists. Xfest artists offer master-classes to SIUE students in a week-long immersive learning event.
Xfest is presented by the SIUE Department of Theater and Dance, as well as the College of Arts and Sciences, and the Arts and Issues Series. The artistic director is the SIUE Chair of Theater and Dance, Chuck Harper. In the past, SIUE Xfest has hosted artists and ensembles from New York, Los Angeles, Seattle, Portland, Atlanta, St. Louis, San Francisco, Pittsburgh, Connecticut, and Chicago. Xfest is one of the only university festivals of its kind, which puts SIUE on the map for alternative performing artists from around the USA. And, since SIUE is but a short drive from St. Louis, Xfest offers metro-area audiences the opportunity to see high-caliber experimental performance.
This year's five Xfest performances were by Young Liars (St. Louis), Lucky Plush Productions (Chicago), Ernie De Silva (New York), Wonderheads (Victoria, BC), and Manual Cinema (Chicago). The shows ranged from multi-media theatre, to a one-person show, to narrative dance, to fully wordless visual theatre, to modern interdisciplinary shadow puppetry. Beyond the opportunity provided by these companies to show students and the public alike innovative modes of performance, these artists presented 15 masterclasses attended by 25-30 students a piece. Together, this festival creates a unique opportunity for SIUE students to learn cutting edge performance technique from artists at the height of their craft while simultaneously creating a wonderful opportunity for the St. Louis public to see renowned touring performances.
One of the most acclaimed companies at Xfest this year was Lucky Plush Productions, the first and only dance-based company to receive the prestigious MacArthur Award for Creative and Effective Institutions, a recognition of the company's exceptional creativity and impact. The show it performed at Xfest was "Rink Life," a show that they will open in Chicago in November making Xfest audiences some of the first to see the performance. Rink Life was created by director Julia Rhoads and co-directed by Leslie Buxbaum Danzig. Set in a skating rink, the performance consisted of dancers making movements as if on skates, snippets of conversation as if we were watching the skaters rehearse, and a cappella singing in lieu of the recorded music to which skaters traditionally perform. The rink was created simply by chairs set in a semi-circle around the stage and footlights downstage to complete the ring. The lighting was subtle and effective, primarily providing a general wash of the stage until moments when all the dancers united in song and movement. During those moments, the lights became more dramatic, creating the look of a full-blown performance rather than the skaters' rehearsal. The actors did a fantastic job of creating a casual tone to their conversations that nevertheless conveyed conflict and a loose plot. But, most impressive, was the dancing itself, particularly the fact that intricate and difficult movements were done while at the same time singing without accompaniment. It was a truly impressive feat.
The international contribution to this year's Xfest was "The Wilds" by Wonderheads. Comprised of Andrew Phoenix and Kate Braidwood, Wonderheads is a commedia- dell'arte-influenced physical theatre. The Wilds was completely without words, utilizing masks, puppets, recorded soundscapes, as well as theatre's other design elements such as set, costumes, and lights. Wonderhead's aesthetic is rarely seen in North America, and reminded me of street theatre I've seen in Eastern Europe. At times whimsical, and at other times deeply moving, The Wilds took the audience on an hour-long journey from an old couple's satisfying status quo living together in the woods, to a tragic, inevitable, and yet optimistic ending of a quest that spoke eloquently of the fragility and beauty human condition--all without words!
Xfest created a wonderful opportunity to see these shows. I look forward to next September for the 11th annual edition.
Related Articles