Theatre Reviews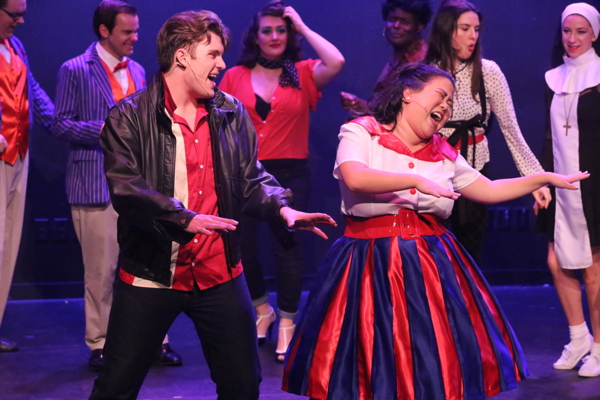 'Cry-Baby' entertains with strong harmonies, humor and a socially conscious edge
Written by

Tina Farmer
New Line Theatre brings John Waters' quirkily appealing movie from screen to stage in an energetic production that features a clash between cultures — social and musical — that points out, in not so subtle ways, that the more things change, the more things stay the same. The production bristles with energy and hormonal frenzy that's played for laughs, but delivers plenty of commentary on everything from classism to our definition of beauty.
Set in the mid-1950s, the show revolves around the budding relationship between Allison, an orphaned girl from the right side of the tracks who lives with her well to do grandmother, and Cry-Baby, a bad boy orphan whose parents were executed years ago, perhaps unjustly. Though everyone else seems to know who he is, Allison is oblivious until the two meet at a polio vaccination party at the local country club. Cry-Baby and his rock n roll entourage show up, uninvited, to get vaccinated and challenge the popular but square Baldwin and his harmonizing quartet in sing off fashion. 
Baldwin and Allison's grandmother try to put out the sparks between the love struck teens,  leading to an act of arson that might put Cry-Baby in jail for years to come. The exaggerated plot follows a familiar path, but lively musical numbers and socially relevant sub context, as well as humorously engaging performances, keep audience involved and interested.
Grace Langford shows her vocal and comedic prowess as Allison, a good girl with and itch to break out of the comforts of conformity. Caleb Miofsky makes an impressive debut as Cry-Baby, with striking vocals that compliment Langford and stand on their own. Miofsky, a high school student, gives us a more naive, less sexualized Cry-Baby and Langford expertly marches him with an eager, but reserved return of affection. The ensemble, however, is gleefully lustful, ensuring songs like "Girl, Can I Kiss You with My Tongue" deliver the laughs.
Margeau Steinau, Jake Blonstein and Aj Surrell provide convincing and often comic support as Allison's social peers, while Sarah Gene Dowling, Reagan Deschaine, Jaclyn Amber and Marshall Jennings are particularly appealing as Cry-Baby's side kicks, though the entire ensemble proves they are game for the spirited musical. The cast stops just this side of caricature, while maximizing the teen angst and comedy.
Scott Miller and Mike Dowdy-Windsor direct the show in a way that emphasizes social inequity but downplays the sometimes preachy tone of the script, which could become pedantic in less experienced hands. Nicholas Valdez and Marc Vincent provide music direction that adds to the fun. And, though none of the songs are sure hits, the harmonies are tight and pleasing and numbers like "I'm Infected," "Nobody Gets Me," "Jukebox Jamboree" (and it's counterpart "Jailhouse Jamboree"), and "Baby, Baby, Baby, Baby (Baby, Baby)" are infectious and catchy. 
Finally, Michelle Sauer's choreography is an unexpected delight and an appropriate finishing touch to the high spirited show. Even when the footwork is wobbly, the dancing is a real highlight. I expect the execution of the choreography to improve throughout the run and encourage the less experienced performers in the cast to keep working to learn the steps and find their rhythm.
Thoroughly entertaining, "Cry-Baby," continuing through October 19, finds a more welcoming home and receptive audience at the intimate Marcelle theater than it did on Broadway. While the plot is predictable and the dialogue occasionally heavy handed, endearing performances and heartwarming comedy ensure the musical is a good time for audiences of all ages.
Related Articles