Theatre Reviews
Theatre Reviews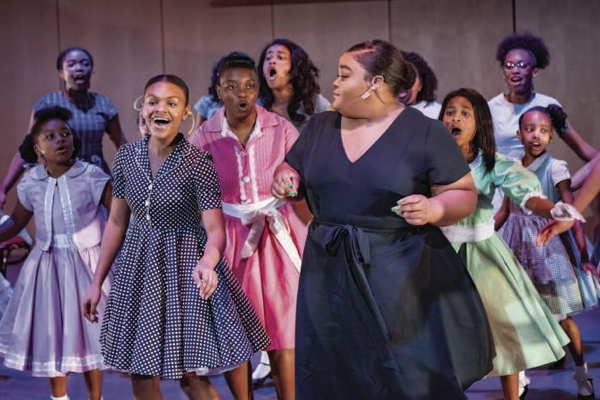 'Four Little Girls, Birmingham 1963', is a powerful reminder of racism's bitter truth
By Chuck Lavazzi
Denise McNair. Carole Robertson, Cynthia Wesley and Addie Mae Collins. You may not recognize the names, but it's likely that you know the end of their story- they are the four little girls whose lives were cut tragically short by the bombing of the 16th Avenue Baptist Church in 1963.
The students of COCA, the Center of Creative Arts, and The Black Rep have teamed up to bring their stories to life. Through song, monologues and short scenes enhanced with video projections and news footage from the time, the student ensemble reminds us that "the four girls," as they're most often referred to, where so much more than victims or symbols. The show is filled with the small details that bring not simply acts of racism, but the cost of racism to light. The girls killed in the Birmingham bombings where much more than symbols, they were young, promising lives and a potential that was never realized.
Denise, played with a chatty, cheerful and curious nature by Lena Williams, was spoiled by her daddy and hoping to become a pediatrician. Carole, a kind and thoughtful girl played with a gentle touch by Gilayah McIntosh, hoped to become a history teacher. Cynthia, played with clear intelligence and a warm smile by Kaitlyn Oliver, hoped to be an accountant and math teacher, and the confidant and athletically gifted Addie Mae,   portrayed with boundless energy and enthusiasm by Nia "RJ" Hearon hoped to break baseball barriers like her hero Jackie Robinson and explore space. 
Under the direction of Jacqueline Thompson and music director Tre'von Griffith, the lead actors and supporting cast turn in lively, convincing performances that deliver much of the context of the era while underscoring the promising young lives that were cut tragically short and nearly forgotten.
The subject matter is disturbing and at times suggests the severity and violence of the time, and racial slurs and historical photos are included in the performance. Although there's no overt violent action in the staging, the images, language and storytelling paints a vivid picture, providing a graphic reminder of the truth of the era. As such, it may not be suitable for younger children or more sensitive family members. But the treatment is respectful and educational and the resulting show personalizes history in ways that are both emotional and compelling.
The evocative and moving "Four Little Girls, Birmingham 1963," was presented through October 27 at COCA, and the majority of the performances played to sold out houses. The show is a stark retelling that offers a history lesson we would all be wise to remember as it presents a story about civil rights and resistance as told through the tragically shortened lives of these four girls.
Related Articles