Theatre Reviews
Theatre Reviews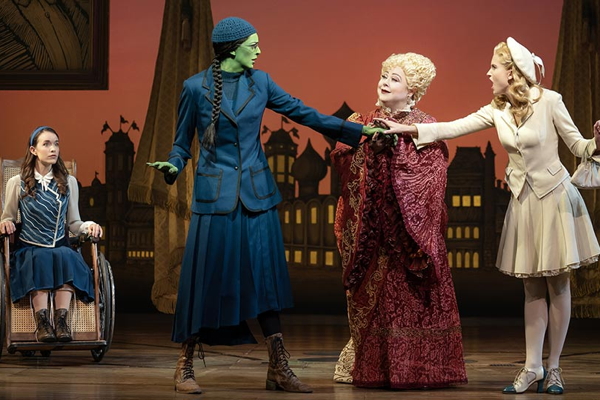 Review: The phenomenally popular 'Wicked,' dazzles with a tale of friendship and misunderstanding in Oz
By Chuck Lavazzi
Musical theater lovers can close out the year by visiting the Fabulous Fox Theatre to catch a simply spectacular production of "Wicked," that puts a welcome emphasis on the storytelling. The cast is top notch, and the acting stands out in particular as it is as satisfying and emotionally resonant as the songs. The story, which builds on and credibly adds to the original, also features an abundance of special effects complimented by excellent staging, with a few updated costumes that flatter and fit into the imaginatively steampunk world of Oz. The combination creates a thoroughly engrossing show that the whole family can enjoy, and, though it is helpful to know the original story, "Wicked" stands out on its own merits.
Glinda, the good witch, is a cute blonde from a well-to-do family. She's always gotten her way, and craves attention and affirmation. Elphaba, the older of two daughters of the governor of Oz, is often overlooked, dismissed or, worse, isolated by virtue of her skin tone. Elphaba's smart and naturally gifted, Glinda is not so bright, but skillfully politic and winningly optimistic. Both are kindhearted and curiously empowered in ways that effectively connect with the audience while establishing each as facing their own unique challenges and motivations. Elphaba's sister Nessarose adds an unexpected but important character to the story. Though her role is less prominent, it is necessary to connect the source material to the musical and inherently tragic, but not always sympathetic. When the young women who will come to be known as the witches of Oz meet at the same boarding school, the die is cast and the excitement begins.
Allison Bailey's bright, high soprano is well suited for Glinda, a traditional good witch with a contemporary pop of the hip, flip of the hair and spot on comedic timing. The personification is warm and delightfully clueless, at times to the point of being outright mean, but not dumb. Talia Suskauer shines as Elphaba, with beautiful diction and a rich voice that resonates with relatable insecurity and determination. Even her posture expresses that there's more value to her than the eye can see, but she can be moody and strike out when in pain or threatened. Suskauer captures Elphaba's conflicting emotions and increasing power with an uncertain confidence that hits a recognizable note. Bailey and Suskauer create believable chemistry, there's a feeling of kindred-soul like connection between the two even when they bicker that's surprisingly evocative.
The supporting cast is quite engaging, and always present and precise, adding visual interest that provides depth and creates engaging interludes that enhance the musical storytelling. Amanda Fallon Smith is sympathetic as Nessarose, but she's got a feisty streak that proves she and Elphaba are of the same family. Megan Loomis is a delightfully acerbic Madame Morrible and Curt Hansen an affable, loyal and not as bad as he puts on Fiyero; while Cleavant Derricks gives us a glibly slick Wizard of Oz and DJ Plunkett, Travante S. Baker and Kelly LaFarga stand out among the larger ensemble.  
"Popular" and "Defying Gravity" are still big hits, but "I'm Not That Girl" and "No Good Deed" really command attention, and "What is this Feeling," "Dancing Through Life," "A Sentimental Man" and "For Good" are strong and memorable. Other characters from the beloved L. Frank Baum story are developed and introduced in delightfully unexpected ways that connect this story to the original while providing highly entertaining moments of discovery, particularly for devotees of the books and beloved 1939 movie. Anchored on a strong cast and high production values, 'Wicked,' continuing through December 29, is a thoroughly entertaining musical gem that's simply dazzling to watch. 
Related Articles