Theatre Reviews
Theatre Reviews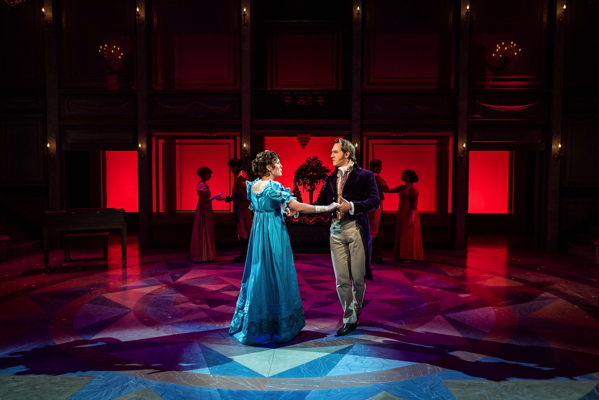 A lively 'Pride and Prejudice' sparkles with its witty take on love and romance
By Tina Farmer
Artistic director Hana S. Sharif, makes her Repertory Theatre of St. Louis directorial debut with a fantastically light, airy and delightful production of Jane Austen's 'Pride and Prejudice,' as adapted by Christopher Baker. This adaptation bristles with life and energy and director Sharif leads the talented cast in a quick paced, thoroughly enjoyable version of the beloved romance between the spirited Elizabeth Bennet and the mysteriously taciturn Mr. Darcy.
The Bennet family is holding onto their claim of middle class aristocracy by fraying threads and desperately trying to strengthen their hold through advantageous marriages for their four daughters, Jane, Elizabeth, Lydia and, eventually, 12-year-old Mary.  When the wealthy, and single, Mr. Bingley rents and estate near the Bennet home, Mrs. Bennet squeals in utter delight and immediately begins plotting to match up Mr. Bingley and her eldest daughter, Jane.
Luckily, Bingley falls head over heels in love with Jane, and she with him, but their path to the alter will not be easy particularly when complicated by the sparks between Elizabeth and Bingley's closest friend, Mr. Darcy. Misunderstanding and misinformation, as well as class prejudices, threaten Mrs. Bennet's vision of happily ever after, but she remains, loudly and boisterously, committed to securing a good match. What's most unexpected, yet thoroughly satisfying, are the sparks between the forthright and levelheaded Elizabeth and the reserved, judgmental Darcy. The humorous show overflows with a wealth of clever dialogue and devilishly funny interjections, which are complimented by some ahead of its time thinking on gender inequality and the limited roles offered to woman, the result is thoroughly captivating, unexpectedly relevant and laugh out loud funny.
Katie Kleiger and Nick Rehberger are appealingly well matched as Elizabeth and Darcy, creating believable tension that's enhanced by increasingly obvious attraction. Following a recognizable pattern that's since become a welcome trope in romantic comedy, the two spar verbally, initially taking a strong dislike for each other. Each interaction reveals how well matched they truly are, however, and Kleiger and Rehberger adroitly shift from disinterested to intrigued to madly in love.
Michelle Hand is perfectly glib and gossipy as Mrs. Bennet, redeeming a character that's often annoyingly persistent. Hand is well matched by the good humored and unruffled Michael James Reed as a bemused Mr. Bennet. Rebecca Haden and Grayson DeJesus are compelling as Jane and Bingley, and, though obstacles seem to appear at every turn, their instant attraction proves true and filled with sincerity, providing an appropriate counter to Elizabeth and Darcy's fraught courtship.
Sydney Leiser entertains as the impetuous and flirtatious Lydia and Maison Kelly is delightfully bright and curious as youngest sister Mary. Jenny Greenberry is gorgeously regal, but reveals a tender heart as Bingley's sister Caroline, and Rebeca Miller, as good friend Charlotte, Blake Segal, as Mr. Collins, and Stephen Michael Spencer, as the manipulative soldier Mr. Wickham, shine in support. While I found Lizan Mitchell artificially stilted, rather than eccentrically odd, as Lady Catherine, it's the slightest of missteps in the entertaining gem of a show. The supporting cast, which includes Eric Dean White, Rayme Cornell, Teresa Doggett and Gerry Love, and ensemble provide texture and color, filling in plot and exposition while adding laughs that move the story along at a consistently brisk pace.
Scott Bradley has given the actors a gloriously set design that emphasizes the importance of wealth and taste in the period, and Dorothy Marshall Englis outfits the cast in lovely period attire that reflects individual personality, although closer attention to fit is needed for a few of the costumes. The lighting design, by Xavier Pierce, and projections, by Alex Basco Koch, add texture and variation while directing attention and designating location, and composers and sound designers Nathan A. Roberts and Charles Coes, as well as choreographer Ron Todorowski, help bring Sharif's depiction of the period alive while benefiting the play's tone and tempo.
Jane Austen's much-loved novel is the often cited as the origin of the modern romantic comedy, and the cast and director embrace both the romantic and comedic in a thoroughly captivating show. Sharif shows clear vision with an emphasis on the humor that keeps modern audiences engrossed, ensuring "Pride and Prejudice," continuing through December 29, delivers the exhilaration and flush of new love. Suitable for audiences of all ages, the production proves to be a perfectly delightful holiday treat.
Related Articles