Theatre Reviews
Theatre Reviews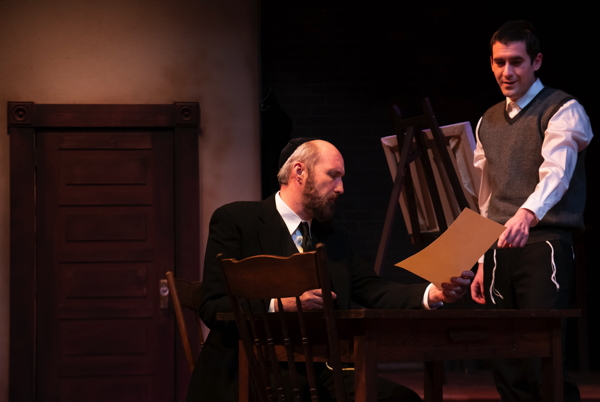 'My Name Is Asher Lev' paints a powerful portrait of an artist in a complicated world
By Chuck Lavazzi
New Jewish Theatre's production of "My Name Is Asher Lev," a play by Aaron Posner based on the novel by Chaim Potok, introduces audiences to Asher Lev. A painter raised in an observant Jewish household, a practice he continued into his adult life, his talent did not fit with the expectations of his orthodox upbringing. His father and uncle both serve their spiritual leader, the Rebbe. Acting as Rebbe's emissaries around the globe, they were instrumental in establishing schools and promoting the Jewish community's beliefs, concerns and interests around the world. After his uncle's death in an accident, Lev's devastated mother returns to school so she can continue her brother's work.
So it's no surprise, really, when - despite his prodigious talent - his parents downplay Lev's artistic interests as he approaches his bar mitzvah. The Rebbe recognizes something special in Lev, however, and arranges for him to meet the painter and sculptor Jacob Kahn, a non-observant Jew. Kahn agrees to take Lev under his tutelage for five years; before the fifth year, Lev is featured in his own successful gallery showing. Shortly thereafter Lev creates the "Brooklyn Crucifixion" paintings, which cause quite a stir even though they are purchased by a museum. His work propels Lev to the upper echelon of American artists, but it also drives a permanent wedge between the artist and his orthodox community.
Spencer Sickmann turns in a captivating and understatedly powerful performance as the artist, moving almost imperceptibly from memory to narration. The desire to draw and paint is so inherent in the artist's nature that Lev could no more not be an artist than he could not breathe. Sickmann captures his spirit and drive with an integrated and convincing intensity that resists bitterness or remorse. Lev is, in many ways, the ultimate outsider. No matter how he finds balance within himself, he will always be viewed as an other -- the "Torah Jew" who paints crucifixions or the artist who keeps to his orthodox traditions. Sickmann fully loses himself in his character, delivering a thoughtful, measured performance that is nonetheless bristling with the artist's talent, curiosity and will to excel.
Sickmann is joined by the always-excellent Amy Loui as the Women, including Lev's mother, and Chuck Winning as the Men, Lev's father, the artist Jacob Kahn and others. Loui is hauntingly poignant as the mother and sharp eyed and commanding as a gallery owner. Her performance is expressive, almost wild eyed in moments of distress, yet appropriately restrained. Winning raises his performance to the next level and turns in his most compelling and believable work to date. He's particularly engaging as fellow artist and tutor Kahn, but brings a humble intelligence to Lev's father.
Robert Lippert's scenic and lighting design captures the same elegant juxtapositions that Sickmann and director Aaron Sparks find in the character of Lev. The space unconsciously evokes the feeling of an artist's studio, somewhere in Europe, and believably accommodates a family kitchen and study in a 1950's Brooklyn walk-up, and various other locations. Kareem Deanes' sound and projection design and Michele Friedman Siler's costumes add the right finishing touches to establish place and time. The elements suit the story well, combining with fluid transitions and motivated action to create a sense of familiarity that feels authentically derived.
"My Name Is Asher Lev," continuing through February 9, is worth seeing for Sickmann's performance alone, and strong turns from Loui and Winning ensure the show is completely entertaining and thought provoking throughout. New Jewish Theatre's production embraces the complexities and contradictions of genius and faith, creating a mesmerizing story that completely engrosses while delivering story, emotion and passion from the first line through the last.
Related Articles