Theatre Reviews
Theatre Reviews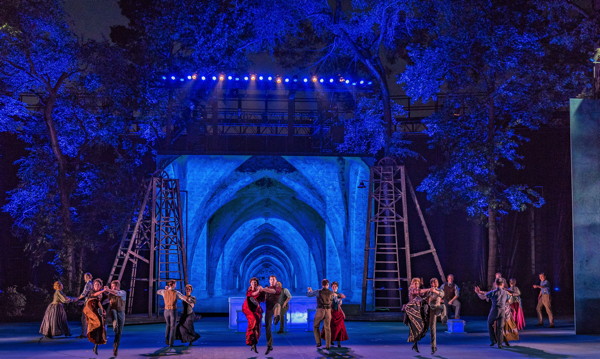 The 'Summer Variety Hour' is just the thing for mourning Muny fans
By Chuck Lavazzi
[Updated Thursday, August 20.]
If you're a fan of The Muny and have not yet had a chance to see an episode of "The Muny 2020 Summer Variety Hour" on their YouTube channel, then, to paraphrase John Adams in "1776": "Good God, what in the hell are you waiting for?"
Laura Michelle Kelly and the cast of
South Pacific (2013)
Photo by Phillip Hamer
Presented live every Monday and Thursday night at 8:15 through August 20, the "Variety Hour" (which aired its first episode the week of July 20) isn't so much a substitute for the postponed 2020 season as it is a logical extension and expansion of the Muny's commitment to musical theatre. Running around 75 to 90 minutes (including a seven-minute intermission), each episode features archived video clips from previous Muny shows along with a wealth of new material, both live and recorded, by The Muny Kids, Muny Teens, and performers who have made previous appearances on the big Forest Park stage.
It is, in short, a kind of re-invention of the classic Vaudeville show for the digital age, with the additional wrinkle that all the performers are physically distanced—often by many miles. Technically, it's impressive as hell, and consistently entertaining.
Les Misérables (2013)
Photo by Phillip Hamer
The quality of the archived video clips, while variable, is generally quite good. The sound, which was apparently pulled straight from the mixing board, is excellent, and the single camera often zooms in to give you a view of the performers normally available from only the closest box seats. The August 3 show, for example, included a performance of "I'm in Love With a Wonderful Guy" (from "South Pacific," 2013) that brought us right up on stage with Laura Michelle Kelly's irresistibly charming and fleet-footed Nellie Forbush, while still providing a good view of the ensemble. "One More Day," the Act I finale of "Les Misérables" from that same year, captured the sweep and grandeur of the 81-member cast while allowing the complex counterpoint of the music to come through with a clarity that is difficult to achieve in a live performance.
And you're guaranteed a comfortable seat with no rain or oppressive humidity or planes flying overhead. Also no crowds of people walking to the exits during the curtain call. What's not to like?
Dancer/choreographer
Chloe O. Davis
The best parts of the "Variety Hour," though, have been the new pieces staged specifically for the show. I have been most impressed with the dance numbers by Muny cast members.
In the first episode, St. Louis native and Muny regular Lara Teeter danced with athletic grace and perky humor through a deserted Muny to "Take Me Away." The second episode brought us dancer/choreographer Chloe O. Davis (another St. Louis native and Muny veteran) performing a tribute to Black dance legends like Katherine  Dunham, George Faison, Debbie Allen, Hope Clarke, Gregory Hines, Donald Byrd,  Bill T. Jones and Camille A. Brown. Titled "My Tribute to Black Broadway and Black Choreography: I Thrive Now Because You Dared Then," this bravura piece mixed audio and video clips from the original stars with Ms. Davis's flawless recreations of their signature moves. I found it totally compelling and was sorry it wasn't twice as long.
The August 3 edition, though, brought us the most idiosyncratic and beautifully ambiguous work to date: "undefeat," by dancer and choreographer Jon Rua (also a Muny vet, but probably best known for his work on the original production of "Hamilton"). Performed to the "Prelude" of Bach's Cello Suite No. 1, it alternated video of Mr. Rua dancing on the roof of his apartment building with close-ups of him fighting off depression while "sheltering in place" from the pandemic. It was touching and brilliantly conceived.
Beth Leavel and Adam Heller in Gypsy (2018)
Photo by Phillip Hamer
There have been many other highlights over the last few weeks—far too many for a complete list. My favorite moments have included:
• The Muny Kids singing and signing "Happiness" from "You're a Good Man Charlie Brown"; totally adorable.
• The Muny Teens in a high-energy mashup of "Not While I'm Around" and "Climb Ev'ry Mountain," from "Sweeney Todd" and "The Sound of Music," respectively
• Ken Page's powerful live performance, from the Culver Pavillion just outside the east entrance, of "Memory" from "Cats"
• The cast of 2019's rewritten version of "Paint Your Wagon" singing the rousing "How Can I Wait?"
• Muny artists and real-life couple Beth Leavel and Adam Heller in their home with a thoroughly heartwarming version of "You'll Never Get Away From Me" from "Gypsy," which they did together at The Muny in 2018.
The fifth and final episode of "The Muny 2020 Summer Variety Hour" airs Thursday, August 20, at 8:15 pm on the Muny YouTube channel. I saw it on Monday the 17th and it's every bit as entertaining and creative as the first four. It includes closed captioning as well as descriptive audio as have all Thursday episodes.
Mark Ballas and company in Jersey Boys (2018)
Photo by Phillip Hamer
"The Muny 2020 Summer Variety Hour" is a must see for musical theatre fans in general and lovers of The Muny in particular. For more information visit The Muny's web site.
Related Articles