Theatre Reviews
Theatre Reviews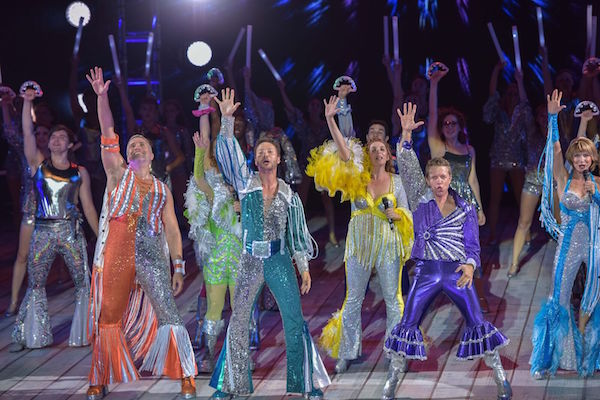 Delightfully fun and campy, 'Mamma Mia!' is a perfect confection for a hot summer night
By
Plug in the disco ball and dig out your glittering fringe, Mamma Mia! is heating up the MUNY stage with all the flash and pop sensibilities of ABBA's music wrapped with a sweet tale about love and romance, at any age. What could be more fun, on a midsummer's night, than a trip to a Grecian island where the air itself shimmers with romance?
At the young age of twenty, Sophie--played with an incandescent smile, voice, and personality by Brittany Zeinstra--is about to get married to Skylar, a friendly and likeable Jason Gotay. Her mom Donna, the appealing and vocally dynamic Julia Murney, is busy sprucing up the island taverna she owns for the wedding. There's a lovely warmth between the two actresses, and their voices complement each other in tone and timber, enhancing the picture of their close relationship.
Soon guests and friends are arriving for the festivities, including three men from Donna's past: adventurous travel writer Bill Austin, a robust and fun loving Mike McGowan; retired rock and roller Harry Bright, a loyal and caring Ben Nordstrom; and the architect that got away, Sam Carmicheal, a charming and spirited Justin Guarini. Hometown favorite Nordstrom and Guarini stand out with smooth phrasing and easy harmonies, while McGowan's "Take A Chance on Me," a comically in-tune diet with the irrepressible Ann Hurada, is a big crowd pleaser.
You see, although Sophie has her mom, groom, friends, the appealing Sara Gallo and Raven Thomas, and even a couple of "aunties" in the form of Donna's best friends, the scene stealing duo of Hurada and Jenny Powers, there's someone missing from her perfect picture. Her dad. Unbeknownst to Donna, Sophie has invited the three men here to figure out which one is her father, so he can walk her down the aisle. 
The appearance of the three, particularly Sam, sends Donna's heart aflutter and her sense of independence through the roof. There's a lot of flirtation and anticipation in the story, and the capable ensemble keeps the show moving fast and the tension building. A feast of ABBA songs, some clever interpretations of disco dancing, and several comic turns later, a happy ending is celebrated by the cast and audience to the sequin-infused strains of "Waterloo."
Many of ABBA's most familiar and successful songs are featured in addition to the title track. The most surprising element of the show is that all of the songs aren't big, over-the-top productions. There's tenderness and an almost ballad-like quality some of the songs when stripped down, giving "Our Last Summer" and "The Winner Takes It All" well-supported emotional context. 
That's not to say the big productions are completely forgotten until the finale, there's plenty of splashy numbers throughout, with "Money, Money, Money," kicking things off in style, as well as the memorable "Dancing Queen" and "Super Troupers," and energetic "Gimme, Gimme, Gimme," to name a few highlights. There are sweet songs, regrets softly and tentatively voiced, and numbers that are pure fun, the interpretations simply follow the emotional arc. 
Director Dan Knechtges manages the balance of telling a story and creating a 1970s club experience superbly. He weaves the stories and songs together in a light, satisfying arc that's complemented by Michael Horsley's engaging music direction and arrangements that highlight each singer's voice. The choreography by Jessica Hartman is a slick mix of contemporary jazz and disco-era moves, and the ensemble takes to it well under the skillful lead of dance captain Riza Takahashi.
The gorgeous set design, by Tim Mackabee, makes me want to plan a trip to a Greek island and is thoughtfully complemented with video, designed by Greg Emetaz, and the lighting design of Nathan W. Scheuer. The highly detailed costumes, by Leon Dobkowski with wigs by John Metzner, are the icing on the cake in this show, ranging from bohemian chic island wear to the sparkle and flash of disco with just the right extra touches.
Running through July 28, 2016 at the MUNY in Forest Park, Mamma Mia! is a light-hearted, romantic romp filled with songs from the late 1970s that are near pop perfection. The bubbly songs and light romance complement each other, creating a delightfully charming, occasionally enchanting, and always optimistic musical comedy that's perfect family entertainment for a hot summer's night.
Related Articles