Theatre Reviews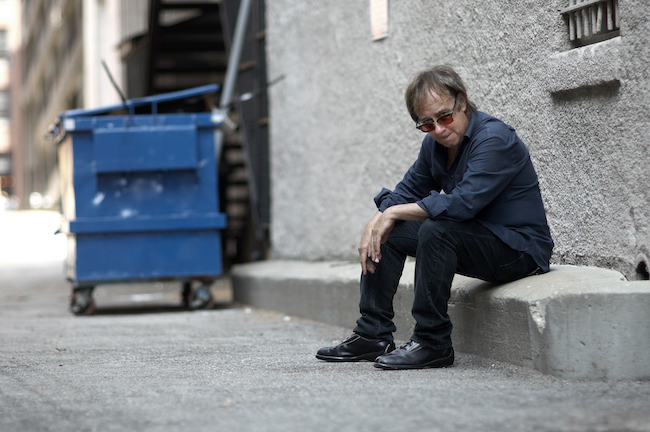 Come for the 'Sex, Drugs, Rock & Roll,' stay for the subtext
Written by

Tina Farmer
At a time when one- and two-actor shows are the only feasible choices for live theater, Midnight Company returns with "Sex, Drugs, Rock & Roll." The popular one man show, starring Joe Hanrahan with sharply focused direction by John Wolbers, gets a few pointed rewrites that make the production feel more than just a rehash of familiar material. Continuing through November 8 at the Kranzberg Arts Center Studio theater, which has achieved Missouri ArtSafe Certification, the small cast, limited audience production is one of the first live performances since the pandemic hit full force in March.
The show, a series of short solo sketches originally penned by Eric Bogosian, introduces us to a revolving door of stereotypical men associated with the glam era of rock and roll, though their status and lifestyles vary. Written several decades ago, the character types are nonetheless recognizable, and surprisingly relevant. The script is also aided by smart edits referencing contemporary issues such as the Me, Too movement, the growing disparity between the haves and the have nots, and changing attitudes on race and gender equality. There are even a few one-liners about Covid and mask wearing. Wolbers creates beats of emphasis that direct attention to the updated perspective without distracting from the original material. Hanrahan, a veteran of the one-actor show, delivers a strong performance as expected. I find his partnership with director Wolbers helpful as the fresh eyes elicit more distinction and nuance, revealing new facets of the familiar characters.
An aging rock star trying to live sober and be hip again shows he's completely missing the point through projection and appropriation. A local drug dealer longs for bygone days, before his best friend gave up "the business" to be a Starbucks manager. A well-off man, who is clearly clueless about the income gap, is just as clearly overcompensating with the most expensive of everything. A real estate agent spews classism, conformity and segregation as he's trying to sell a young family on a very exclusive gated community. These characters and more are brought to life, in all their uncomfortable, privileged glory by Hanrahan and Wolbers. Each character is quite distinct and clear, which helps keep the audience interested in the various stories, and there are multiple thematic threads woven throughout the scenes that loosely connect them, sometimes with unexpected humor.
Taken as a whole, there's an air to the show that feels a little stale and overdone, but with a purpose that makes the case for the play without excusing the characters. The original script is well crafted and stuffed with a million little details. The related edits give this production a harsher edge, with characters seen in a less flattering light, helping to successfully reframe the stories for 2020's audiences. The commentary isn't scathing, and could be sharpened to a more precise edge in future productions, but it is clear that the collaborators approached the source material through a contemporary lens.
I don't know that now is the time for us to be listening to stories about privileged white men waxing poetic as they try to hold onto their sense of self worth in a changing world, though I genuinely enjoyed the performance. In all honesty, with the pandemic showing little sign of slowing, I wasn't 100% comfortable sitting in a well-spaced theater, even knowing that everyone in the room went through screening and a temperature check, and I'm ambivalent about when I'll go back again. Midnight Company's latest take on "Sex, Drugs, Rock & Roll," continuing through November 8, did, however, remind me of one important truth. Sometimes, the more things change, the more things need to change.
Related Articles