Theatre Reviews
Theatre Reviews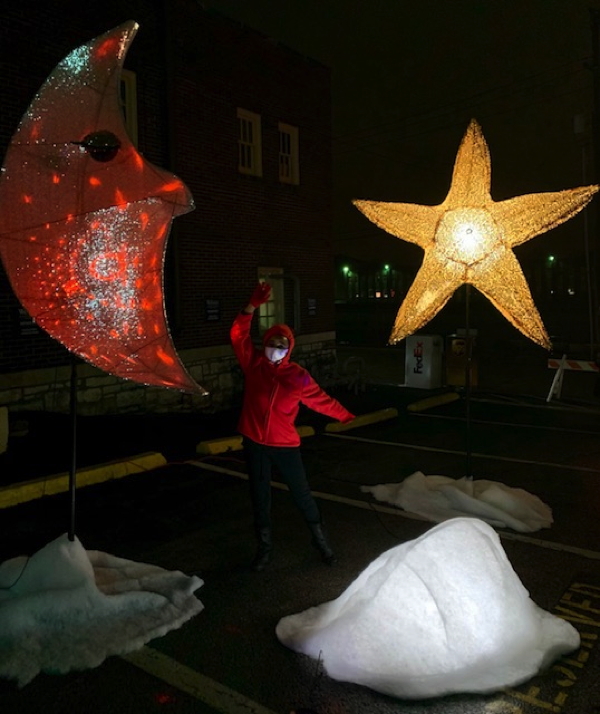 'The Glowy Snowy Day' at The Rep Is A Family Treat
By Jacob Juntunen
"The Snowy Day" by Ezra Jack Keats is a book about a little boy, Peter, encountering the snow, going from experience to experience during his day. And, though it is never mentioned, Peter is Black. The celebrated book, published in 1962, was one of the first children's books to feature a Black protagonist, but its heart was the wonder a child experiences walking in new snow.
That spirit is honored by the current outdoor, puppet production at The Repertory Theatre of St. Louis in collaboration with StoneLion Puppet Theatre. The socially-distant production has audiences drive through a parking lot on Webster University's campus listening to a charming podcast version of the book while looking at a variety of puppet installations. The whole show is about 10 minutes long -- perfect for a family with kids. Because the book is episodic, taking readers through Peter's day, it is an excellent source to create individual puppet tableaus for the audience. The podcast goes through a scene from the book, and has a little chime letting spectators know when to drive to the next station.
The podcast, created by St. Louis Repertory Theatre, is well-narrated and acted, but, not surprisingly, the focus of the show is on the visuals. Since one drives through the parking lot after dark, all the puppets are illuminated. They are primarily oversized body-puppets or toy-theatre style boxes, each linked to a particular scene in the podcast. Particularly winning is a snowball fight with glowing balls manipulated by performers in blacks. I was confused by the choice to make the skin quite pale on Peter and his mother in a toy theatre box of Peter coming inside with a snowball in his pocket. My generous read is that perhaps the creators were trying to "universalize" Peter by portraying him in different scenes with different skin tones? For me, though, it felt odd given the importance of skin color in the source material. That one criticism aside, the overall experience is superb, and the sun puppet that appears in Peter's dream after he goes to bed had my daughter laughing and laughing with its exuberant waving to her through the windows of our car.
As that anecdote suggests, my five-year-old enjoyed "The Glowy Snowy Day" thoroughly. She recommends it to "everyone around [her] age," and mentioned that she found it very funny and loved when the puppets waved to her through the car windows. Her favorite moment was at the very end when Peter is represented by a human actor. That moment of having a character portrayed by a human, after so many lovely puppets, creates a pleasant breaking of expectations. It also, for my daughter, provided an exciting moment of seeing a character from a book come to life.
After nearly a year of very little live performance, and equally few ways to gather as a community safely, "The Glowy Snowy Day" provides a welcome introduction to 2021.
The performance is free and open to the public, playing 5:30-8:30pm on January 2nd and January 3rd, 2021, at Stages Repertory Theatre. For instructions on where to drive and how to line up, please visit the event page on the Rep's website.
Related Articles