Theatre Reviews
Theatre Reviews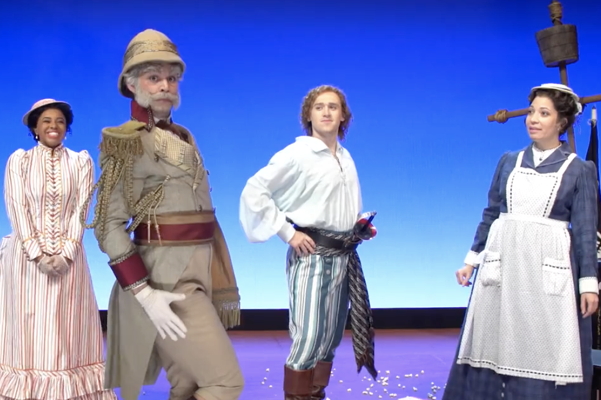 Review: Opera Theatre's speed date with 'The Pirates of Penzance'
By
The pandemic cancelled the Opera Theatre of St. Louis (OTSL) 2020 season and will radically re-shape its 2021 season, which will take place outdoors and involve a raft of health safeguards. Meanwhile, local audiences are being offered a variety of on-line offerings from the company, including its new "Opera on the Go!" program.
L-R: Angel Riley, Ryan Johnson
Targeted at young audiences, "Opera on the Go!" kicks off with a small-cast, one-act version Gilbert and Sullivan's popular operetta "The Pirates of Penzance." Offered via on-demand streaming from January 23rd through February 27th, this pared-down production clocks in at a fast-paced half hour by dumping all but the most essential aspects of the story along with the majority of the characters. The lovers Frederic and Mabel are still there, along with Frederick's nursemaid Ruth, the Pirate King and of course, the comically pompous Major-General Stanley, but that's it.
Adults familiar with the original may find this compression a bit disconcerting but younger audiences are likely to be vastly entertained by both the verbal and visual gags as well as by the broad but precise comic performances of the excellent five-member cast.  It's the same quintet that brought us OTSL's enchanting holiday concert last month, so the names and faces will be familiar.
L-R: Benjamin Taylor, Angel Riley,
Stephanie Sanchez, Ryan Johnson
Tenor Ryan Johnson swoons hilariously as Frederic, torn between his duty as an apprentice pirate and his love for the vivacious Mabel, sung brilliantly by soprano Angel Riley. Mr. Johnson's matinee-idol crooning in "Oh, is there not one maiden breast" is perfectly done and Ms. Riley's coloratura talents are nicely displayed in a cut-down but still impressive version of "Poor wandering one." Bass Alex Rosen brings a degree of vocal depth not usually heard in the baritone role of Major-General Stanley and rattles off the famous patter song with stunning clarity.
Baritone Benjamin Taylor swaggers powerfully in his opening number as the Pirate King and mezzo Stephanie Sanchez makes a formidable Ruth. Both bring an impressive combination of vocal power and comic flair to their roles.
Director Shawna Lucey, who presumably provided the simple but very effective choreography as well, keeps the action mostly brisk and the comedy snappy, with just enough sight gags to keep the young target audience engaged without ever going overboard. The only exception is the long and weepy parting between Frederic and Mabel which, while it makes sense in the two-act original, goes on far too long for this reduced version. I think it might tax some younger attention spans as well. Judicial editing probably would have been advisable.
Alex Rosen
The clever video designs of Greg Emetaz add plenty of colorful visual humor to the proceedings, as do the bright, borderline-cartoon costumes James Schuette created for Opera Theatre's original 2013 production. Pianist Mauro Ronca provides solid accompaniment and contributes a brief deadpan comic turn as Queen Victoria.
Opera Theatre's entertainingly abbreviated "Pirates of Penzance" is being offered to the general public on demand through February 27th. It's also available to schools through June as part of the Opera on the Go program, which includes short video workshops on Lighting, Making Music, Movement and Dance, and Patter Songs. Visit the Opera Theatre web site for more information.
Related Articles