Theatre Reviews
Theatre Reviews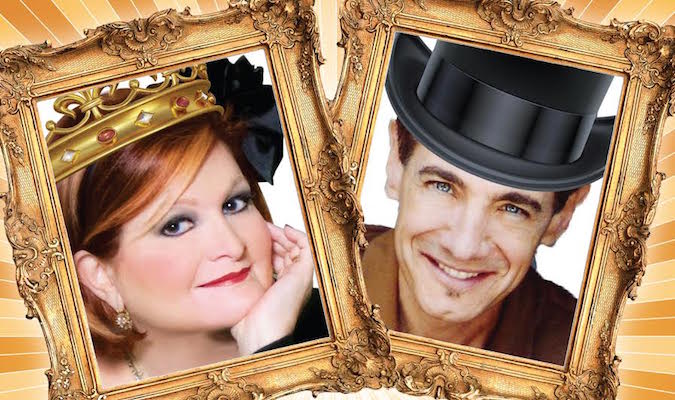 The St. Louis Cabaret Festival starts on a high note with 'The Prince and the Showboy'
By
Tony award winner Faith Price and her friend, and L.A. Drama Critics Circle award winner, Jason Graae team up to present the laugh-out-loud funny, personally reflective, and always in tune The Prince and the Showboy. The cabaret takes a fond look at life as a professional performer, with songs and stories that tell of victories and heartaches, large and small, and a tone that's genuinely appreciative of the craft. The resulting show is heartwarming and deeply personal, frequently referencing the duo's long friendship as the two share songs and stories that encompass career highs and lows. 
The show opens with an energetic medley that comically twists familiar show tunes to reference Prince and Graae. Snippets of "Someday My Prince Will Come," "Put on a Happy Face," "Tomorrow," and West Side Story's "Cool," as well as other classic musical favorites, are interspersed with humorous quips about the two performers and the business of musical theater. There's a sense of "insider" knowledge to the patter; as a newcomer, there were a few moments when I felt left out of the conversation, but they were fleeting and I quickly caught up. 
Graae and Prince then alternate with solo pieces, continuing to share personal stories and drop names, eliciting warm applause and rippling response from the crowd for every familiar mention. Both performers are talented comedians, and the timing of their remarks, double takes, and teasing jabs are consistently spot on. Graae is a tenor with a warm, full mid range and pleasing interpretations. "My Funny Valentine" was a standout number, though he showed the same quality and attention to detail throughout the evening. 
Prince is blessed with a powerful voice and expressive range, and she has perfected her craft, timing, and persona. She's opinionated and sassy when she needs to be, and at times vulnerable, fiercely funny, and authentic. Prince demonstrates expert command of her voice and her experience as an actress, changing the energy of the room with a shrug, sigh, or laugh and drawing the audience in during bittersweet moments. Her story of Elaine Stritch visiting her backstage, which segued perfectly in to "The Ladies Who Lunch," exemplified Prince's style of graciously acknowledging her influences and inspirations. She gave a soft, breathy interpretation to a song from Falsettos that felt like a hug enveloping the audience, and then made everyone miss home with the comforting "Sweet Kentucky Ham."
There's a lot more comedy than tears to this show, however. The duets between Prince and Graae are cleverly arranged, intentionally funny, and irrepressibly upbeat. Highlights from later in the show include "Bosom Buddies" and "Smile," which featured Graae on oboe, as well as playful interplay between the performers and talented pianist Alex Rybeck. Though costumes and props aren't typically called out in cabaret, Prince once again flexes her comic muscle as she wrestles with a microphone, taps on the piano, adjusts her top, or futzes with a feather boa to just the right effect.
Professional track festival participants Ari Axelrod, Paula Dione Ingram, and Gail Payne led off the evening. Each soloist entertained, presenting engaging interpretations and solid vocals with just a few missed notes, possibly a sign of nerves in front of a nearly full Sheldon Concert Hall, sprinkled in. The overall tone of the show is light and amiable, with a few tender revelations thoughtfully expressed.
Uninitiated audiences often find the art of cabaret a bit confusing to navigate, is it an intimate concert, musical theater, or variety show? Am I supposed to be following a plot and why don't I have a list of songs? As a relative novice to the art, I can sympathize with a hesitant approach, but want to encourage audiences to give cabaret a chance. This unique form of theatrical storytelling interweaves personal recollections with songs selected to emphasize a moment or point, and arranged to create a narrative arc that also complements the artist's vocal strengths.
The St. Louis Cabaret Festival, running July 19 through July 24, 2016 at various locations in the Grand Center Arts District, is an annual event that attracts national, regional, and local talent. Produced by The Cabaret Project, the festival offers a number of opportunities to experience individual, partnered, and ensemble cabaret as well as workshops and opportunities for performers to hone their skills and receive critical feedback. Arts patrons who enjoy music, storytelling, and the intimacy of small theater should consider adding the annual festival to their entertainment calendar.
Related Articles