Theatre Reviews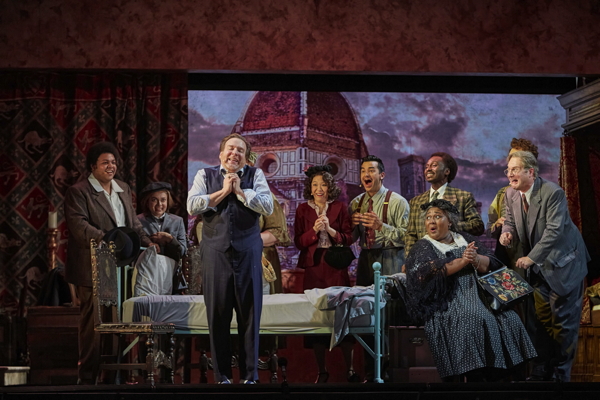 Opera Review: Downsized and outdoors, Opera Theatre kicks off it season with an entertaining 'Gianni Schicchi'
Written by

Chuck Lavazzi
Few economic sectors have been as damaged by COVID-19 as the performing arts. Entire seasons were wiped out, including that of Opera Theatre of St. Louis (OTSL). OTSL is back in business this year, though, with four operas performed in rotating repertory, the traditional Gerdine Young Artists showcase, and even a special Juneteenth event at the Missouri History Museum. Picnic dinners on the lawn are back, along with full bar service.
House size is smaller—300 seats vs. close to 1000—seating is physically distanced, and everything including bar service involves minimal physical contact.
Buoso's family in bogus mourning
Performances are also outdoors, on a newly constructed stage taking up what is usually the Loretto-Hilton Center's main parking lot. Think of it as a less massive version of an evening at the Muny.
The operas are shorter as well. Following the lead of the St. Louis Symphony Orchestra, OTSL's productions all run around an hour with no intermission. That limits them to one-act operas but that's not necessarily a bad thing. The season opener, Puccini's 1918 comedy "Gianni Schicchi," is getting such a spirited and entertaining production that it seems astonishing that OTSL hasn't presented it in over forty years.
As the opera opens, the wealthy Florentine Buoso Donati has shuffled off his mortal coil and his relations are making a great show of mourning, accompanied by descending minor seconds in the orchestra. Their grief becomes real, though, when a search for Donati's will turns up a document giving everything to the local monastery. It's a financial disaster for everyone and a personal one for Donati's nephew Rinuccio, who had hoped that a bequest would smooth the way for him to wed his beloved Lauretta, daughter of the wily Gianni Schicchi.
Rinuccio's snooty family disapproves of the match and looks down on Schicchi because he's a peasant and, worse yet, an immigrant. But Rinuccio reminds them, in a mock-heroic aria, that fellows like Schicchi are what made Florence great. Besides, it will take a schemer of his ability to find a way around that will.
Needless to say, he succeeds, employing comic devices that are direct descendants of commedia dell'arte gags. The relatives get what they deserve (if not exactly what they wanted) and the opera ends with Rinuccio and Lauretta looking forward to their wedding and Schicchi looking forward to a life on Easy Street (or, as they might say in Firenze, una vita alla grande).
Evan Lazowski reads the new will
Opera Theatre has assembled a fine cast, headed by baritone Levi Hernandez as Schicchi, who was so impressive in OTSL's "Don Giovanni" in 2011. His wide vocal range and sharp comic sense serve the character well. As Rinuccio, British tenor Joshua Blue puts his big, ringing voice to good use in his hymn to the wit of Schicchi and the glory of Florence. Soprano Elena Villalón is a charming Lauretta who earned loud shouts of "brava" for her superb rendition of the opera's hit tune, "O mio babbino caro." Both Mr. Blue and Ms. Villalón are former Gerdine Young Artists, which says a lot for that program.
Contralto La'Shelle Q. Allen makes a strong OTSL debut as Rinuccio's elitist aunt Zita, while Nathan Stark, as the late Buoso's pompous cousin Simone, uses his big voice and imposing presence as effectively here as he did in "The Marriage of Figaro" in 2019. Tenor Steven Cole, also a newcomer to OTSL, has a delicious cameo as the befuddled doctor Spinelloccio (another classic commedia dell'arte character).
There are many other fine performances in this consistently talented ensemble, including tenor Jermaine Smith as Buoso's greedy nephew Gherardo, soprano Meghan Kasanders as his equally avaricious wife Nella, baritone Schyler Vargas as Buoso's son Marco, and soprano Helen Zhibing Huang as his wife, La Ciesca, who declares she will mourn "povero Buoso" for the rest of her life. Soprano Bianca Orsi proves to be convincingly boyish as Gherardino , the seven-year-old son of Gherardo and Nella.
Rounding out the cast are baritone Rob McGinness as Buoso's poor brother-in-law Betto, whose information on the will gets the plot rolling, baritone Kyle Miller as the dyer Guccio, and bass-baritone Evan Lazowski as both the cobbler Pinellino and as the Notary Ser Amantio di Nicolao, to whom Schicchi dictates the false will.
Tenor Chance Jonas-O'Toole has no lines as the deceased Buoso, but he does have to appear credibly lifeless as the other actors toss him around looking for a place to stash the body. That calls for both physical acting skills and trust in your fellow cast members.
St. Louis Symphony Orchestra Conductor Laureate Leonard Slatkin leads members of the SLSO in a brisk and precise reading of the score. Stage Director Seán Curran's dance background in apparent in the fluid staging—no mean feat, given the relatively small size of the playing area. His decision to move the action from the 13th century to the 1930s doesn't seem to serve any real point, but it also doesn't detract in any way.
Allen Moyer's sumptuous red and gold set is enhanced by the digital picture window designed by Greg Emetaz, which gives the audience a lovely picture-postcard view of the Duomo and, in the end, a romantic sunset.
My only real complaint about Opera Theatre's "Gianni Schicchi" comes down to something that is largely beyond the company's control: the outdoor venue effectively mandates the use of wireless body mics and amplified sound. That makes individual vocal lines a bit clearer (and the projected English text mostly unnecessary), but it tends to turn the big ensemble numbers into sonic mush and doesn't do the orchestra's fine playing any favors.
Joshua Blue and Elena Villalón
Still, everything else about this "Gianni Schicchi" is of the finest quality. And given that it's a comedy that is ultimately about death, it seems an appropriate way to open a season that's taking place against the background of a pandemic that has killed millions worldwide. Also contributing to the comedy's dark subtext is the fact that both Schicchi and Donati were based on real residents of 13th-century Florence. The former did actually impersonate the latter, and both are sent to hell by Dante in cantos XXV and XXX of his "Divine Comedy."
"But I digress"—Tom Lehrer
The important point is that Opera Theatre's "Gianni Schicchi" is a well-crafted and diverting evening's entertainment, especially when supplemented (as ours was) with a picnic and prosecco.  It runs through June 10th, in rotation with the season's three other operas. Performances are sung in English with projected English text. Note that you'll need to arrive early if you want to get a table in the picnic area. For more information, visit the Opera Theatre web site.
Related Articles