Theatre Reviews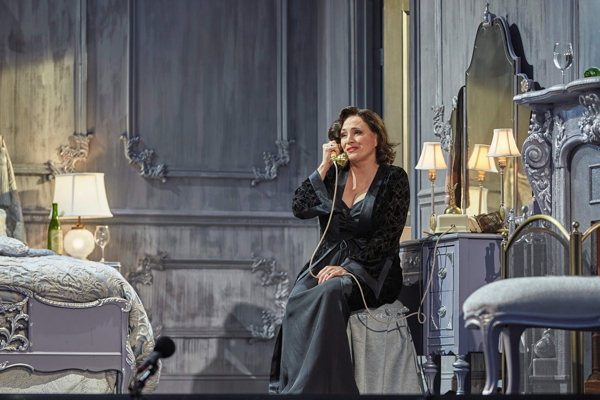 Opera Review: Patricia Racette is the reason to see 'La voix humaine' at Opera Theatre
Written by

Chuck Lavazzi
The best reason to see Opera Theatre's production of Francis Poulenc's 1959 one-act opera "La voix humaine" ("The Human Voice") is soprano Patricia Racette's bravura performance in the one and only role of Elle (French for either "she" or "her" depending on context). The libretto, adapted by Poulenc and Jean Cocteau from the latter's 1928 play, consists of Elle's side of a telephone conversation with her lover, who has left her for another. We're left to infer that other side of the conversation both from Elle's reaction to it and from Poulenc's score, which reinforces and comments on Elle's emotional state
Patricia Racette
Photo by Eric Woolsey
That asks a lot of a performer's range, both as an actor and a singer, so it's not surprising that many noted sopranos have taken it on. It is to Ms. Racette's considerable credit that she so completely and clearly communicates the many shades of Elle's grief and sense of abandonment along with some notion of her ex-lover's character, even if it does come through the distorted lens of her self-deception and painful neediness. As both star and director, Ms. Racette is utterly compelling and believable whether she's raging at the unpredictability of the telephone network, quietly remembering happier times, or engaging in shamelessly passive-aggressive manipulation of the man who has discarded her. She does not shirk from showing us Elle's dishonesty, nor does she spare us the sometimes embarrassing depth of her desperation.
Congratulations are also due Ms. Racette's artistic partners, Collaborative Pianist Sun Ha (Sunny) Yoon and Creative Consultant Beth Clayton
As her title implies, Ms. Yoon takes on the role of the orchestra here, playing a full-size weighted electronic keyboard and working closely with Ms. Racette. Although Poulenc completed a version of "La voix humaine" for voice and piano first, it was the full orchestral version that was first performed in 1959. It wasn't until 2013 that his niece finally allowed the piano original to be used, and since then many performers, including Ms. Racette, have decided that they prefer the more intimate sound of that earlier version. She and Ms. Yoon certainly make a good case for it here
Ms. Clayton worked with Ms. Racette on some revisions of the English-language version of the libretto and, I expect, served as an extra pair of eyes when it came to the staging. She has, in any case, great insight into the work as her preview video on OTSL's YouTube channel clearly demonstrates. It's essential viewing for anyone interested in the internal plumbing of Poulenc's score.
Patricia Racette
Photo by Eric Woolsey
That said, I'm not persuaded that the opera's libretto, brilliantly reinforced as it is by Poulenc's minimalist score, is worthy of the amount of talent that has been lavished on it. The composer, the librettist, and the singer for whom the opera was written (Denise Duval, who had played a major role in Poulenc's earlier opera "Dialogues des Carmélites") all felt deeply connected to the work's subject matter because of unhappiness in their own romantic lives, but I'm not sure how many audience members will feel the same connection. Critical reception of the opera has been mixed from the start as well
The central issue, for me, is that the character of Elle is ultimately too shallow, too dishonest, and too manipulative to be interesting. Poulenc and Cocteau give us a 45-minute slice of her life in real time when she is seen at her absolute emotional worst. It's impossible to know whether the cringe-worthy self-abasement on display is acute or chronic. As it is, "La voix humaine" feels rather like an extended version of the 1967 Vicki Carr hit "It Must Be Him" (surely one of the most irritating torch songs every written)
To finish on a more positive note, let me acknowledge Allen Moyer's evocative, "fifty shades of grey" set. It's more upscale than Cocteau envisioned, but it does strongly reinforce the sense that Elle's world has been drained of color. Costume Designer James Schuette's black nightgown adds to the sense of mourning
OTSL's "La voix humaine" is impeccably staged and performed and is a personal triumph for Patricia Racette, right up there with her creative direction of "La Traviata" for OTSL in 2018 and her compelling Donna Elvira in "Don Giovanni" in 1993. I'm not convinced that the material is worthy of her talent but that, as they say, is another story. Performances continue through June 20th on Opera Theatre's new outdoor stage, in rotation with the season's three other operas. "La voix humaine" is sung in English (and a soupçon of French) with projected English text. For more information, visit the Opera Theatre web site.
Related Articles