Theatre Reviews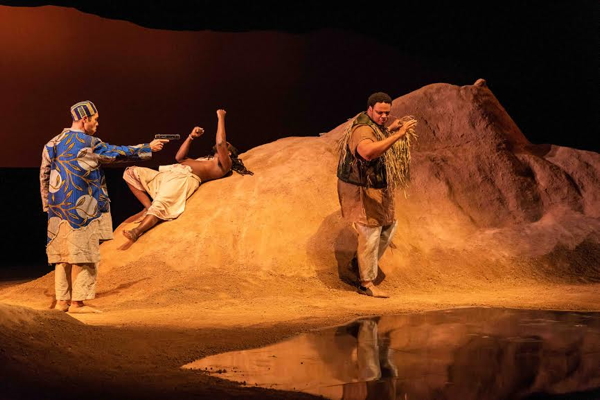 'Mlima's Tale' Is a Beautifully Rendered Reminder of an Embarrassing Truth
Written by

Tina Farmer
The Repertory Theater St. Louis returns to indoor stages with its production of "Mlima's Tale" at the Berges Theater on COCA's campus. The deeply affecting tragedy, by Pulitzer-winning playwright Lynn Nottage, tells of one elephant's brutal death and the journey his spirit takes as he follows his tusks through the channels of the ivory trade. A very much illegal and very much still active black market. The tale is disturbing in more than one scene, as greed seems to overtake each person involved in the illicit, species-threatening trade.
Mlima is a handsome elephant, which his mother warns will be a danger. His large frame and head, with long, impressively symmetrical tusks, makes him a target. First, for other bulls trying to prove themselves. Later, for the hunters -- poachers illegally killing elephants only to strip their tusks and discard, often mutilate, their bodies. In life, Mlima was one of the prized mature male elephants and a symbol of the reserve. In his death, Mlima is a haunting specter, silently but forcefully leaving his mark on those who would violate elephants to stuff their pockets with gold.
We meet the other elephants important to Mlima, particularly his mate, his best friend and a wise, older bull, in scenes filled with positive emotions. The scenes between Mlima and the hunters are jarring and suggestively graphic, though there is a sense of distance as these are Mlima's memories. Once Mlima's spirit starts following his tusks, his reactions and discoveries are more immediate and emotionally wrenching. Director Shariffa Chelimo Ali, following Nottage's scripted lead, ensures the result is incredibly effective.
Kambi Gathesha artfully portrays Mlima with dignity, grace and stature. His movements are at times lumbering and slow, signifying the elephant's mature age, but his trumpet is loud and strong. As important to this story's telling, his memory and perception are clear. Gathesha expresses every step of Mlima's tusk's journey with the sting of realization and grief as well as anger, torture and humiliation. He releases one final shocked trumpeting protestation, aggrieved by his desecration so some collector can "own" a sculpture made from his soul. Gathesha conveys these emotions with vivid expressions emphasized by his movements.
Ezioma Asonye, Will Mann and Joe Ngo provide consistent, effective support in a variety of other roles, the coordination of their movements reflecting their relationship to, or interactions with, Mlima. Each of their characters is distinct, accentuated by quick costume changes and precise but varying accents. The emotional toll of the play makes it at times difficult to watch, the actors are commended for their commitment to fully showing and telling this story.
The evocative "Mlima's Tale," with strong direction by Ali and choreography by Kirven Douthit-Boyd, places an emphasis on contextual interpretation. Gathesha serves as our narrator and moral center. His movements and transformation from elephant, to spirit, to tusks keeps the audience transfixed and perhaps startlingly connected to the elephant's pain. The human characters in the show are more generalized, but quickly recognizable. Their actions may engender feelings of anger and frustration that fuel productive post-show conversations. The performances and scenes are anchored in truth and reality, condensed into its most salient moments.
The distinctive sparse set by You-Shin Chen, with its glossy, reflective floor, Helen Q. Huang's costume design based on African garments and the score by Avi Amon calls forth the African elephants' natural habitat. The lighting design, by Jasmine Lesane, reinforces the sense of a natural environment. The resulting world is welcoming, warm and inviting at first observation.
The audience is quickly disabused of that thought in scenes that emanate with pain. We witness Mlima's death, the lies and bribes that grease the illegal trade. We see the willingness of those who know better - local police, customs agents and artists - but choose to look the other way for greed. The show is not for the very young or sensitive as it includes triggering actions, strobe lights and complex adult themes. The Rep's stirring production of "Mlima's Tale" continues through July 11. The subject is a serious, uncomfortable to view -- the production and related conversations are essential to the welfare of elephants.
Related Articles