Theatre Reviews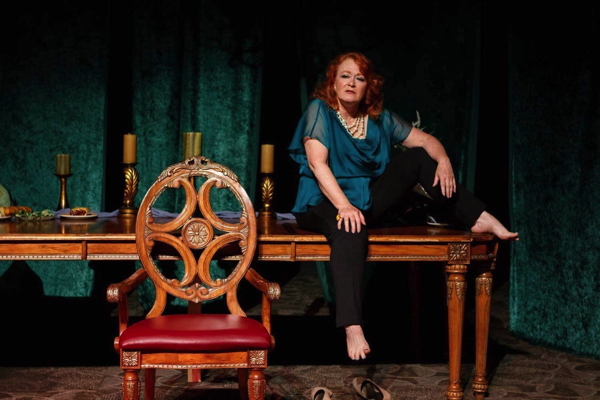 The Sumptuous 'Feast' Is Reason Enough to Celebrate the Return of Live Theater
Written by

Tina Farmer
'Feast,' a new one-actor play by Megan Gogerty, offers theatergoers a deeply satisfying new show experience -- something they haven't been able to enjoy in person for almost two years. Directed by Shane Signorino and starring an unforgettable Donna Parrone, Tesseract Theatre Company's return to live productions is well worth the wait, though it may leave you wanting more.
The intimate set, with its dark, carved furniture and heavy velvet curtains, creates a nest, or possibly womb-like, room. The theater envelops the audience in warm, hushed tones suggesting calm, before Parrone enters in a flourish of energy and emotion. She apologizes for being late, and for not joining us for the main course, before explaining how carefully and completely she planned this meal and evening. After hinting that she may have a bit of vengeance on her mind, and with a slight grin and suggestion of a cackle, she assures us we are not here so she can kill us. The food is not poisoned, she coos. It is however vegan and gluten free.
Parrone glibly notes that she cannot taste nor get satisfaction from nourishment any more. A specter, trapped somewhere between dead and alive, she doesn't even bother trying to eat. Instead, she is driven by persistent grief and a relentless need for some sort of closure or understanding, something.
Ancient stories and fresh tears flow together in her sorrow. Will her efforts tonight be just one more frustrating attempt? The host never voices that specific fear out loud, but you can hear it in Parrone's occasional quiver and see it in a furtive, desperate glance towards an audience member.
Over the next hour or so, Parrone keeps the audience spellbound as she weaves her tale. That is to say, with dulcet tones and laser-like focus she tells her side of the story. Our host frequently speaks directly to the audience, offering additional bites while encouraging us to eat and listen. You may not know her name, but you've heard of her and will likely recognize her son and his enemy. Particularly if you attended secondary school in the United States or Western Europe in the past 100 years, give or take a millennia. (The program also includes a summary of the source material that inspired "Feast," which you can peruse before or after the show.)
Signorino's direction finds layers of physicality in Gogerty's character and Parrone's host. As a newly corporeal body, our host is not completely in sync with herself. Early on, well before she reveals her origins, she explains she's created her personage from particles. There are moments when Parrone seems to encounter a glitch as she speaks, an almost imperceptible vocal flutter perfectly aligned with precise but oddly incongruous movement. The particle glitch is infrequent, but startlingly though subtly persistent once you see it. Not quite fluid, not quite together, every gesture and reaction are mesmerizing without being the least bit distracting.
The inventive script, inspired by the epic poem "Beowulf," sparks with delightful, if occasionally calculating, wordplay and is capped by a thoroughly beguiling performance. Signorino and Parrone, along with dramaturg Melissa Trepa, keep storytelling the focus here. The actor uses her body in ways that connect to the story and the lush poetic lilt of the playwright's script.
Parrone forcefully presents the host's perspective, and in doing so, may find redemption. Though never vocalized or put forth as such, once planted the suggestion roots and begins to blossom. Parrone's evolution during the last few scenes of the play is transformative and fully realized.
No more spoilers here, the reveal is simply too satisfying and well-played out to cheat anyone of the experience. "Feast" continues through June 27, at The .Zack Theatre on Locust. The combined efforts of the talented playwright, actor and creative staff is fresh, new theater that's a perfectly delectable welcome back from the long break.
Related Articles