Theatre Reviews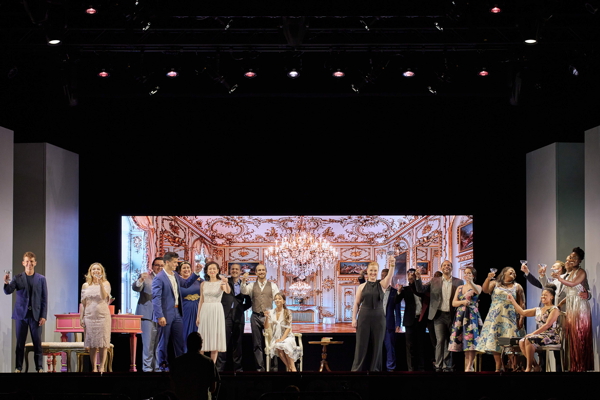 Opera Review: The Center Stage showcase ends a strong season at Opera Theatre
Written by

Chuck Lavazzi
Saturday night (June 19th) Opera Theatre of St. Louis (OTSL) offered the sixth edition of its annual "Center Stage" concert. I missed the first four and have been kicking myself ever since I discovered, back in 2019, what a delightful show it was.
As in previous years, the 2021 edition, which concluded the season with a matinee on June 20th, featured members of OTSL's Gaddes Festival and Gerdine Young Artists programs performing opera excerpts. Unlike previous years, the performance took place outdoors (as has the rest of the 2021 season) and with only piano accompaniment instead of a full orchestra.
Still, the piano was played with consummate skill by Repetiteur Madeline Slettedahl, and Music Director Damien Francoeur-Kryzek conducted the singers with precision. And availability of the outdoor festival stage made it possible to present the excerpts in a more theatrical version than was the case in 2019, when the indoor stage was occupied by the orchestra and the singers were limited to a shallow space in front. This time they had a simple set, a few props, and the massive video screen at the back that enabled the scene to change instantly from an aristocratic drawing room to a British forest, a dungeon, or any other location as needed.
James Robinson
Running 90 minutes with no intermission, the showcase was a well-chosen assortment of scenes of old and new, familiar and rare, and comic and tragic, all delivered with a degree of professionalism that speaks well to the quality of OTSL's programs for emerging artists. The fact that all this took place against the backdrop of thunder, lightning, nearby fireworks displays, and the occasional jet plane detracted not one whit from the polish of the performances. Although it did suggest that everyone concerned deserved some kind of medal for Grace Under Fire (or at least under a severe thunderstorm warning).
OTSL could probably make this an entire evening of operatic Greatest Hits and the vast majority of the audience would consider it a great deal. But the company's programming has always been more eclectic than that, and so while there were, indeed, a few numbers that even a newbie would recognize, most of the program consisted of either bits of less popular operas like Gluck's 1779 tragedy "Iphégenie en Tauride" and Massenet's "Werther" from 1887, or less familiar scenes from big name works like "Rigoletto" and "La Traviata." What unified them all, in any case, was the high quality of the performances.
The evening opened with a fast and funny "La mia Dorabella capace non é" (roughly, "My Dorabella could never do that") from Mozart's "Cosí fan tutte" (usually translated as "All Women Do It," although it might be more accurate to call it "Everybody's Doing It" and hope the Irving Berlin estate doesn't sue). The scene opens the opera and sets up the plot, with military buddies Ferrando (tenor Terrence Chin-Loy) and Guglielmo (baritone Kyle Miller) insisting that the opera's titular sentiment is bogus and that their fiancées would never betray them. The older and wiser Don Alfonso (bass Even Lazdowski, in the first of two outstanding comic performances) is skeptical and bets that he can prove otherwise, thereby setting up the next couple of hours' worth of plot. Chin-Loy and Miller are both comically cocky in their roles.
Bellini's 1831 tragedy "Norma" is up next, represented not by the opera's Big Hit "Casta diva" but by the duet "Mira, o Norma" ("Look, o Norma") in which the young priestess Adalgisa (mezzo Sophia Maekawa) renounces her feckless Roman boyfriend and both she and the high priestess Norma (soprano Angel Azzara) sing an oath of sisterhood. Both of these roles are demanding both vocally and dramatically, so it was good to see them performed with such force here. OTSL Artistic Director James Robinson directed both the Mozart and Bellini.
Patricia Racette
Next was the first old favorite of the program, "Au fond du temple saint" ("At the back of the holy temple") from Bizet's "Les pêcheurs de perles" ("The Pearl Fishers"). It's one of opera's great bromance numbers in which Nadir (Chin-Loy) and Zurga (baritone Schyler Vargas) pledge to set aside their mutual lust for the priestess Leïla. The singers' voices blend beautifully in the duet's big climax. Tara Braham directed.
The friendship thread continued with the scene from "Iphégenie en Tauride" in which Oreste (baritone Geoffrey Peterson) and Pylade (tenor Chance Jonas-O'Toole) argue over who which will give his life for the other. Neither wants the other to die, and Peterson and Jonas-O'Toole credibly displayed their anguish. Direction was by OTSL's multi-talented Artistic Director of Youn Artist Programs Patricia Racette.
Another entry in the hit parade was next with "Bella figlia dell'amore" ("Beautiful daughter of love") in which Rigoletto (baritone Kyle Miller in a powerful performance) and his daughter Gilda (soprano Angel Riley, in fine voice as usual) watch the fickle Duke (tenor Ryan Bryce-Johnson) pursue Maddalena (mezzo Tesia Kwarteng). The scene between Bryce-Johnson and Kwarteng crackled with passion and fine singing. James Blaszko directed.
Maekawa and tenor Ganson Salmon poured their hearts into the weepy "Voici le clavecin qui chantait mes bonheurs" ("Here is the harpsichord which sang my happiness") from "Werther," directed by Branham, after which the mood lightened again with the hilarious "Lesson scene" from Donizetti's comedy "La fille du regiment" ("The Daughter of the Regiment") in which the down-to-earth Sulpice (another winner from Lazdowski) tries to help his adopted daughter Marie (soprano Lindsey Reynolds, in fine comic form) get through a tedious singing lesson with the pompous Marquise (Kwarteng, proving she can be funny as well as seductive). The deliberately off-pitch singing by Reynolds as Marie struggles with music she clearly hates was a nice touch. Darlene Edwards would have been proud.
The trio from Act III of "Madama Butterfly" reminded me of what a louse Pinkerton (tenor Moisés Salazar) is as he weeps crocodile tears while Sharpless (baritone Rob McGinnis) scolds him for his heartless betrayal of Butterfly and Suzuki (Maekawa) reluctantly agrees to be the bearer of bad tidings. Salazar's Pinkerton was beautifully sung (which makes the character even less pleasant, oddly), McGinnis was an authoritative Sharpless, and Maekawa a sympathetic Suzuki. The scene from "La Traviata" that followed gave us another example of Men Behaving Badly as Germont (baritone Andrew René) pressures Violetta (soprano Avery Boettcher) into giving up his son Alfredo. René's Germont had plenty of vocal authority and self-righteousness while Boettcher's Violetta had impressive passion. Racette directed both these and the Donizetti.
Damien Francoeur-Kryzek
The evening ended with a pair of palate cleansers: the last few minutes of the ravishingly beautiful final trio from Richard Strauss's bittersweet comedy "Der Rosenkavalier" ("The Cavalier of the Rose") in which the Marschallin (Azzara) realizes she must renounce the titular cavalier Octavian (mezzo Meridian Prall) to his true love Sophie (soprano Helen Zhibing Huang). Their voices blended beautifully—essential in this intricate piece. This was, alas, the one time when I really missed the orchestra; Strauss's lavish music really demands it. Blaszko directed.
The music of another Strauss—Johann Struass II, no relation—brought everything to a lively conclusion with familiar selections from the operetta "Die Fledermaus," directed by Robinson. Prall returned as Prince Orlofsky. Like Octavian, it's a "pants" role (a woman playing a man) and Prall was just as compelling here as she was in the previous number. As Adele, soprano Bianca Orsi was a delight in the famous "Laughing Song," and the rest of the ensemble (Johnson, Vargas, Jonas-O-Toole, and Huang) joined in for the lively "Champagne Song" and the memorable waltz "Sing to Love."
All four stage directors did excellent work, creating fine visuals and capturing the emotional heart of each scene. Greg Emetaz's digital scenery added immensely to the theatrical effectiveness of the show.
The "Center Stage" showcase was, in short, a fitting finale for a very successful season by OTSL. Congratulations are due to all concerned. Whether we'll be back to indoor theatre and concerts in 2022 is, in my view, an open question right now, but you can keep up with OTSL's plans at their web site.
Related Articles