Theatre Reviews
Theatre Reviews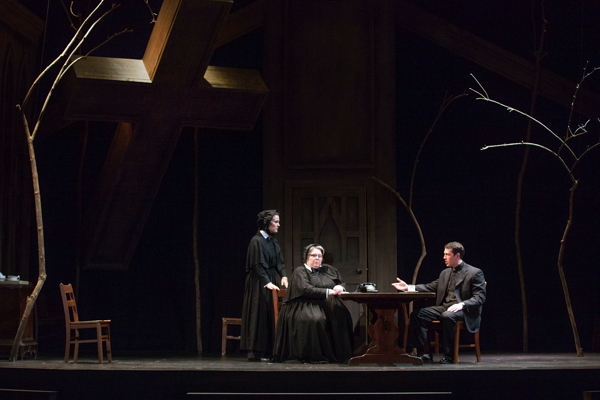 There's no doubt about the excellence of Union Avenue Opera's production of 'Doubt'
By
Union Avenue Opera is bringing its season to an impressive close with the local premiere of Doubt, a not entirely successful musical adaptation by composer Douglas J. Cuomo and playwright John Patrick Shanley of the latter's 2004 play Doubt: A Parable and its 2008 film version.
Winner of the Pulitzer Prize for Drama, Shanley's play is a masterful examination of the dangers of both moral certainty and ethical blindness. Set in a working-class Catholic church in the Bronx in 1964, Doubt chronicles the conflict between Father Brendan Flynn, a young progressive priest who has embraced the humanism of Vatican II, with Sister Aloysius Beauvier, an old school, steel-ruler-discipline nun. They are at odds not only with how strictly the church school should be run but also with what Sister Aloysius believes is Father Flynn's sexual abuse of young Donald Miller, the school's first black student. Caught between these two implacable foes is the young and idealistic Sister James, who respects both of them and who, unlike Sister Aloysius, is plagued with doubt.
In the opera all of these themes remain intact. But what was originally a taut, ninety-minute one act has been expanded into a full-length work running nearly two hours and forty-five minutes including intermission. Scenes have been added in the classrooms and the church and the original four-character cast has been expanded to include adult and children's choirs. As a result, the work loses a bit of dramatic steam in places and some of the additional scenes--most notably those set in the classroom--sometimes feel more like filler than anything else. 
Other additions, though, work exceptionally well. The powerful choral number that opens the work, for example, allows us to hear individual members of the congregation reacting to Father Flynn's parable on the unifying nature of doubt. The choral setting of Flynn's second act sermon on the evil of gossip is equally effective.
So on the whole, Doubt makes for a very compelling theatrical experience. And for that, Union Avenue's exemplary production can take a great deal of the credit.
As Sister Aloysius, local favorite Christine Brewer once again displays the vocal power and dramatic conviction that have characterized her work on local opera and concert stages for many years. The character must come across as a formidable figure who is nevertheless capable of compassion, and Ms. Brewer's portrayal is perfect on both counts.
Equally impressive is UAO veteran Elise Quagliata as the conflicted Sister James. She's a talented singer seems equally comfortable with both the standard repertoire and newer works. As she did in UAO's Dead Man Walking back in 2011, Ms. Quagliata demonstrates that her clear and fluid mezzo voice comes paired with solid acting skills.
Making his UAO debut, baritone Wes Mason makes Father Flynn a very credible and complex character. Is he villain, victim, or a bit of both? Shanley leaves the question hanging, and Mr. Mason's nuanced performance keeps the balance intact.
As Mrs. Miller, whose son Donald is at the center of the controversy, mezzo Melody Wilson turns in one of the most remarkable performances of the evening. The role is a small but vital one, and the scene in which Sister Aloysius tells her what she thinks she knows of the relationship between Donald and Father Flynn is an emotional high point of both the play and the opera. Mr. Cuomo has written an unforgivingly long a cappella passage for her towards the end of the scene that requires remarkable vocal control, and she delivers it beautifully. On opening night, her exit prompted spontaneous applause, despite the fact that Mr. Cuomo's seamless score tends to discourage that.
Speaking of Mr. Cuomo's music, its jazzy and astringent sounds neatly underscore the prose of Mr. Shanley's text, although there are times when it feels out of synch with the emotions expressed in that text. Mr. Cuomo also displays what felt to me like an excessive fondness for drawing out individual words with long, melismatic vocal passages that seem to serve no particular dramatic purpose. Overall, though, it's a good match for the naturalistic inflections of Mr. Shanley's dialog.
It also sounds like a challenge to play, so conductor Scott Schoonover deserves high praise for leading the orchestra through such a seamless reading of it. The balance between the signers and the orchestra was quite good, which can be a very tricky business in the sanctuary of the Union Avenue Christian Church. And under his direction the Union Avenue chorus has never sounded better.
Kyra Bishop's set, with its massive crucifix set at a drunken angle, mirrors the opera's subtext of faith in crisis, and the bare branches poking up through the floor remind us of the bitter New York winter. Jeff Behm's lighting enhances the atmosphere. Teresa Doggett's costumes are, as always, right on target.
Director Tim Ocel adds yet another triumph to his work for UAO, with smart and fluid staging that keeps the dramatic momentum going while always making the dramatic focus clear. He is, for my money, the best opera director in town.
While I don't think setting Doubt to music enhances it in any way, it still makes for pretty potent theatre and is well worth your time, especially if you haven't been exposed to either the play or the film already. It raises issues about the risks of moral certainty that are, if anything, more relevant now than they were when the play was first written. And there is no doubt that Union Avenue's production is a singular accomplishment.
Closing performances Union Avenue Opera's Doubt are Friday and Saturday, August 26 and 27, at 8 p.m. at the Union Avenue Christian Church, 733 Union at Enright in the Central West End. Note that parking can be an issue at the church, so an early arrival is a good idea.
Related Articles