Theatre Reviews
Theatre Reviews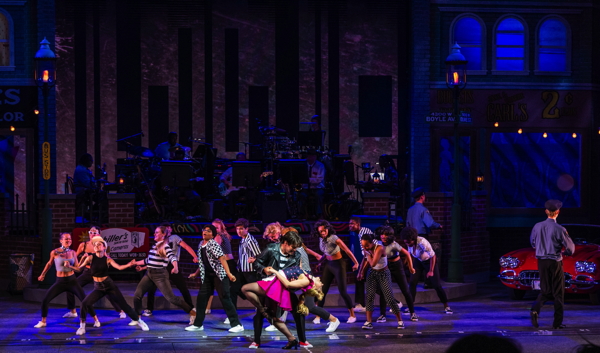 'Smokey Joe's Café' is an up-tempo celebration of pop music's enduring appeal
By Chuck Lavazzi
The high-energy jukebox musical "Smokey Joe's Café," on stage at The Muny through August 1st, features the songs of Jerry Leiber and Mike Stoller, as well as the single "Spanish Harlem," by Leiber and Phil Spector. The show is a quick succession of dance and song that's mostly upbeat, positive and filled with joy as The Muny once again returns to live performances.
Musically, the selected numbers reflect the shift from doo-wop and twangy swing to rock n' roll and pop music during the 1950s and 1960s. This musical transition also highlights Leiber and Stoller's prowess -- an ability to produce popular songs for wide ranging artists and audiences. Strong performances, as well as some welcome interpretive twists, result in a plethora of stand out numbers that are nostalgic but still reflect struggles and emotions cotemporary audiences can easily relate to.
The ensemble of Charl Brown, Michael Campayno, Mykal Kilgore, Tiffany Mann, Hayley Podschun, Dee Roscioli, Christopher Sams, Nasia Thomas and Jason Veasey is uniformly talented and expressive. Mann and Kilgore posses show-stopping pipes and Brown, Sams and Roscioli show off impressive range. Campayno has a smooth, well-rounded tone, Thomas adds soul and texture, Veasey resonates with a deep, rich bass and Podschun has a bright, clear voice and serves as dance captain.
A true musical revue, the show offers little dialogue, but still suggests several story arcs around love and relationships. "Dance with Me" offers a great transition from character introduction to story, and "Searching," "Kansas City," "Trouble" and "On Broadway" are first act standouts. The second act kicks the show into a higher gear, with the saxophone driven "Yakety Yak" and Veasey's sonorous bass on "Charlie Brown" and humorous choreography upping the energy. "You're the Boss" takes a seductive turn and, in the hands of Mann, Thomas, Podschun and Roscioli, "I'm a Woman" is a powerful, take-charge anthem. Love turns revealing in Sams's "Spanish Harlem" and Kilgore's "I (Who Have Nothing)" response, until Brown and the company embrace the idea of love conquering all in the heartfelt "Stand By Me," a fitting final number.
Director Marcia Milgrom Dodge recognizes the wealth of talent in her cast. Smart choices and sharp focus ensure each performer has at least one spotlight moment. She, choreographer Josh Walden and musical director Abdul Hamid Royal offer abundant context through interpretation and the cast responds with vocal emphasis and varied expressions. Royal even adds his voice to the ballad "Stay a While."
Company numbers and duets are precise and complementary, with connective steps and reactions that add detail and keep the audience engaged in the loosely told stories. Walden's choreography, based on Dodge's original work, is lively, filled with intricate footwork and eye-catching lifts, swings and spins. The addition of the Muny youth ensemble in the bigger company numbers adds visual interest while spotlighting popular dances from the period. The look and feel of a mid-60s, Midwestern summer is completed with costume design by Sully Ratke and wig design by Kelley Jordan.
The production is set in St. Louis's famed Gaslight Square, at the corner of Boyle and Olive, during the 1960s. Scenic designer Edward E. Haynes adds location-specific cues to the set, including period advertising, recognizable architectural styles and a café menu and address based on the neighborhood. Risers and balconies add levels that Dodge uses efficiently to create tension and keep the audience invested. Rob Denton's lighting design unobtrusively guides our attention, while the video design by Kevan Loney uses the graphic styles of the time to add texture and context. These thoughtful touches ensure the setting is an engaging background for the performances.
The Muny's 103rd season opening show, "Smokey Joe's Café" evokes the nostalgia of Leiber and Stoller's music, which was popularized by Ben E. King, the Coasters and Elvis Presley during rock n' roll's early years. A strong young cast, smartly framed showcase songs and a few unexpected twists offer fresh and engaging interpretations of familiar music, capturing a modern audience's attention. The resulting show resonates with a joyful appreciation of musical theater and its many charms.
Related Articles